Adam Zucker, assertive studio host of CBS' college sports is covering the Super Bowl this week
Anyone reading this knows that CBS has this year's Super Bowl.
Yes, Tampa Bay's Tom Brady against Kansas City' Patrick Mahomes is not a bad headline. It's also a mouthful of anticipation and conjecture. So CBS is reaching deep into its healthy reservoir of on-air talent to cover all the pre Super Bowl news, notes and rumors.
Enter Adam Zucker. If you follow the college game, you'll know him by his friendly face and husky voice. He hosts College Football Today, Inside College Football and Inside College Basketball. He began his network career at CSTV, the forerunner to CBS Sports Network in 2003.
This week the quick-witted Zucker has changed caps from college to pro, hosting Super Bowl Live every night at 7 PM ET and on Saturday, he'll preside over Super Bowl Weekend an hourlong show running from 11:30 p.m.-12:30 a.m. It will feature, a recap of the best Super Bowl moments, guests and stories of the week.
For anyone who's seen the man at work, they'll know that Zucker brings enormous energy to the microphone.
He is a 1998 alum of where else, the citadel of sports broadcasting colleges, Syracuse University. He did play-by-play while there but went where the openings led him after college, the studio. Along the way, Zucker covered the Philadelphia Phillies, Pittsburgh Penguins and Penn State football.
Zucker was destined for a visible and successful studio life. In 2014, he succeeded the legendary Tim Brando and had his big shoes to fill in CBS' college studio.
Although his love for mainstream sports is manifested by his natural on-air enthusiasm, Zucker also holds a not-so-secret passion: disc golf. Interacting with him, I could tell that I struck a chord mentioning it. Zucker couldn't help but provide some tips on where to best to try it out. (I'm ready to try it myself.)
Viewers might wonder. Greg Gumbel, the silky-smooth CBS host of college basketball will be 75 this spring. We don't know how much longer Greg wants to go. Yet we do know that Zucker would be a perfect successor.
You're continuing to enjoy a long career at CBS Sports. It's interesting that you've chosen studio work and reporting over play-by-play. Is that something by initial design?
Somewhere in between, I guess. I had a blast calling football and basketball games in college for WAER at Syracuse, the school station. Just the other day, Adam Schein of SiriusXM and the CBS Sports Network reminded me of the Ryan Blackwell game-winner I called at MSG in the 1998 Big East semis. As graduation approached, it didn't seem like there was much out there for play-by-play. A month before we graduated, I considered meteorology school at SUNY-Oswego if I couldn't get a sports gig.
Yet, the number three job at the Syracuse CBS affiliate opened up and I always loved doing TV studio work in college. So I accepted the offer and was willing, happy and able to shoot and edit video, while only being on the air once a week as a reporter. Same thing again a year and a half later when I moved to Wilkes-Barre/Scranton, where I really cut my anchoring teeth before landing the audition at CSTV, the forerunner to CBS.
What were the early days like before CBS bought CSTV in 2005?
Steve Lappas and I were just reminiscing about those days this past weekend!  Sitting next to him for a day is a treat. Same goes for the whole football studio team; Brian Jones, Aaron Taylor, Rick Neuheisel and Randy Cross. They all worked there too!
While it feels like a lifetime ago, a lot of us are still in the fold. In fact, Tyler Hale, the former Penn lacrosse player turned stud producer is too. He ran the stopwatch on my first assignment at CSTV in 2003. Hale is now our VP of Studio Production. Hurricane Sandy knocked us out of the building in 2012, flooding the studio right after a major upgrade by CBS. That was the same year I started getting reps on College Football Today, stepping in for Tim Brando when he would call the first game of our SEC doubleheaders.
What is it like now preparing and leading up to College Football Today on weekends?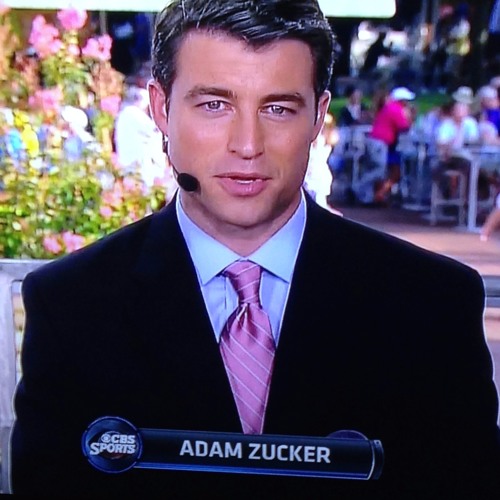 Fall weeks are rhythmic in a fun, nonstop, merry-go-round kind of way. Sundays and Mondays are my big reading and writing days, coming off the weekend's games and preparing for my favorite show, Tuesday's two-hour Inside College Football with Jones, Taylor, Cross and Neuheisel on CBS Sports Network. In fact, the guru, Tim Weinkauf, our long-time producer of ICF, took over College Football Today this past season when the legend Vin DeVito retired.
Once we do the show, I stay on top of any news heading toward Saturday, I prepare cards for every game that we will reference and have additional stuff for our SEC games. I use black ink for all my pre-game nuggets, and then blue ink for injuries or stats that arise during games. I also keep a red pen handy to emphasize anything that MUST get said.
OK, tell us about disc golf and why you have a passion for it.
Ahhh!  See, you knew that if you asked me about disc golf first we'd never touch on anything else.  So I'll try to keep it quick. Anyone who has a passion for golf would understand the passion for disc golf. Importantly, 98% of courses are free. No membership is required or a set tee time. You can play 18 holes in 90 minutes if you're keeping a good pace. And while we're socially-distant, it's an opportunity to invite my kids' friends and their parents to meet up. The growth has been exponential during Covid to the point where even the major disc makers were running out of stock last summer. Disc Golf
Play-by-play voices have memorable moments. There are special games they called that they cherish. Working in a studio is a different experience, What's been your favorite moment?
Well, I join in those memorable moments by getting to talk about them immediately afterward, once on our postgame shows. I also think of sitting next to the towering General Ray Odierno, in a sideways barrage of sleet in Philadelphia, when Randy Cross and I interviewed him during the Army-Navy March On show. Then, we thawed out enough to get to our other broadcast position to interview Roger Staubach. Not a bad day.
As for studio acrobatics, I'd say it'd have to be my first Saturday after taking over the CBS hosting role, when we did our one hour pregame show, and then had a 90-minute weather delay before Georgia and South Carolina kicked off. We just kept cranking out segments until they could start the game.
How has the pandemic affected your work?
We've learned to be nimble with how quickly things can change.
What advice would you give young broadcasters today?
Learn all the skills needed, get as many performance reps as you can while you're in school or not truly "on the air." Read a lot on your area and a little about everything else, Be harder on yourself than you are on anyone else. It's not about whom you know, it's about who can vouch for you. Also, blast some music on your ride home.
Which alternative practices do you see sticking once Covid-19 is behind us, remote play-by-play or formats that originate from homes as ESPN did with the NFL draft?
Well, it would be nice if Bill Belichick can have his dog take over his chair for every draft, but I think our whole industry is looking forward to having everyone back where they belong. I can still see Zoom/Facetime, etc. being used in order to make appearances easier to book guests, etc.
Where do you see Adam Zucker in ten years?
Hopefully in my chair, and otherwise down the shore with my better half, paying two college tuitions at once. And "in a related story" – bald!