As radio commemorates a century on-air, these are nuggets covering the early 100 year journey
Radio as an embryo: Graham McNamee (left) was radio's first star when the medium erupted in the mid-twenties. McNamee did just about everything nationally for NBC, America's first network, born in 1926. He hosted music shows, described sporting events and anchored presidential conventions. This was early, during a prolonged experimental period before the medium slowly tightened its collective direction and developed specialists to cover news, sports and entertainment.
In the early to mid 1920s, radio was a wild, exciting and unpredictable frontier. The ether was a major breakthrough that inspired communication dreams. Coast to coast, for the first time in American history, millions could hear the same voice simultaneously.
Ted Husing was America's first sportscaster. He was with the competition CBS. Ted developed the first football depth chart, variations of which are still used today.
Back to McNamee, he didn't know much about sports. For the most part, he was incapable of doing play-by-play alone. "Associates" would sit a few feet away from him and coach him in low tones, providing all sorts of rudimentary information like if a pass was caught, who was carrying the ball and the like. He'd also have outpost reporters who'd report on whether the ball advanced over the goal line. Husing, a New York kid of German immigrants, played sports and brought more sophistication to the booth.
The big football event each year was the Rose Bowl and McNamee did the first ever national broadcast of the game in 1927. There  were no other bowl games yet and the fledgling NFL struggled financially in small towns.
To broadcast its first Rose Bowl, NBC had to string together 20,000 miles of wire to transmit the game across the country.
McNamee also broadcast the World Series from 1924-1935. He earned the Ford Frick Award from the Hall of Fame, not for his rhythm, but for his pioneering work. As Graham got older, NBC took him off major sports assignments. It killed him, if not literally, figuratively. He died of a broken heart at age 54 in 1942.
Broadcaster Red Barber never criticized McNamee. Red felt that Graham was a pioneer and the fact of the matter was that there was no previous script to follow. In 1935 when Barber followed McNamee on the World Series, Graham did some pre game work and sat behind Red to listen to him do a few innings. He then left the stadium but not before he gave Barber a squeeze on the arm and said, "You've got it."
College football, prize fighting and the World Series would dominate network radio in its early decades.
THE TRUE SPORTS BROADCAST PIONEERS
AMERICA'S FIRST SPORTSCASTER: TED HUSING
FIRST BASEBALL ANNOUNCER – RED BARBER – GAVE THE GAME A RHYTHM ON RADIO (1908-1992)
FIRST BASKETBALL ANNOUNCER – MARTY GLICKMAN – GAVE HOOPS A GEOGRAPHIC LANDSCAPE ON RADIO (1917-2001)
FIRST INFLUENTIAL FOOTBALL ANNOUNCER- TED HUSING – DEVELOPED PREPATORY DEPTH CHARTS AND WORKED WITH OFFICIALS TO DEVELOP HAND SIGNALS FOR BROADCASTERS UPSTAIRS (1901-62)
FIRST INFLUENTIAL HOCKEY ANNOUNCER – FOSTER HEWITT- FIRST VOICE OF TORONTO MAPLE LEAFS, GAVE HOCKEY ITS BROADCAST NOMENCLATURE (1902-85)
Early growth of play-by-play sports:
1926 – Graham McNamee calls the first Jack Dempsey-Gene Tunney heavyweight championship fight on NBC. America tunes in across the land with great anticipation. 
1927 – Upstart CBS attempts to broadcast the second Dempsey-Tunney fight in Chicago ('The Long Count'), albeit that NBC had already come to terms with the rightsholder. The contention was that the event was in the interest of the public domain much like a major news event. On the morning of the fight, a Chicago judge refused to issue an injunction against the exclusive arrangement. It marked the first-ever showdown between NBC and CBS for rights and the first time that a court of law determined that broadcast rights are an asset. Exclusive rights have held up since.
An unnamed film collector wrote this, "McNamee announced both the 1926 and 1927 Tunney-Dempsey fights for NBC. It's been written that the second fight was especially dramatic, and it was reported that between seven and ten radio listeners were so caught up in the commentary that they suffered heart failure."
1928 – While daily baseball broadcasts aired in Chicago, Detroit, Cleveland and elsewhere, the owners of the three New York teams, the Yankees, Giants and Dodgers permitted only limited coverage for fear of the effect on the gate.
1930 – The Rose Bowl bans eastern announcers after McNamee misidentifies Southern California's San Gabriel mountains and promotes Pasadena for its gorgeous winter weather when it was actually raining.
1930 – Ford Frick who would later become baseball commissioner works the World Series on NBC with McNamee. In 1978, the Hall of Fame names its broadcast award in honor of Frick, himself an erstwhile writer and broadcaster. The first winners were Mel Allen and Red Barber.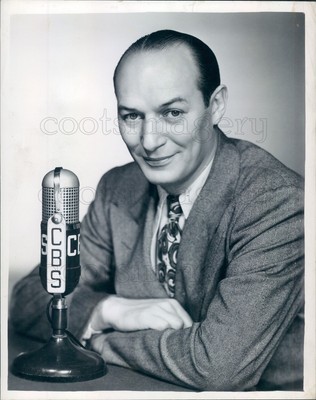 1934 – Ted Husing (left) does his seventh and final World Series. After he was critical of the umpires, Commissioner Kenesaw Mountain Landis banned Husing from doing any more World Series.
1934 – Bill Stern debuts as NBC's college football announcer. NBC's Stern and CBS' Husing turned into bitter rivals. The two names in the 1930s were as big then as Al Michaels, Jim Nantz and Joe Buck are today.
1934 – The Detroit Lions game on Thanksgiving Day is the first ever NFL game broadcast nationally.
1937 – Working for CBS, Husing helps popularize the Orange Bowl which was established in 1935.
1937– Noted for his work as a horse-race caller, Clem McCarthy does his first heavyweight title bout for NBC, Joe Louis defeats James Braddock.
1938– McCarthy's broadcast of the much anticipated Joe Louis-Max Schmeling scuffle gets a mind boggling 63 rating. In simple terms it means that 63% of the country were listening to the NBC Radio broadcast. In basic numbers, 87 million folks were tuned into the fight.
1938 – Mel Allen (left, with Barber) does his first World Series on CBS. Four networks carried the Series that year, (NBC Red, NBS Blue, CBS and Mutual Radio).
1939 – Gillette buys the exclusive network rights to the Series and only Mutual Radio distributes the broadcasts nationally. Red Barber and Bob Elson preside over the microphones.
1939 – The three New York teams finally end the ban on live radio broadcasts of the Dodgers, Yankees and Giants.