While the Kobe tragedy dominates discussions, let's remember victims of other sports accidents
List: A dozen athletes who died in tragic accidents; Four college teams that suffered fatalities in airplane mishaps; Heartwarming story 50 years after Wichita State tragedy
Many of the radio opinion mongers are already situated in South Florida at Super Bowl's Radio Row. As fully expected,  the sports talkies were focusing on nothing but Kobe yesterday.
Chris Russo conjectured that it'll be this way for a couple days before the game takes the full spotlight.
I'd imagine that because of Kobe, the public relations folks who generally parade ex-players around through the multitude of stations to promote charitable causes or commercial undertakings got pushback.
ESPN took some heat on social media Sunday when the network stuck with the Pro Bowl instead of going into full reporting mode on the tragic development. The news was fluid all afternoon until all deaths were confirmed. Fans' instincts were to go to ESPN but its mainstream platform was running the football game. So it pushed its Kobe coverage to ESPN2.
Jimmy Traina of Sports Illustrated tweeted about it almost immediately and later wrote about it on si.com. He said, "ESPN is the authority on sports. ESPN is still the number one place fans turn to for sports news and information. ESPN is the World Wide Leader in sports." He called the Pro Bowl nothing more than an exhibition game which it is.
These are not easy decisions to make. Networks work out of pragmatism more so than conviction. ESPN is under contract to the NFL to which they're beholden. NFL broadcasts are ESPN's highest rated schedule of games.
There are financial considerations too. ESPN would have owed advertisers makegoods and perhaps refunds. The network doesn't pay a pittance for the rights. Moving the game to ESPN2 would have been costly. The deuce as ESPN2 is still sometimes called doesn't project the same audience as mainstream ESPN.
Russo spoke very favorably of Zubin Mehenti and Michael Eaves who spontaneously covered ESPN2's coverage of Bryant's death. Traina called the duo's anchoring job "phenomenal."
Fox News was on it ahead of CNN. Both networks turned to the inflammatory Jim Gray who profiled much of Kobe's glittering success and talked about his uneven relationship with his family.
Monday, Mad Dog thought out loud whether the Kobe tragedy was sports' worst. He referenced fatal plane crashes involving the Marshall football team and Evansville's basketball team.
The focus on an American hero, his promising daughter, and their friends, resonated tangibly. Greater mishaps are often reported by lifeless numbers ('80 dead' or '100 dead'), not individual human quality.
Here are tragedies through the years that come to mind that involved teams, athletes and broadcasters:
Teams: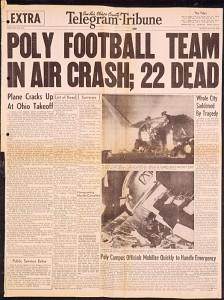 Cal Poly In October, 1960, the football team left Toledo Airport in Ohio after a game against nearby Bowling Green.
From the Cal Poly website, "Sixteen Mustang football players, the student manager, a member of the Mustang Booster Club, and four others perished that October 29th. Of the forty-eight persons aboard the Curtiss C-46 aircraft, another twenty-two were injured, some gravely. Dense fog, later determined to be a major factor in the accident, slowed ambulances trying to reach the airport twenty miles east of Toledo."
John Madden who had played for Cal Poly earlier knew some of the victims. He says though that his fear of flying stems from claustrophobia not the crash. Madden flew with the Raiders all those years he coached but gave it up afterward. He then traveled to broadcast assignments first by train and then by a customized Madden-mobile.
Evansville Basketball Team: In 1977, a DC-3 was headed from Evansville to Nashville for a game between the Purple Aces and Middle Tennessee State. No one survived, 29 were dead. Pilot error was blamed. Adding to the misery was that a player on Evansville David Furr who didn't travel because of an injury died two weeks later in a car crash.
Lokomotiv Yaroslavl: in 2011, a charter flight carrying a Russian professional ice hockey team crashed on take-off near the Russian city of Yaroslavl, killing all but one of the 45 people on board. Six NHL players died including Pavol Demitra and Ruslan Salei.
Marshall University football team: Coming home after a loss at East Carolina on November 14, 1970,  the DC-9 crashed into a hill on its approach to Huntington Tri-Cities Airport. The accident resulted in 75 deaths, including all players, coaches, administrators and prominent community citizens. It is believed to be the worst sports related air tragedy.
Oklahoma State University basketball team: A Beechcraft charter carrying a broadcaster, athletes, a trainer and a public relations official crashed in 2001. There were 10 deaths.
Wichita State University football team: On October 2, 1970, the team was headed to Logan, Utah to play Utah State. The plane crashed in Colorado in calm weather. The investigation blamed inadequate planning by the pilots.There were 31 fatalities and 9 survivors. (See more on this below.)
It should be noted that all passengers survived the 1960 Minneapolis Lakers charter that crash landed onto a strip of farmland in Iowa. Quite a lot has been written about it. Slick Leonard, 87, who still does color on the Pacers' broadcasts was one who survived the horrific scare.
Individual Athletes:
Roberto Clemente: While on a charitable mission on December 31, 1972, the popular Pirates' Hall of Famer perished in a plane crash.  He was with a trio of others who were hoping to deliver relief supplies to Nicaragua following a devastating earthquake. It was an ill planned flight aboard a doomed cargo plane.
Sonny Dove: After his playing career, the ex- St. John's star and short-time NBA and ABAer drove a cab in New York to make ends meet. On the snowy night of February 14, 1983, the taxi he was driving skidded off an open draw bridge and into the icy Gowanus Canal in Brooklyn. Sonny was also doing commentary at the time on the St. John's basketball broadcasts (with me).
Jose Fernandez: The promising Marlins pitcher died in a pre-dawn boating accident along with two others on September 25, 2016. The boat was speeding when it hit a jetty. The medical examiner's report indicated that Fernandez had cocaine in his system.
Roy Halladay: The 16 year Major Leaguer with Toronto and Philadelphia, a two-time Cy Young Award winner and Hall of Famer, lost his life flying an amphibious plane into the Gulf of Mexico off the Florida coast on November 7, 2017
Ken Hubbs:  Cubs second baseman had a fear of flying. To overcome it, he learned to fly planes himself. Hubbs took off from Provo, Utah on February 13, 1964 and the Cessna crashed nearby.
Wendell Ladner: He played for a handful of teams in the ABA and was still on an active roster on June 24, 1975 when he perished aboard an Eastern Airlines flight that crashed near JFK Airport. The Medical Examiner confirmed Ladner's identity by the ABA championship ring he was wearing, (Nets, 1974).
Rocky Marciano: On August 31, 1969, one of boxing's greats was headed to Iowa to give a speech when the Cessna charter he was on crashed. Rocky was one of four killed on the plane.
Billy Martin: The colorful, successful and controversial baseball manager died in a car crash near his Binghamton, New York home on December 25, 1989. Based on reports, it has never been clearly identified as to who was driving the vehicle, Billy or his friend Bill Reedy.
Thurman Munson: The Yankee standout catcher had been flying for about a year when on August 2, 1979, his Cessna  crashed on landing just short of the runway at the Akron-Canton Airport. When the Yankees paid tribute to Munson at Yankee Stadium, television director Don Carney had a frozen shot of a an empty area around home plate, void of life. It was chilling and unforgettable.
Drazen Petrovic: A Croatian who played in the NBA with the Blazers and Nets was in Berlin on June 7, 1993 when he died as a passenger in a car cut off by a semi-truck.
Knute Rockne: Famous Notre Dame coach (1918-30) died in a plane crash in Kansas on March 31, 1931, while en route to participate in the production of the film The Spirit of Notre Dame.
Payne Stewart: An air crash on October 25, 1999 took his life, four months after he won a U.S. Open. The chartered  learjet wasn't properly pressurized.
***
Broadcasters:
Don Drysdale (Dodgers), Don Poier (Memphis Grizzlies), Harry Kalas (Phillies), Richie Ashburn (Phillies) and Arch McDonald (Redskins) died of natural causes while on the road.
There was tragedy too. Bill Teegins, Voice of the Oklahoma State basketball team was on the plane that crashed (above), Marv Bates was the Evansville voice who died (above), Gene Moorehouse, Marshall voice (above).
Jack Quinlan, a highly touted broadcaster with the Chicago Cubs passed in 1965 at Spring Training in Scottsdale, Arizona. He had just left a golf course when his car crashed.
On May 25, 2019, Rod Bramblett, 53, 'Voice of the AUburn Tigers' and his wife  52, died shortly after a two-vehicle collision. In 2013, Bramblett called the famous Kick Six stunning last second upset over Alabama.
Heartwarming irony followed Wichita State crash:
An amazing follow-up story. Gus Grebe called the Shockers games from 1966-73. He survived the trip to Logan, Utah (above) because lucky for him, he was on the other plane headed to Utah State.
Gus recently turned 100. I don't know of any ex-broadcaster who has hit the century mark. Grebe is still committed to memorializing victims of the deadly air crash fifty years ago.
***
May I add another strange twist. Jerry Schemmel who survived a United Airlines crash that killed 111 in 1989 put the pieces of his life together. He first called Denver Nuggets games and for the last ten years was doing Colorado Rockies radio broadcasts. About two weeks ago, iHeart laid him off along with hundreds of others across the country. He has his life and will bounce back but the proximity of the two stories is eerie.