Author profiles Joe Nuxhall, Reds' longtime radio analyst, who also pitched for Cincinnati at age 15
Get the Kleenex.
You'll need 'em, that's a promise.
And, if you don't use 'em, you're either lying – or have no pulse.
Perhaps both.
This isn't a baseball story – although the main character is one of the greatest trivia questions of all-time.
Nope, this is a story about a man so engrossed in his community it should be a movie – not the book that was recently penned by former Cincinnati Enquirer Radio and TV critic – John Kiesewetter.
Joe Nuxhall: The Old Lefthander and Me – My Conversations with Joe Nuxhall About the Reds, Baseball and Broadcasting.
Kiesewetter forgot this – life.
"My favorite baseball player was lefty Joe Nuxhall when I was a young lefthander growing up in Middletown, Ohio," Kiesewetter wrote.
Joe Nuxhall, who signed a major league baseball contract – and pitched – at the age of 15 is more than a Jeopardy answer.
Sixty years with the Cincinnati Reds, and Nuxhall spent more than half of them sitting next to Hall of Fame broadcaster Marty Brennaman in the radio booth.
In 2019, the year that Brennaman retired, the Reds were also celebrating their 150th birthday. Cincinnati baseball was born in 1869 and named the Red Stockings. As Marty wrapped up his storied baseball career, news stories pointed out that he had been around for nearly one-third of the team's history.
However, Nuxhall's 64 years represented nearly 43% of the club's 150 years – Joe had a presence for 75 years, or half of Reds' history.
Owner Bob Castellini called Nuxhall "the heart of the Cincinnati Reds franchise" at a Fairfield gala in 2007, seven months before Joe died.
Brennaman has a wall filled with honors. He won the coveted Ford Frick Award from Baseball's Hall of Fame, has been inducted into the National Radio Hall of Fame in Chicago; the National Sportscaster and Sportswriters Association Hall of Fame in Salisbury, North Carolina; and the Virginia Sports Hall of Fame. The American Sportscasters Association named him one of the Top 50 Broadcasters of all time. Marty was also Ohio Sportscaster of the year 17 times, after being Virginia Sportscaster of the Year four times.
Yet doing 5,600 Reds games with Nuxhall meant more to Marty. Their 31-year partnership tied the Major League Baseball radio record set by the Dodgers' Vin Scully and Jerry Doggett.
"The fact that Joe and I were together for 31 years, sitting together side by side, broadcasting Major League Baseball, that's the thing I'm most proud of. The rest of that stuff is fine. But working with Joe and being together 31 years – and being one of six baseball broadcasters with 40-plus years with the same club – that means the most to me," Brennaman said.
In 16 seasons, Nuxhall won 135, lost 117 and struck out 1,372 for the Reds, Kansas City Athletics and Los Angeles Angels. He was 130-109 for the Reds, with a 3.80 earned run average, 20 shutouts, 18 saves and 1,289 strikeouts. He also hit 15 home runs, and drove in 78.
Some would say he never took the uniform off in the broadcast booth.
"I would say I'm a homer, in a sense," Nuxhall told author Kieswetter , "but basically, I'm trying to make it as nice as I can for whatever happens on the field. And I think we've always given credit to the opposition. If they make good plays, and we're honest about it, and not say, 'What a lucky play!' or this or that or the other thing. That's always been my view."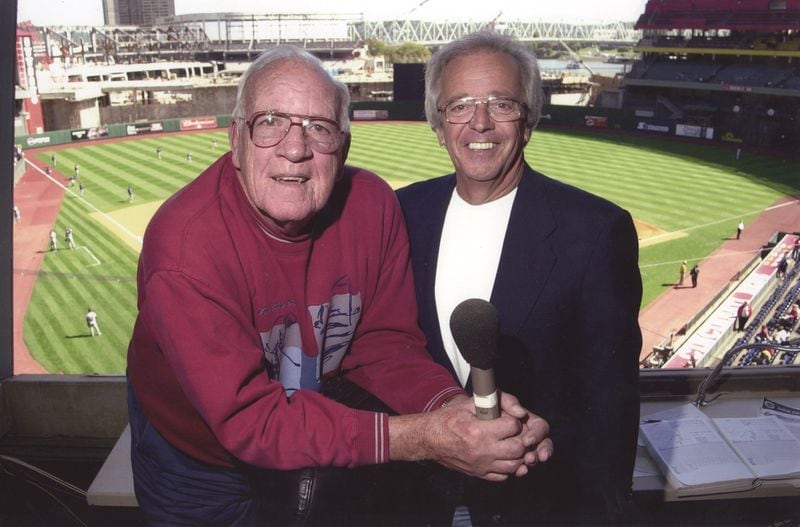 Nuxhall spent 38 years as a full-time Reds Radio broadcaster. Brennaman was the Reds' voice for 46 years. The six radio broadcasters who spent more than 40 years in the booth with the same club: Scully, Jack Buck (Cardinals); Denny Matthews (Royals); Bob Murphy (Mets); Bob Uecker (Brewers) and Brennaman.
In baseball it's normal to notice an error on the field. In the broadcast booth, well, it can be a major disaster. (Nuxhall, left, with legendary retired play-by-player, Marty Brennaman)
Nuxhall used a profanity during his pregame Turfside interview with outfielder Joel Youngblood before the Reds played their Triple-A Indians team at Indianapolis' old Bush Stadium.
Al Michaels, the NBC Sunday Night Football broadcaster, who preceded Brennaman as a Reds announcer, wrote his account in his 2014 autobiography. Reds' historian Greg Rhodes and Cincinnati Enquirer sportswriter John Erardi told the story in their 2004 Opening Day book.
While talking to Youngblood, infielder Phil Gagliano and other players pelted Nuxy with pea gravel. Nuxhall called him an (expletive). Then he stopped the tape and started his interview all over again with Youngblood. "Three, two, one. Hi everybody, this is Joe Nuxhall…"
In a hurry to shower after throwing batting practice, Nuxhall didn't cue up the tape before giving it to a clubhouse kid to run it up to the radio booth. The engineer rewound the tape to the beginning. Nuxy's pregame profanity was heard throughout Ohio, Indiana and Kentucky on 50,000-watt WLW-AM.
The nightly news led with the story in Cincinnati. Nuxhall, a Reds employee, worried that his career was over.
The next day, club GM Dick Wagner and Roger Ruhl, the Reds promotions and sales director got together to write an apology for Nuxhall to read before the game that night. Ruhl typed up the statement. He couldn't resist including the line, as a joke, for Joe to use: "It wasn't my fault. It was the (expletive) engineer."
Joe was not amused.
As for Wagner, if he had his way, Nuxhall wouldn't have been on radio when Brennaman was hired in 1974. There would have been no Marty and Joe.
After the 1970 World Series, when the Reds were searching for Jim McIntyre's successor, Wagner flirted with replacing Nuxhall, too. The Reds had just hired John Soller- later General Manager of WKRC-AM in the 1980s – as the club's first broadcasting director. In Soeller's first weeks on the job, he said, "I remember Wagner asking me if we should keep Nuxhall."
Should we keep Nuxhall?
"I was stunned at the question, "and defended strongly the reason to keep Nux," Soeller told Kiesewetter. Others in the front office supported Joe, too, so he was retained and paired with Al Michaels.
He was the Old Lefthander – and signed off each and every broadcast with: This is the Old Lefthander rounding third and heading for home." (Nuxhall, right, with Al Michaels)
Reds coach Whitey Wietelmann, a former infielder-pitcher for the Boston Bees (later Braves), told Joe he needed a catch phrase. He suggested: "This is the Old Lefthander rounding third and heading for home."
Joe thought the expression was too corny. He told Kiesewetter: "Jesus Christ, Whitey!" Wietelmann persisted and Nux agreed to give it a spin. "I tried it for about 10 days and I said, 'Sh–, that's terrible! I'm not using it anymore.' He stopped for a week or so and started getting mail saying, 'Hey, you stopped using the Old Lefthander!'
Nuxhall said, "I guess they liked it."
They loved it, without a doubt. It was immortalized in lights when Great American Ball Park opened – on Joe Nuxhall Way – in 2003.
Andy Furman is a national sports talk host for Fox Sports Radio and writes for the Brooklyn (NY) Daily Eagle.