Bill White, hired 50 years ago by the Yanks, was the first ever Black play-by-player for a pro team
Fifty years ago this past February, Bill White was introduced to the media as the third member of the New York Yankees broadcast team. He joined Phil Rizzuto and Frank Messer.
In the story that Maury Allen penned the next day in the New York Post, he told readers that at the press conference someone called White, "the Jackie Robinson of the broadcast booth." Indeed. it was an epochal moment for baseball and particularly the Black community.
To that point, in 1971, no pro team in any sport ever had a fulltime Black play-by-play voice. As such, it was a heartwarming breakthrough in a country that was as divided then as it is today. Now, in 2021, there are only three MLB Black play-by-players among the thirty teams across the landscape; Robert Ford, Astros; Ken Singleton, part time, with the Yankees and Dave Sims of the Seattle Mariners.
When I reached the always affable White he said he never thought of the anniversary and was genuinely surprised that it has been fifty years since his historic appointment.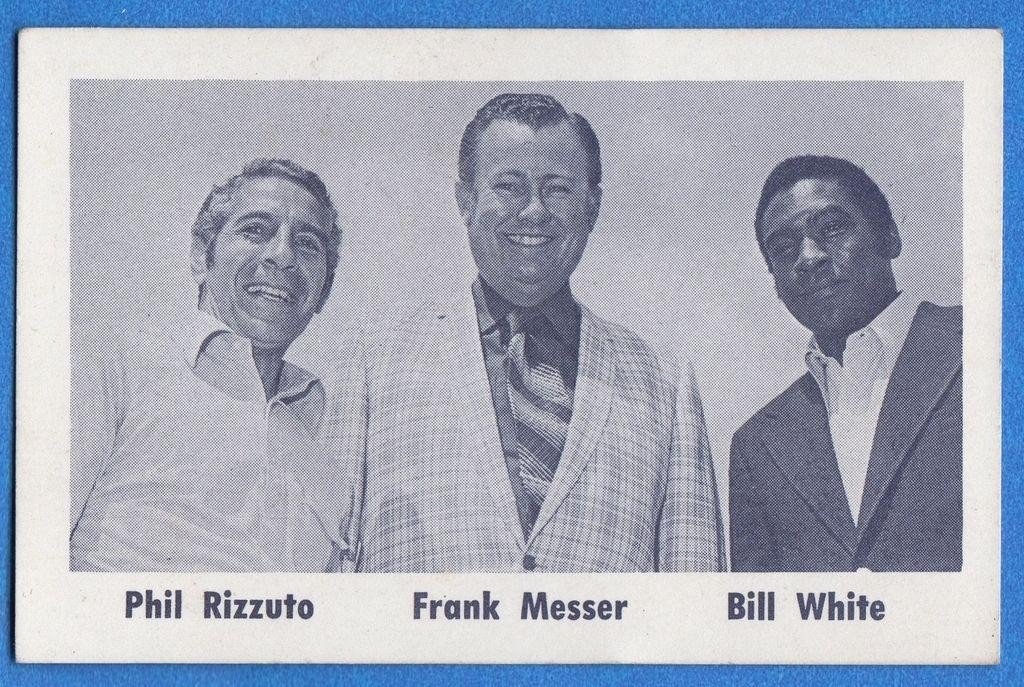 His predecessor, Bob Gamere, had been let go after just one season in 1970 and in short order, the Yankees received 200 audition tapes from applicants seeking the esteemed gig. Yet at the urging of Howard Cosell, White was hired. "I had lunch with (team president) Michael Burke and told him he should not overlook Bill," Cosell said at the time.
It was believed that Burke's reasoning for hiring White was to expunge the Yankees' stodgy image and appeal more to minorities. White though said, "I didn't really want to be hired because of that (being Black)," adding, "the Yankees were one of the best-known teams and in the Bronx. It would be great for young Black kids to turn on the TV and see one of their own."
White became an outstanding announcer. He worked at it and blended technique, warmth, knowledge and enthusiasm. He received a warm early reception from boothmates Rizzuto and Messer and for the next 16 years, the former first baseman lit up radio and television airwaves with yarns, friendliness, humor and candor.
The New York Times described his work as an "easy colloquial style, studded with nuggets of pithy descriptions." When Brooks Robinson handled a difficult ground ball seamlessly, White was on it succinctly, "Brooksie has soft hands."
Messer never forgot White's first radio broadcast: "The Yankees were playing an exhibition against the Orioles in Miami. Rizzuto was on the air alone and I was at the other end of the press box. Phil introduced White (left) and welcomed him into the Yankee family. Then, with the corner of his eye, Scooter saw Joe DiMaggio. So Phil immediately popped out of the booth and left poor White in the booth all alone. The guy must have been nervous while trying to do something he'd never done."
"I had never broadcast an actual game and I might have botched a call or two in spring training. So at Burke's request, I was taken off play-by-play for a while and did just color," White told me recently. He was also thankful to longtime Yanks public relations man Marty Appel who Bill says was very helpful to him. "We'd sit in right field and I'd practice into a tape recorder. Before long, I was back on play-by-play."
White first dabbled in radio in St. Louis when he played for the Cards. Bill and announcer Harry Caray would rib one another. One day, White told Harry that announcing was an easy job. So Caray challenged him, "You try it!"
Bill did and he credits KMOX Radio's legendary general manager Bob Hyland who took White under his wing. "Hyland was great to me. I had a five-minute show with Bob Gibson. Hyland had me go out with the salespeople and I actually sold some air-time myself. Hyland was an amazing man. He never left his office."
At some point in St. Louis, White told Jack Buck that he was struggling to find a home to buy. Buck told him, "Come with me, let's go look together." Another man who assisted White was the late Blues' voice, Dan Kelly. "One day we spent almost eight hours talking sports and the fundamentals of play-by-play. Those fellows were both very helpful."
Talking about St. Louis where he played from 1958-'65, Bill reminisced about the Celtics' Bill Russell and KC Jones and their trips into town to play the now Atlanta Hawks (in St. Louis until 1968). "There were lots of places where they were banned from eating (because they were Black) so I'd bring them to somewhere where I lived and where we could dine together."
Later, in his last playing stop, Philadelphia, White did television too. "I did both basketball and hockey in Philly," Bill said, remembering the late 1960s. He had played basketball in his youth and felt more comfortable with the round ball than the hockey puck. Chuckling, Bill added, "We were somewhere out west doing hockey and I called the puck a ball!" White became sports director for WPVI-TV until he left for the Bronx.
When Yankees' fans think of White, it will likely trigger thoughts of Phil Rizzuto. "We built a real bond," Bill said. "We got real close. He would leave games early all the time and it gave me more time on-air doing play-by-play and it gave me more opportunities." The best way to learn is when someone says, 'Here it is, it's yours.'" When White arrived at Spring Training in 1971, he checked out Rizzuto with Elston Howard, the Yankees first ever Black player. "Everything he said was positive."
"We had crazy things happen. Once, Phil opened up a broadcast saying, "Hi, this is Phil White. It was hilarious. He was a great guy." On-air, Rizzuto rarely called him Bill. "Hey White," was Phil's usual refrain. The two were close but in many ways different. While Rizzuto liked hitting the links, White enjoyed fishing and the outdoors.
"We liked one other. We were over each other's homes. When he was in a retirement home, I'd drive up an hour and a half (from his Philly area home) and spent time with him in New Jersey. We talked about life and baseball. He helped me a lot," Bill reinforced.
As for White's relationship with Messer, "A good guy but Phil and I were a lot closer because we both played. Frank was a better broadcaster than we were. The Yankees made a mistake not renewing his contract (in 1985)."
The subject of selling baseball memorabilia came up in our conversation because Rizzuto sold much of his in the years before his death. I told him that it was public knowledge that the great Vin Scully sold much of his too and it generated a couple million dollars. Hearing this, Bill added, "I sold mine and made about $15,000!" White played for three clubs, the Giants, Cardinals and Phillies. He was in the big-leagues for 13 seasons.
"Scully helped me a lot too. I'd sent him audio and video tapes and he shared some important tips with me. Our connection was Peter O'Malley who hooked up the two of us. Pete and Vinny are close.
"O'Malley hired me as National League president when Bart Giamatti moved from that role to become commissioner. It took Pete three phone calls to convince me." When he first called, White told O'Malley, "Do you think I want to work every day?" Thinking back, White said, "The best thing that happened to me was leaving broadcasting and spending five years at the NL office (1989-1994). We did run into a problem with the American League after Giamatti died. We lost our independence and I quit. Bud Selig and Jerry Reinsdorf took over. That was it." White was instrumental in bringing Colorado and Miami into the NL as new franchises in 1993.
When I asked him whether he still watches baseball, his answer was immediate and emphatic "No! I'm proud of my accomplishments. But when you're done, move on."
At 87, White is not one to sit around. His interests are broad. "I was second in my high school class-and was also the class president. My mother wanted me to be a doctor then. I chose baseball and signed with the Giants. My lady and I have traveled a lot. Peter O'Malley took me took me to Japan with the Dodgers. We've been to Australia. I love the outdoors and had a vacation home for years in Canada."
White also worked for the networks during his career, covering the World Series nationally on CBS Radio (1976-78) and had a short stay with NBC's Today Show team. "Joe Garagiola and I were friends. When he left the Today Show, he recommended me for a role. It was the biggest mistake I made. Who'll ever replace Garagiola? I learned never to replace a superstar. I was living in a hotel up in New York and I wasn't very good on the Today Show. I didn't last long. Joe was always a good critic for me too. He'd call me if I said something or do something on-air and he'd let me know."
How about the well known issues between Joe Garagiola and Harry Caray in St. Louis when they called Cardinals games in the late 1950s?  White explained that "Joe was so popular and didn't have to work his way up to the booth. Caray felt he didn't pay his dues."
An unavoidable question. How did you get along with George Steinbrenner? "Fine. George was a Buckeye. I grew up around the Cleveland area. He played hoops with guys I knew."
Bill White is truly a role model. It seems he's led his life by strong conviction and pragmatism.