Boxing HOFer Steve Albert, ESPN's Chris Berman, HBO's Bryant Gumbel, others remember Ali-Frazier I
Ali-Frazier I, March 8, 1971.There's been nothing like it since.
In many ways it's like yesterday, and in others ways, it feels like eons ago.
Steve Albert
Steve Albert was in college at Kent State. He went on to have a sparkling career, calling Mets, Jets, Nets and Islanders. If it wasn't enough, he worked for three other NBA teams, the Warriors, Suns and Hornets. He was also a sports anchor in New York for WCBS-TV. And yes, he did tons of boxing, primarily for Showtime, some 450 fights. The youngest of the Albert siblings, he was inducted into the International Boxing Hall of Fame in 2017.
Steve Albert
I was a junior at Kent State when Ali-Frazier took place and I was unable to watch the fight live on closed-circuit TV. But I have seen the fight since on tape several times. I remember that the build-up to the fight pretty much wrote itself.
It didn't need much help with these two great undefeated champions plus Ali's bigger than life personality. Then when you added in the political overtones, it was a box office bonanza and the ratings certainly proved that. I found it interesting how people were taking sides based on each fighter's strong personal beliefs.
When I first saw the replay, I felt for blow-by-blow announcer Don Dunphy who was one of my idols growing up. While I admired Burt Lancaster as an actor, he seemed out of place alongside Dunphy, the consummate pro. I read somewhere that Lancaster was a friend of the fight's promoter Jerry Perenchio, a Hollywood big-wig who brought him in for his first gig as a boxing commentator. Only in boxing!
Later in life, when I became a boxing announcer, I got to work with Arthur Mercante who was the referee for that historic fight. Arthur had transitioned to broadcasting after his ref days were over and we became good friends. I couldn't believe that the third man in the ring for Ali-Frazier was my TV partner! I remember him telling me what a wild night that was, with all the celebrities, politicians, movers and shakers ringside at Madison Square Garden. I could only imagine.
And talk about six degrees of separation, not long after working with Mercante, my sidekick at Showtime was The Fight Doctor, Ferdie Pacheco, who had been Muhammad Ali's personal physician.
Ferdie worked Ali's corner for most of his career including of course his fights with Joe Frazier. He would regale us with stories about Ali all the time. In his book, "Muhammad Ali, A View from the Corner," he wrote about all the backstage battles, the fireworks, flareups and craziness going on just before the March, '71 fight, particularly between the motivator of the Ali circus as Ferdie put it, Ali's close friend Bundini Brown and Garden official Harry Markson over the issue of tickets.
Pacheco said that Ali seemed to thrive on this tumult and circus-like atmosphere. He loved it and drew strength from it while Frazier, wrote Ferdie, ignored all that noise and hubbub and entered the ring in the best condition of his life.
While I did not get to see that historic fight live, I was so fortunate to get close to those who played such key roles in it, which made me feel like I was actually there.
Chris Berman is essentially an ESPN original. He and the network's acronym are interchangeable. Chris was in Bristol for the early struggles when the network worried about making payroll. He was also there during the halcyon days when the network grew leaps and bounds.
Sports Broadcast Journal ranked Berman as ESPN's top personality all-time. He's been a Bristol fixture for 42 years,
Chris Berman
I was just a sophomore in high school. EVERYONE of ALL AGES was talking about this going into it and coming out.
I do remember a description of Ali hitting the canvas, albeit ruled a slip and not a knockdown: "The tassels on the back of his boxing shoes swaying in the air." The one I remember the most is the Thrilla' in Manila (October 1, 1975), maybe the greatest boxing match of all-time. I was at Brown. I got our college station one press pass to the closed-circuit telecast in downtown Providence, then screeched back up to the station to give an 'eye witness' account on WBRU. Believe it or not, bigtime listenership.
Bottom line for all Ali fights: WORLDWIDE EVENTS. Joe Frazier was the best boxer ever that nobody puts in that class when going through history. All because he was fighting Ali. The physical and mental toll these fights put on these two – staggering!
Len Berman was an accomplished sports anchor in Boston and later, for decades, in New York. He always shared a cogent perspective on sports. Len was a viewer's delight. He also spent time working for NBC Sports nationally. For the past few years, Berman has been an energetic and creative radio co-host, heard each morning on WOR in New York.
Len Berman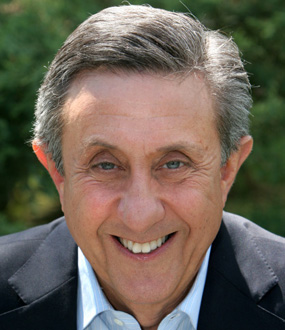 The buildup for that night was unlike any other that I can remember for any sports event.
And the fact that it was only available on closed-circuit TV in the U.S. only added to the mystique. Both Ali and Frazier were undefeated and no less a figure than Frank Sinatra was hired by Life Magazine to be their photographer. As a result of all the hype the fight set pay-per-view and TV viewing records around the world. And by the way, Joe Frazier won a unanimous 15 round decision.
Bryant Gumbel has been a network television fixture for some five decades. He's the younger brother of Greg Gumbel of CBS Television. Bryant was the face of NBC Sports before Bob Costas. He then spent many years as a co-host on NBC's Today Show. He's now HBO Sports' top personality and host. He and his colleagues take deep dives into subjects outside the lines.
Bryant Gumbel
On March 8, 1971 I was living in a third-floor walk-up in New York City's then-rundown theatre district … and was basically unemployed. I was glued that night to a transistor radio that was limited to doing brief recaps when a round had ended and I was crushed beyond consolation when Ali lost that 15-round decision. There has never been a more significant, riveting, or consequential "sporting" event in my lifetime, nor in my opinion, can any event even approach that night's social importance. Set as it was, against the backdrop of an historic struggle against racism, and the violent protests against an immoral war half a world away, the battle between two undefeated heavyweight champions who symbolized divisions of race, class, age and status, was an event that remains preeminent in my mind … never to be forgotten.
Mike Patrick was ESPN's Voice of Sunday Night Football and a lead voice of college basketball before he retired. He always presided over a game broadcast crisply, and with confidence and command.
Mike Patrick
Don Dunphy, who did the blow-by-blow had a classic voice and you thought of boxing the moment he spoke a word. The fight was awesome. Ali was coming back from having part of his prime taken away because of his stance against the Vietnam war and was despised by conservatives and praised by liberals. If I remember correctly, Ali was calling Frazier ugly and instead of seeing it as just another way to hype the fight, he was outraged, and responded with the fight of his life. He won a unanimous decision and deserved to, but Ali would have his revenge twice, and prove he was one of the best that ever lived.
Jeremy Schaap
A 27 year veteran of ESPN, Jeremy is the son of the late Dick Schaap, who spent years in television after a career as a writer for Sport Magazine. Schaap hosts both E:60 and Outside the Lines, ESPN's showcase journalism shows.
Jeremy Schaap
The biggest, most anticipated, most thrilling event ever in sports? There might be cases to be made for a few other fights—say the second Dempsey-Tunney fight and the second Louis-Schmeling fight—but ultimately I think we have to give the decision to Ali-Frazier I. for a lot of reasons, mostly because of Ali, and what he represented to so many, to those who loved him and those who loathed him, but also because the matchup was unique: a title fight between two undefeated heavyweight champions, not alphabet soup champions, but real champions.
You could say they were both undisputed champions—except they would have disputed each other's claims. And unlike those famous rematches, here was the thrill of the unfamiliar. As in Louis-Schmeling II, this was also a situation in which the fighters were proxies for something much bigger—in this case the civil rights movement, the anti-war movement and the burgeoning 'counter culture' versus the so-called establishment and the forces of resistance to change. Ali and Frazier weren't just fighters, they were symbols. That was fair, for Ali, and unfair, really, for Frazier. But that's the way it was—and that gave the fight its significance beyond the exchange of blows.
It also turned out to be a helluva fight—and although he had already fought Jerry Quarry and Oscar Bonavena since returning to boxing the year before, this was Ali's true reintroduction to the sport on a global stage.  
Everyone who was anyone wanted to be there—and the crowd was studded with stars. 
Lesley Visser
As a pioneer, Lesley gently, yet effectively, has always led by example. Visser is not only a gifted writer, she spits out flawless pieces in a heartbeat. She has also retained a television presence for almost five decades. What might go unnoticed to the general public is her ongoing willingness to assist and coach women who aspire to write or broadcast sports.
Lesley Visser
I was a senior in high school, and like most people around the world, I listened to updates of  the Fight of the Century on radio. I was in bed, with my ear next to my pocket Panasonic – the antennae pulled up as high as it would go. Because there were no radio announcers ringside, we got summaries of each round, sent from UPI to the radio networks. It was breathtaking and tense, and fantastic to imagine Ali's lightening jabs and Frazier's towering counter punches.  Before the fight, Ali had said, "I will amaze ya, I will retire Joe Frazier."  It was not to be – a left hook to the jaw took Ali down. I feel privileged to have heard it.