NBA analysts: Breaking down six, like Shaq and Barkley, who competed against Michael Jordan in the 90s
Breaking down the NBA analysts who battled Michael Jordan
This spring, ESPN's The Last Dance swept viewers off their feet. An average of 5.6 million sets of eyes tuned-in to the ten Sunday night episodes. The docuseries gave America a jolt of sports theatre when it was needed most, during the ongoing darkness of the pandemic.
Through the Bulls' championship run in the 90s, six current NBA broadcasters competed against Jordan. Today, all of them work for either CBS or Turner Sports. Charles Barkley, Grant Hill, Reggie Miller, Shaquille O'Neal, Kenny Smith and Chris Webber all get prominent television play. On-air, their styles vary and their personalities differ, from heady to spontaneous and from edgy to analytical.
Let's take a look at them in alphabetical order.
Charles Barkley
 In my view and in many others, Charles Barkley is a national treasure.
Many studio analysts dig deep to break down strategic options and dissect matchups. Not Chuck. He doesn't delve into the granular or attempt to sound professorial in a basketball sense. It's not his game. Details are left for others. He's kneejerk. He's no Hubie Brown. He's Barkley. He's special.
The 2006 Hall of Fame inductee is funny and self-deprecating. He exudes warmth and strikes viewers as being outgoing. Charles is unfiltered and unpredictable. It can't get any better from an entertainment measure; well after games end and when the clock is about to strike 1AM. He and the Inside the NBA gang can be hilarious, more so than the late-night comedians on the mainstream network channels.
Charles loves to stir the pot. It's part of his act. He ribs his colleague and his occasional adversary Shaquille O'Neal, engaging him in banter that can be a baffling mix of carefreeness and uneasiness. The man's unflinching remarks about players around the league always draw a response.
Some of the more notable Barkley segments include one that dates back to All-Star weekend in 2007 when he outraced then 67-year-old referee Dick Bavetta. Then there's the silliness when on the "Who He Play For" segment, Barkley seems to be unable to identify the very elementary, like role players and the teams for which they play . But instead of deriding him, viewers chuckle.
Grant Hill
Following a 19-year injury plagued NBA career, Hill did work on NBA TV. In 2015, he joined Jim Nantz and Bill Raftery at the highest of levels, coverage of the Final Four. Jim warmly connects the dots and gets the best from his two partners.
Hill continues to get better. Hill's biggest struggle was deferring to Raftery, an analyst for 33 years and to the legendary Nantz, the lead play-by-play voice of CBS' basketball coverage since 1991.
In 2017, Raftery told Yahoo's Jeff Eisenberg, "I think he (Hill) deferred a lot more because he's a gentleman. Now, he's ready to jump in when he has a good thought without feeling like he offended Jim or me. That's a normal progression for anyone."
Grant Hill, a Dukie, is heady. At halftime of CBS' broadcast of the 2019 NCAA National Championship between Virginia and Texas Tech, it was Hill not Raftery who broke down the guard play of Virginia's Ty Jerome and Texas Tech's Brandon Francis. He spelled out Francis' ability to create his own shot and he praised Jerome's craftiness.
To Hill's point, Jerome used his craftiness during Virginia's final possession in regulation. With 18 seconds to go, Jerome used a smooth hesitation move to drive inside, which drew the defense's attention, setting up a wide-open Deandre Hunter's three-point attempt. Hunter made the shot, sent the game into overtime and kept Virginia's championship hopes alive.
Reggie Miller
Following his retirement after the 2004-05 season, Miller made the move seamlessly to broadcasting. His quirky commentary gets viewers' attention.
He picks his spots to express his enthusiasm. His praise, "Welcome to your Kodak moment," after a posterizing dunk is clever, but he at times has the tendency to lean on clichés.
Reggie teams with both play-by-play announcer Kevin Harlan and occasionally with both Chris Webber and Marv Albert on Turner's broadcasts of the NBA post season. Reggie also works the NCAA tournament as part of CBS and Turner's exclusive coverage.
Miller's best with Harlan whose epic voice is intoxicating and driving. Reggie draws from personal experience. He can be funny, pithy and spontaneous. His sister, Cheryl Miller, an Olympian, was a fine broadcaster herself.
Shaquille O'Neal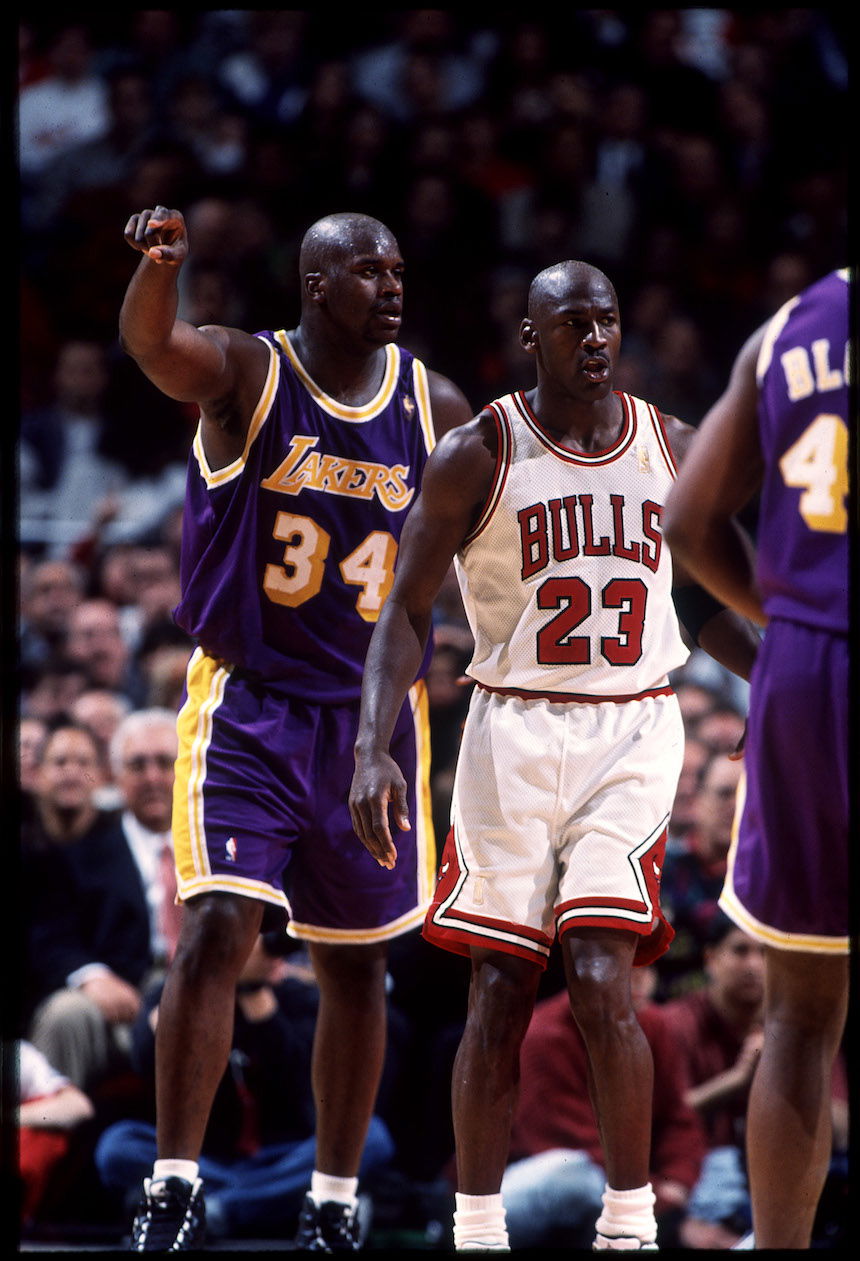 Shaq joined the set in 2012, a dozen years after Barkley. As a player, he was impossible to push around. Like Chuck, he was deceptively quick.The two went at it on the court and fiercely so, once in quite a rhubarb.
On Inside the NBA, the hostility occasionally plays itself out too. The men sit on opposite ends of the set. Ernie Johnson Jr. and Kenny Smith are between them. To the naked eye, it looks like the seating arrangement is set up to keep the two apart. On the show, O'Neal is a cross between a clown, comedian and a crusty observer of the game. 
Shaq is a bear of a man whose tenor is hollow, flat and almost threatening. And yes, heated arguments erupt and at any moment. But that's just another element that makes the program intriguing. Viewers never know when things will get tense and uncomfortable or turn into an entertaining skit.
Both have strong, big and contagious laughs. They'll argue or crack up over virtually anything, material or immaterial. Last fall, the two engaged in a planned wrestling match in the studio. A ring was set up and Kenny Smith refereed the melee.
O'Neal is known for his silliness and nicknames, Ricky Rubio was "The Italian Pete Maravich."
Xs and Os are not Shaq's middle name.
Kenny Smith 
Kenny Smith has been with TNT's Inside the NBA since 1998 and has made a prominent career for himself as a studio analyst. When Charles Barkley and Shaquille O'Neal aren't quarreling, Kenny "The Jet" gives the most detailed analysis of the diverse gang in the studio .
At halftime of TNT's game coverage, Smith shines. He hustles to TNT's monster-sized screen to break down offensive sets, diving deeper than anyone on the show into the X's and O's of the game.
Smith, still thinks like a brainy point guard which he was in the NBA and at North Carolina. He has a good mind for the game, is a jack of all trades, funny and interacts with both Shaq and Chuck seamlessly.
Smith has also done some in game analysis, on both college and NBA telecasts.
Chris Webber
Webber enjoyed a lot of success in the NBA, appearing in five All-Star games and amassing over 17,000 points. Though Webber enjoyed a productive NBA career, there are some shortcomings form my point of view when he's on-air.
Chris occasionally struggles with basic analysis and lack freshness. For instance, a comment like, "The team that has the most energy or wins the most 50/50 balls wins the game" are hardly revealing. They're too elementary.
May I ask, why in Game 7 of the 2015 playoff matchup between the Spurs and the Clippers, would Webber puzzlingly applaud both teams' resilience in the battle of 50/50 balls? Consider that at that point with 13.3 seconds to go in the game, the Spurs had the upper hand in the quarter in rebounding and they controlled second-chance points by a 12-2 margin. These are not isolated comments.
Some of Webber's takes leave audiences shaking their heads. In 2018, Webber claimed that three-time All-Star and one of the league's best defenders, Draymond Green wouldn't start on some NBA teams. Yes, the same Green who has won a Defensive Player of the Year award and has been an irreplaceable piece of the Warriors championship teams.
Although he has been at it for some time, there is still an opportunity for Webber to get better behind the microphone. His instincts are good but he has to slow down before passing judgment.
**
Though Michael Jordan may have stolen the show on the court in the 1990s, these six former players against whom Jordan competed have become visible figures in sports media.