Canadian Imports: America's all-time top 10 sports announcers from our neighboring country to the north
From Dan Shulman to John Saunders and Tim Ryan to Dan Kelly, Canadian announcers have made their marks in these great United States
For 22 years before his death at 67 in 2005, Peter Jennings held one of the marquee jobs in American media, anchoring the ABC World News Tonight. A prestigious and visible job? Absolutely. Particularly noteworthy? Yes, Jennings was Canadian.
Alex Trebek is an iconic figure in America. His name is synonymous with wildly popular Jeopardy! which he's hosted since 1984. Trebek too traces his roots to Canada. 
Just like news and game shows, the sportscasting world in America would not be complete without a half century of prominent Canadian sportscasters.
So who are the best Canadian announcers to work in America? I strung together my top ten based on two major requirements. First, the Canadian transplants had to have spent a significant portion of their careers in the United States.
The second consideration is this. Unless their contribution was so significant in just one sport, the priority for this list focuses on those who've worked multi-sports.
Here are the top ten, listed in alphabetical order:
Don Chevrier (Edmonton, 1937–2007)
Chevrier spent the majority of his career in Canada but did just enough work in the USA to be eligible for this list. The longtime television voice of the Blue Jays was a contributor to ABC's Wide World of Sports, served as Howard Cosell's broadcast partner the night Cosell famously swore off boxing, and called the Miracle on Ice on ABC Radio. In the 2000s, Chevrier was assigned the Olympics by NBC, calling curling in 2002 and 2006 and badminton, table tennis, and synchronized swimming in 2004.
John Davidson (Calgary, 1953–)
Davidson only covered hockey and in fact never hosted or did play-by-play. He also left the media world abruptly in his early 50s for executive hockey positions. So he is on this list for one simple reason: Davidson is quite simply, the standard by which all hockey analysts today are measured. The one-time Rangers' goaltender retired from the NHL at the age of 30 and immediately stepped into the broadcast booth. For over twenty years, he taught a growing American fan-base, both in New York and nationally (NBC and Fox), about the sport he loved. Although he chose to pursue his hockey administration dreams in the mid-2000s, JD still has the admiration of so many analysts who followed in his footsteps.
Mark Jones (Toronto, 1961–)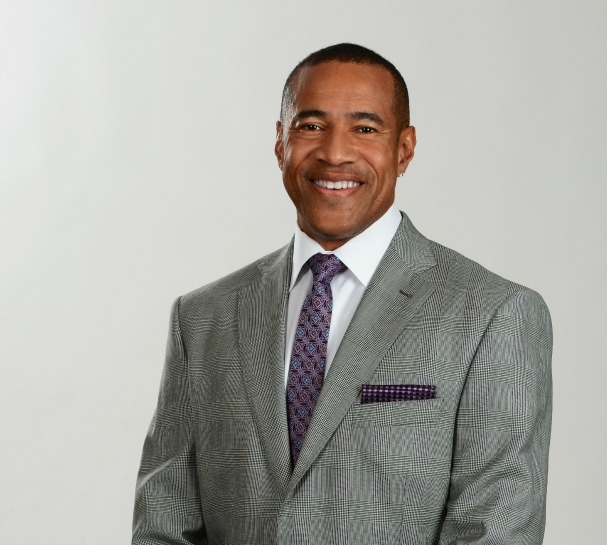 Jones has been employed by ESPN continuously since 1990. He is one of the few Canadians to call a regular college football schedule south of the border, and next season will be his 30th in Disney's gridiron rotation. Jones also has carved out a long career calling basketball, the sport which he played at the university level. He has hosted NBA Finals, All-Star, and Draft coverage, called the 2003 WNBA Finals, and currently sits in the #2 play-by-play chair for the NBA on ESPN, behind Mike Breen. His brother Paul is one of the radio voices of the Toronto Raptors.
Dan Kelly (Ottawa, 1936–1989)
When the NHL expanded beyond six teams, many American teams sought greater legitimacy by bringing in experienced Canadian hockey announcers. The best of the group was Kelly, whom the St. Louis Blues brought down from CBC in 1968. Kelly is credited with teaching the St. Louis market, now one of the most passionate fan bases in the NHL, about hockey. He called 11 Stanley Cup Finals on American television for various networks, as well as a few more in his home country. He is regarded by many including Keith Olbermann as the greatest NHL announcer ever. He also dabbled in other sports, including two seasons of NFL football on CBS. His sons, John and Dan, have also called Blues games.
Stu Nahan (Montreal, 1926–2007)
Born in Los Angeles but raised in Canada, the former Toronto Maple Leafs farmhand did some play-by-play work, including serving as one of the original voices of the Philadelphia Flyers and calling two Stanley Cup Finals for CBS, but he's more widely known for being a sports anchor for three different Southern California television stations during  a 50-year broadcast career. Nahan has a star on the Hollywood Walk of Fame, largely because of his role in the Rocky movie franchise as a fight caller in the first six films.
Mauro Ranallo (Abbotsford, B.C., 1969–)
Very few people are casually aware of Ranallo; either you love him or you don't know who he is. If you are tuned in to the world of combat sports, chances are you've heard his voice plenty. Currently the lead voice of boxing on Showtime, Bellator mixed martial arts, and WWE's development series NXT, he is noted for his unique, wrestling-based commentary and knowledge of pop culture, which he incorporates into his calls. Ranallo, who suffers from bipolar disorder, has also been a leading public advocate for mental health awareness.
Tim Ryan (Toronto, 1939–)
For over three decades, Ryan was possibly America's  most versatile play-by-play announcer on television. The Notre Dame graduate migrated to the US to work in the NHL as the original voice of the California Golden Seals when the NHL doubled in size from six to 12 teams in 1967.
He would call parts of four Stanley Cup Finals for NBC and CBS. With the Eye Network, he called pro and college football and basketball, tennis, and boxing, the latter of which he might well find himself soon in the sport's hall of fame. Ryan covered ten Olympics on American television, where he was on the call for such sports as skiing, rowing, canoeing, and equestrian.
John Saunders (Montreal, 1955–2016)
Saunders came to the US to play hockey at Western Michigan, and became one of ABC and ESPN's most popular on-air faces over the course of his 30-year tenure. He did some play-by-play, mostly basketball, but was best known as host of ABC's college football studio show for 24 seasons. He would also host the network's coverage of hockey, pro and college basketball, and baseball, including the 1995 World Series. For 15 years, he was the moderator of ESPN's Sunday morning talk show The Sports Reporters.
Dan Shulman (Toronto, 1967–)
Though Shulman has never lived outside of Canada, he has been one of ESPN's most high-profile play-by-play announcers for over a decade. He spent seven years as the television voice of Sunday Night Baseball and continues to call the World Series on ESPN Radio. He remains ESPN's lead college basketball voice, now in his 14th season. In 2011, he was named the National Sports Media Association's Sportscaster of the Year, the first and so far only Canadian to be given that honor.
Adnan Virk (Kingston, Ont., 1978–)
Virk joined ESPN in 2010 as a SportsCenter anchor, and occasional play-by-play announcer. Hosting such programs as Baseball Tonight and College Football Final as well as the popular movie podcast Cinephile, he was growing into one of the top studio personalities at the Worldwide Leader before being fired in a leak scandal in 2019. Virk would land on his feet, moving to fledgling DAZN as a baseball and boxing host, giving the streaming service a legitimate face. Virk also shows up from time to time on MLB and NHL Networks.
xx
An additional sprinkling from the Great White North:
Former NFL quarterback and Ottawa native Jesse Palmer has held diverse sports broadcast roles, serving as an analyst both in the play-by-play booth and in the studio. Moreover, Palmer has acted in television's Law and Order and has been a contributor for ABC's Good Morning America.
Through the last half century, Canadian hockey announcers brought their microphones to the U.S., like play-by-players Jiggs McDonald, Jeff Rimer, and Randy Hahn and analysts Bill Clement and Pierre McGuire. Mike Inglis, did some football but the Canadian native is best known as the current radio voice of the Miami Heat, having called their games since 1998.
These well-known Canadian sportscasters have done some work in the U.S. at various points of their lives, Jim Hughson, Chris Cuthbert, and David Amber. But their impacts have been greater in their homeland.
Let's also point out that the first Canadian to call baseball was Jack Graney who did so popularly for the Indians.
Canadians Ariel Helwani, Julie Stewart-Binks and Nabil Karim are among the more recent additions to the U.S. sports media landscape. They've worked in a variety of roles from hosts to sideline reporters to insiders.