CBS, ESPN and Golf Channel cover Phil Mickelson's historic win of PGA Championship; See all their grades!
Raise your hand if there's anything in golf that rivals Tiger Woods' epic 2019 Masters victory.
Often, those of us in the business of covering sports are guilty of serious recency bias. Let's be clear. Phil Mickelson's win yesterday at Kiawah Island's Ocean course moved into the top three in the last 40 years when it comes to Major championship wins. I'll say Nicklaus' win in '86 at Augusta, Tiger in '19 at Augusta and now Phil at Kiawah are the most important and memorable moments that golf has seen in the last 40 years, and you can rank them how you see fit. I'll put Tiger in '97 at The Masters, (so tough to leave off a top 3!) and the Tiger Slam between 2000-2001 are next in line. 
CBS, ESPN and The Golf Channel had the angles covered all week so lets dole out the grades for television coverage.
ESPN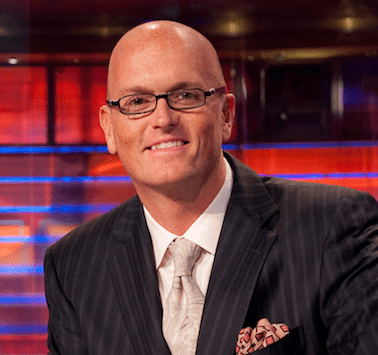 Scott Van Pelt – A-  I really like what SVP did early on in the competition when it came to giving the viewer a tutorial on the winds and their impact. The graphics were great. I can't over-emphasize it enough. With Van Pelt in the lead chair, it was he who gave the early indication that the course was a brute and told viewers to keep a close eye on the wind. The minus comes for Van Pelt being a little too casual at times. He seems to search for the "memorable line" a little too often. SVP's a real pro on golf. No need to divert too often.
Curtis Strange- B+  I like Strange. He's been an early round presence for years. Now at ESPN, the two time Major champion knows what it takes and he knows how to read a course early. One of the interesting observations he made was that while the course was playing incredibly tough from the tee, the greens were very fair. Viewers could see it.
Sean McDonough -A  Sean is a multi-faceted veteran and someone I'd love see more of in the golf seat at ESPN. He speaks to the viewer like a ten handicapper.  Yes, he can poke fun at his own game while watching the pros. Yet there's a palpable reverence that he has for the pros and their games. McDonough comes across as genuine and opinionated. And no matter the sport he's covering, his voice inflections are always perfect. They help underscore the story. ESPN gets a B+ overall.
CBS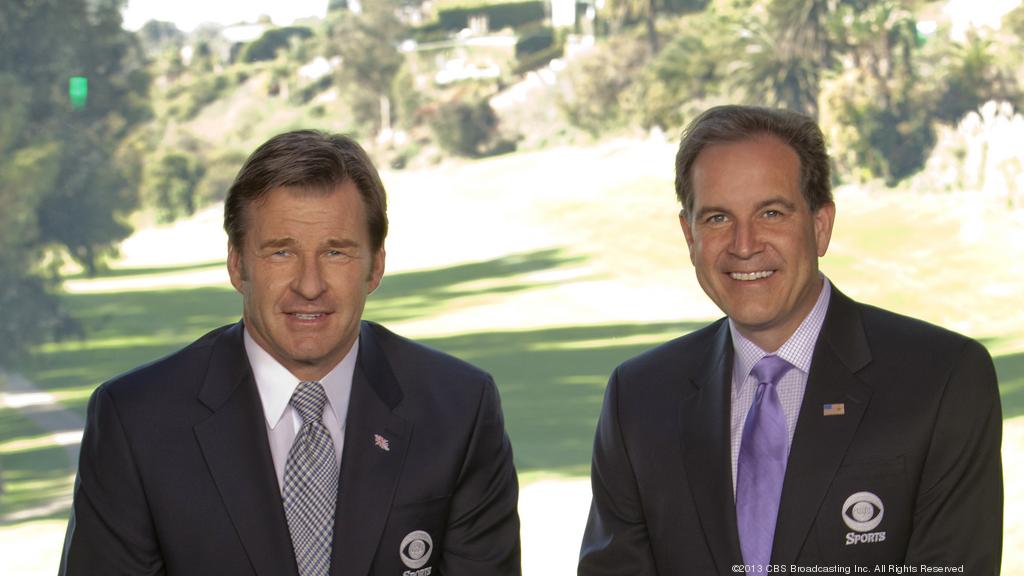 Jim Nantz – A Once again, Nantz (right, with Faldo) struck the right tone during an historical weekend of golf for CBS. I did notice that it was slightly "less" of Nantz at times as he seemed to defer a bit more to his on-course analysts, Dottie Pepper, Frank Nobilo and Ian Baker-Finch. I'm not sure if it was deliberate but the chemistry was quite palpable between those three as we'll get into in a moment. In golf in particular, Jim wears his emotions on the microphone. And witnessing the historical significance of Mickelson becoming the oldest major champion ever wasn't lost on him or his sidekick, Nick Faldo. They both mentioned it was a day they'd never soon forget.  Two things that Jim said this week stick with me. One was a bold call in the second round, Friday window, when Mickelson finished very early and held the lead at -5. This was before the afternoon wave even teed off! Nantz said Mickelson would be the leader at the end of the day with that score. He was! (Tied with Louis Oosthuizen.) Jim also said very early during the final round coverage that he felt that if Mickelson were to win, it'd take his legacy to a whole new level.
Nick Faldo- A  You could sense the adrenaline was picking up with Faldo as the weekend went along. On Sunday he made a very good call that he wanted to get the early players through the entire course to get a proper feel for how the entirety of the course was playing. There was some speculation that it was playing easier than previous days due to some early low scoring, but the course showed its teeth late to most competitors so a prediction of lower scores did not come true. Another astute observation in the final round by Faldo was questioning Koepka's club selection early and often, namely the 3 wood he hit into a miserable location on the par 5,  7th hole, which he double bogeyed. Faldo was convinced that #17 could be the pivotal hole in determining the tournament champ and he put viewers on the alert. That kept fans intrigued and Faldo was spot on. He said that a bogey there for Mickelson wouldn't be a bad thing. About an hour later Mickelson bogeyed the hole.
Dottie Pepper & Frank Nobilo – A  Solid chemistry between these two. I really like the back and forth that they create. It puts viewers into a classroom setting. Nobilo made a strong comment in the riveting 3rd round, saying that it felt like a final round and just about the whole announce crew pounced on it. Pepper chimed in with one of the better lines of the week on Saturday when Oosthuizen was struggling with his putter. She said his putter, "must feel like a telephone pole!" Most weekend golfers can relate to that line which is why it was so powerful and relatable. Pepper has had her best season yet on CBS Golf.
It was excellent theater, exactly what everyone associated with CBS Golf dreams of and the stunning visuals of Kiawah was memorable. One of our longtime readers, Mike Brodsky, e-mailed me and said he loved the Ryder Cup type coverage where essentially it was the last two groups featured as a match play type situation. Agreed. I felt early in the Sunday coverage, CBS tried really hard to get the Jordan Spieth angle going and it was a bit of a reach. The network stayed with him and not some of the others who were a couple strokes ahead of Spieth at the time. I understand Spieth has become a storyline this year, but it was a bit much of Spieth overkill. CBS overall gets an A- 
Golf Channel
Rich Lerner, (left) Brandel Chamblee (bottom, left) and Justin Leonard; Wash, rinse and repeat. For the golf aficionado, they strike the right tone exceptionally and consistently. They give you angles that viewers just don't get from the mainstream network broadcast. For example, just when the Golf Channel came on with its "Live From The PGA Championship" program after the final round, it had Tim Mickelson, Phil's brother and caddy ready to go with an interview. Even better, it had Phil's former caddy and NBC golf analyst Jim "Bones" Mackay ready to go on a remote interview from Arizona.  Mackay did not work the tournament because he stepped in to caddy
for Max Homa this week. (Max did not make the cut and Bones headed home early). It was a riveting interview with Mackay who gave kudos to his eventual replacement Tim Mickelson, providing specifics as to what Tim did to help pull Phil to victory. He also explained in detailed fashion why Phil was able to pull off the unexpected this week. The interview they did with Phil Mickelson was the best of anything I'd seen post victory. It was authentic Phil talking about hitting "bombs and hellacious seeds."  It was exactly what Golf Channel viewers know and love.  Lastly and it's why Chamblee shines. He has no problem pointing out that Koepka can learn from Phil and being very candid about the demeanor that Koepka should show more on the course and not be so salty.
The Golf Chanel gets an A+