CBS' Jim Nantz opens up on his future, his dad, re-upping Tony Romo and loss of Tom Brady to NFC
Nantz: "I've never partaken in any facet of social media.  I just don't want to be exposed to negativity"
Second of a two-part interview with Jim Nantz
Yesterday's interview with Jim Nantz focused for the most part on golf. Today, we'll learn a little more about what makes the person tick.
In spending some time with Jim on the phone, I got a sense that he's grateful for the trust he's been able to build through the years with millions of viewers across America. The veteran broadcaster has a deep sense for values.
Consider what he shared: "I was reading a homily going into Easter. It was this pastor who made reference to something Mother Teresa once said. And I thought it's something we all should remember. It reminded me of my dad's good nature and how he interacted with people. Something about being kind and merciful. It basically said let no one come to you without making them better and happier. Be a living expression of God's kindness in your face, eyes, smile and in your warm greeting. That was from Mother Teresa."
When Al Michaels retires, many think Jim will be dubbed America's sportscaster. They're probably right.
Lots of other news during this pandemic. Your broadcast partner in the booth in the fall, Tony Romo, re-upped with CBS. I assume you're excited to have him back long term?
I'm thrilled to have Tony and a long-range plan for us at CBS. He's a phenomenal football analyst. We have so much fun with him and (reporter) Tracy Wolfson. We've got a really good thing going.  Don't forget we've got the Super Bowl in February…hopefully (currently scheduled for Tampa).
Being that CBS has the AFC package, you now face the passing of the torch from Tom Brady to Patrick Mahomes. Is it a bittersweet feeling?
We've had the AFC package since 1998. It means that we not only documented the Brady dynasty, we also had Peyton Manning. That's a total of 22 years combined. Many of them were matchups on CBS. It's remarkable to say that your career spanned that entire era. Now we're seeing the emergence of Mahomes.
Your network package is as good as the quality of your quarterbacks. It really gets down to that. We've had Manning and Brady for over twenty years, an incredible run. Look at this conference now led by Mahomes, Lamar Jackson, Deshaun Watson, Sam Darnold, Josh Allen, etc. The youth movement on the AFC side is an amazing collection of young quarterbacks.  And as we sit here now with the upcoming NFL draft, it seems to me that the top two quarterbacks could be going to AFC teams. Two more great, young quarterbacks coming into our package. (Jim's referencing potential draft choices, Joe Burrow and Tua Tagovailoa.)
I'm curious about Romo. We all know the guy loves his golf. Could you ever see him doing some analyst work on the golf side?
I've never heard that discussed and I don't think there are any plans for that now. He loves to play and he has as much passion to play as anyone I've known.
I've been around golfers at a high level, one who was my college roommate and became a World Golf Hall of Famer, Fred Couples. I've been around passionate golfers but Tony beats all. He can't wait to get out the door and hit a ball. I've said it several times. There was a friendship that preexisted the CBS arrangement. It gave Tony and me a nice running start on-air. People look for chemistry. I knew Tony well and we really have chemistry. The foundation was authentic, built on true friendship. We really like one another.
A blitz or bonanza of events (football, golf and more) is coming later this year. Have you started to process this in your mind yet?
Let's hope it happens and the world is in a place where we can move forward with that plan. The prime time real estate is going to be fascinating. A confluence of big time sporting events. It's going to be an amazing thing to see what the programmers can pull off.
When I've watched The Masters Rewinds over the past several weeks, I think to myself gosh there's a real young guy (you) calling that tournament. As you approach 61, do you ever think about who the next guy might be to sit in your chair?
I've never even really thought about it and that's not because of an arrogance. I just don't go there.  I don't think about not doing The Masters because mentally I don't want to have one foot out the door. There are so many qualified people out there. It's been my long term goal to broadcast 50 Masters. I've done 34 and we've got two coming up in a period of five months. I think about The Masters all year long and I was so proud of what our team did to have the Masters Specials so well received last week. Our 2019 presentation of The Masters is up for an Emmy and I think it'll win. What  producer Lance Barrow and director Steve Milton do are incredible.
Okay, you open a broadcast each time with "Hello Friends."  What's the origin of it? People can see it has a special meaning for you.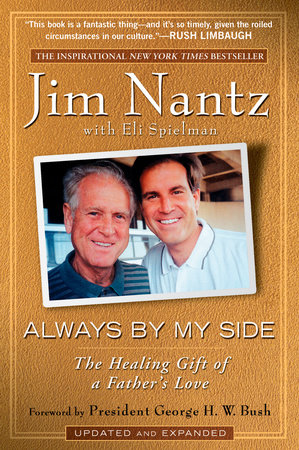 I'm glad you asked. It was a moment I had with my father back in 2002. He was right in the middle of his battle with Alzheimer's. I was trying everything I could to keep his mind moving. I'd play all sorts of name recognition games with him. I'd be by his bedside in Houston, telling him where I'd be that week. I'd tape my schedule to his wall and the nurses would make sure to have the broadcast on. I wanted to make sure dad was watching.
On this one occasion, I told him that when I was at the PGA Championship in Minnesota (Hazeltine) that I was going to give him a specially coded phrase, just for him, 'You have nothing but friends.'  And so I said 'Hello Friends, Jim Nantz here.' That was for my dad.
I was always Jimmy and my dad was Big Jim. My dad's name is my name on the air. But my inner circle calls me Jimmy. I said it on the air that Saturday from Hazeltine and a friend of mine called after the show and asked for the story behind it. He suggested that I say it every time that I came on the air and I've done it ever since that tournament, on every broadcast of which I'm a part. (Nantz' book, photo to the left, is dedicated to his dad.)
It feels like it really settles you in and the viewers as well?
I always think of my dad when I say it. It totally relaxes me, just when that tinge of nervousness and excitement that the broadcast is getting ready to start and I look into that lens.
For many years you've been the sports face of the network. Does it ever feel quirky that you're asked for your opinion on events that transcend sports?
There's still a side of me that can't believe people know who you are, which I know seems hard to believe. You work and dream of becoming one of those voices who can tell stories. You can't believe that people write to you and are familiar with you. I feel completely overwhelmed with gratitude when people come up to me.
Of course, there are always those who feel the need to troll or say nasty things. It's one of the reasons I've never partaken in any facet of social media. I just don't want to be exposed to negativity.
CBS Sports' Jim Nantz talks golf which might open up sports in June, Tiger, Mickelson and a busy fall
From what we know right now, do you anticipate your schedule will change much this fall and winter?
My wife and I were talking about this last night but going into the year I wasn't scheduled to do all of the PGA events as we went into the summer. With all the big events that are potentially scheduled, I could essentially have the most demanding stretch of my career.
I love to work and frankly I've never been comfortable taking weeks off. If the world is centered again, I could go from the newly scheduled Masters date in November of this year to the PGA Championship in May 2021. That's pretty much six consecutive months of on-air broadcasting week in and week out, with the NFL and NCAA tournaments in between.
But you know what, who wouldn't relish the opportunity to get back at it given the current state of things!