Coach K's sendoff was the highlight of hoops weekend; Jay Bilas: Wooden and Krzyzewski 2 best ever on bench
Mike Krzyzewski started at Duke in 1980. ESPNer Jay Bilas penned the best assessment. The two best coaches ever were Krzyzewski and John Wooden. That's fifteen titles between the mentors.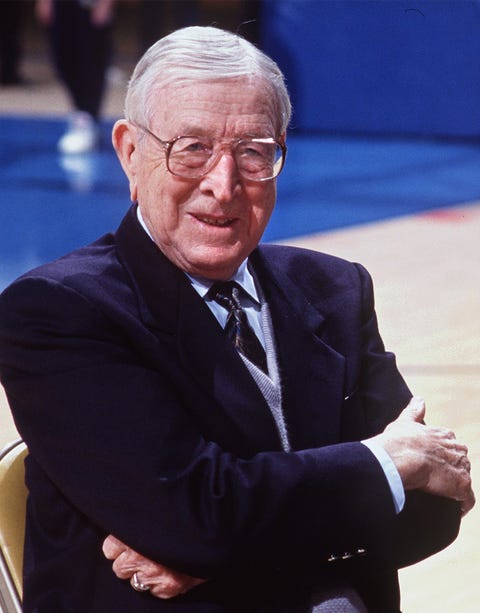 That's absolutely what they were. That taught young men. That why the place was stuffed last night with who's who. Through the years the West Pointer surpassed Carolina's Dean Smith, Bill Guthridge, Matt Doherty, Roy Williams and Hubert Davis. The biggest shocker was Davis on Saturday whose Heels stunned the building with an improbable downer over the Dukies.
An overflowing facility led  under the aegis of coach Mike Krzyzewskis. The night was memorable. Think his final regular season game and one at Cameron Indoor. Saturday night was an impossible ticket. Until the 1950s, Cameron was the largest building in the South. Later, college hoops grew through the SEC, the ACC, the NBA and more. Many of Krzyzewski's players were in Durham, NC from Christian Laettner to  J.J. Redick, and from Jay Bilas to Shane Barrier and from to Grant Hill more. With such an historic game, it truly featured a one-of-a-kind sendoff to one of the game's best. (Coach Wooden)
Coach K was leaving Duke. He was saying with an enthusiastic farewell.
Throughout the busy day of college hoops Saturday on ESPN, the studio panels and broadcast crews built anticipation for fans watching at home. Beyond enlightening college basketball fans with some of Coach K's statistics flashing, ESPN made it a point to humanize the five-time national championship head coach. ACC Analyst for ESPN Carlos Boozer shared his fondest memories playing for Krzyzewski, describing how he was so dedicated to having his players play with energy that after a regular season loss, Coach K turned off the lights, somersaulted into the locker room, and motivated his players to get energized. Boozer's story is one of many, and with 96 of his former players honoring his legacy, it has truly been a spectacle.
ESPN also broadcast a special edition of College Gameday from Cameron Indoor featuring Rece Davis, LaPhonso Ellis, Seth Greenberg, and former Blue Devil's Bilas. Included during the broadcast was one last sit-down interview with Coach K, where Rece Davis asked him about the legacy he will leave behind. In response to projecting his soiree, Krzyzewski made sure that he had no input but hoped he would be told that his career was a job well done. Coach K added, "I've been the luckiest guy in the world. This has been mine for 42 years, but it's Duke's forever."
Even though Saturday evening's matchup against the Tar Heels did not go as planned for Coach K's final home game, this result along with matchups throughout the weekend shape what will be an intriguing week of conference tournaments.  Teams from all 32 conferences will be vying to be one of the 68 teams receiving a bid on Selection Sunday, giving their team a ticket to the big dance. Many of the Conference broadcasts will be aired under the CBS and ESPN umbrellas with the Big East and Pac-12 tournaments airing on Fox. With smaller conferences such as the Missouri Valley Conference already at the later stages of their tournament, all eyes will be on the Power Five conferences to see how the nation's top teams will fare as the NCAA Tournament approaches.
Jim Nantz, who's done every Final Four since 1991 will preside yet again. He's among the best at sharing anecdotes while doing the play-by-play. Fans don't appreciate how difficult that is to do. Bill Raftery is wonderful too; strategy humor and what to expect. Nantz and Raf have made Grant Hill better. Both have also encouraged Grant to be more assertive.
One narrative that will likely stick out across broadcasts is the central theme of the season that "Anything can happen in March."  A sneak preview of upsets came just this past weekend in Durham, where most analysts expected a fairytale ending for Coach K, but the Tar Heels were able to play spoiler.  The trend of shocking results can especially ring true this year as this will be the first NCAA Tournament with regular fan attendance since 2019, inserting an all too familiar excitement to the festivities. Things should be lively.
Dan Schulman and Jay Bilas will bring interesting analysis and trademark basketball insight as they call some of the bigger national TV games for ESPN. Over on the CBS side, Kevin Harlan alongside Dan Bonner are sure to provide intriguing stories and narratives to their matchups with their focus mainly on the Big 10 Conference. There will likely be no shortage of topics for broadcast partners across the country to discuss, with this year's tournament, poised to be one to remember.  Narratives such as whether Baylor will defend its title, redemption for Gonzaga or a surprising come-up from teams such as the Arizona Wildcats are sure to be intriguing.  The anticipation for another year of college hoops' most exhilarating part of the season will have all eyes will be on not only the stars on the court but the game's brightest broadcasters.