College Football Week #4: Hello SEC! CBS has Miss State at LSU; ESPN runs Florida St-Miami in primetime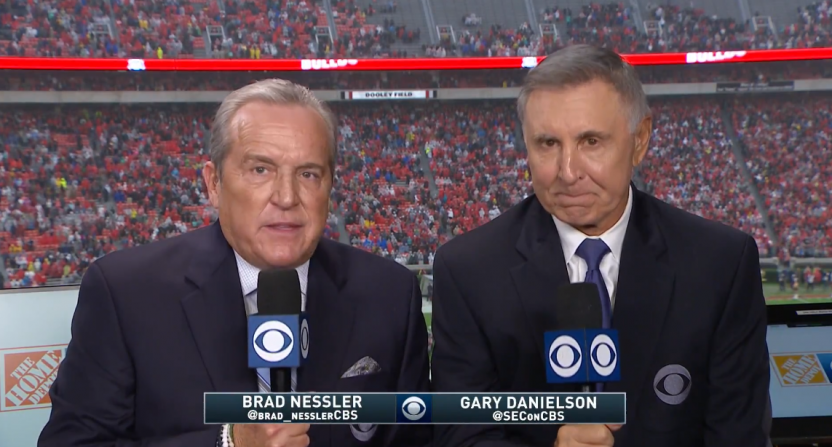 CBS opens its SEC schedule as the league opens for business after a delay due to Covid-19. The veteran team of Brad Nessler and Gary Danielson will be behind the microphones. All CBS and CBS Sports Network games will feature announcers who will be live on site.
As usual, ESPN will lead in volume of telecasts. On Saturday, the sports leader will have representative games at each window on either the mainstream network or one of its platforms. ESPN opens the weekend of football with its Thursday night coverage of UAB at South Alabama. ESPN has 27 games in all, between Thursday and Saturday.
Roughly half of ESPN's telecasts this weekend will be done by announcers who will work remotely. Examples of those done live from stadiums are the ones done by the top two broadcast teams, Florida State-Miami with Chris Fowler and Kirk Herbstreit and Alabama-Missouri with Sean McDonough and Todd Blackledge.
Game postponements due to the virus are causing the networks to make changes on the fly. The Notre Dame – Wake Forest postponement is an example. UCF at East Carolina at high noon Saturday now finds itself on ABC. Dave Pasch and Mike Golic get the assignment. The duo were slated to do the Fighting Irish game.
Gus Johnson and Joel Klatt were shuffled the last two weekends because of game postponements. This week, they have Kansas State at Oklahoma on the big Fox. Also on the big Fox this weekend are Tim Brando and Spencer Tillman on Texas at Texas Tech.
Number #1 Clemson has this Saturday off. The Tigers resume on Saturday, October 3d, hosting conference foe Virginia.
Jordan Rodgers who joins Tom Hart on Kentucky-Auburn is the younger brother of the Packers' Aaron Rodgers. Jordan played quarterback at Vanderbilt.
The broadcasters, many of whom are paid by the game, are happy to have the Big Ten and potentially the Pac-!2 back. More games, more dough in the pocket.
Thursday, Sept. 24
UAB at South Alabama | 7:30 p.m. | ESPN, Matt Barrie, Mike Golic Jr.
Friday, Sept. 25
Middle Tennessee at UTSA | 8 p.m. | CBSSN, Carter Blackburn, Aaron Murray
Saturday, Sept. 26
No. 7 Notre Dame at Wake Forest —

POSTPONED
No. 5 Florida at Ole Miss | 12 p.m. | ESPN, Joe Tessitore, Greg McElroy
Kansas State at No. 3 Oklahoma | 12 p.m. | Fox, Gus Johnson, Joel Klatt
No. 23 Kentucky at No. 8 Auburn | 12 p.m. | SEC Network, Tom Hart, Jordan Rodgers
No. 13  UCF at East Carolina | 12 p.m. | ABC, ESPN+, Dave Pasch, Mike Golic
No. 24 Louisville at Pitt | 12 p.m. | ACC Network, Wes Durham, Roddy Jones
Georgia Southern at No. 19 Louisiana | 12 p.m. | ESPN2, Beth Mowins, Kirk Morrison
Campbell at Appalachian State | 12 p.m. | ESPN+, Harrison Battle, Stan Lewter
Georgia Tech at Syracuse | 12 p.m. | ESPN3, Tom Werme, James Bates
Georgia State at Charlotte | 12 p.m. | ESPNU, Mike Couzens, Jay Walker
FIU at Liberty | 1 p.m. | ESPNU, Matt Warner, Joe Jauch
Iowa State at TCU | 1:30 p.m. | FS1, Joe Davis, Mark Helfrich
Tulane at Southern Miss | 2:30 p.m. | Stadium, Chris Hassel, A.J. Hawk 
Mississippi State at No. 6 LSU | 3:30 p.m. | CBS, Brad Nessler, Gary Danielson
No. 8 Texas at Texas Tech | 3:30 p.m. | Fox, Tim Brando, Spencer Tillman
West Virginia at No. 15 Oklahoma State | 3:30 p.m. | ABC, Bob Wischusen, Dan Orlovsky
No. 22 Army at No. 14 Cincinnati | 3:30 p.m. | ESPN, Mark Jones, Dusty Dvoracek
UTEP at UL Monroe | 3:30 p.m. | ESPN2, Clay Matvick, Rocky Boiman
Tulsa at Arkansas State | 3:30 p.m. |  Postponed
No. 4 Georgia at Arkansas | 4 p.m. | SEC Network, Dave Neal, D.J. Shockley
Duke at Virginia | 4 p.m. | ACC Network, Chris Cotter, Mark Herzlich
Texas State at Boston College | 6 p.m. | ESPN3,  Evan Lepler, Charles Arbuckle
South Florida at Florida Atlantic | 6 p.m. | CBSSN Postponed
No. 2 Alabama at Missouri | 7 p.m. | ESPN, Sean McDonough, Todd Blackledge
North Texas at Houston | 7 p.m. | Cancelled
Houston Baptist at Louisiana Tech | 7 p.m. | ESPN3, Lyn Rollins, Chris Mycoskie
Stephen F. Austin at SMU | 7 p.m. | ESPN+, David Saltzman, LaDarrin McLane
Vanderbilt at No. 10 Texas A&M | 7:30 p.m. | SEC ALT, LMike Morgan, Andre Ware,
No. 16 Tennessee at South Carolina | 7:30 p.m. | SEC Network,  Taylor Zarzour, Matt Stinchcomb,
Florida State at No. 12 Miami (FL) | 7:30 p.m. | ABC, Chris Fowler, Kirk Herbstreit
Kansas at Baylor | 7:30 p.m. | ESPNU, Roy Philpott, Kelly Stouffer
NC State at No. 20 Virginia Tech | 8 p.m. | ACC Network, Dave O'Brien, Tim Hasselbeck
Troy at No. 18 BYU | 10:15 p.m. | ESPN, Dave Flemming, Rod Gilmore