College Football Week #8: NBC has USC-Notre Dame in primetime; 4 top 10 teams play at 12N E.T.
MikeTirico
Little can discount the great rivalry of USC and Notre Dame, including a Trojans' 3-3 record. NBC still designated it for primetime. Mike Tirico will be in on the call. Drew Brees will be with him.
It was a stretch of mixed bag of praise and criticism for the likeable Tirico. He and the Sunday night studio gang had lots of time to fill during a rare rain delay (Chiefs-Bills) and were entertaining. What I liked even more was that he was himself, waving his hands, kibitzing about the delay and having fun with his studio mates.
But Mike also was criticized by the media for not coming down harder on Jon Gruden for his defenseless email trail ten years ago. Tirico gets a number of Sunday night games by contract when he fills in for Al Michaels.
Tirico has to opine a bit more or his succession of Bob Costas in the studio will be deemed a disappointment. Mike's greatest asset is his versatility. He can do anything well. But well isn't enough in the big chair. He has to fashion some tempered venom, emote more and whip-up viewers. Mild questions won't cut it. 
Random Notes
Guys you just see. They're on this roster of broadcasters. They are where they are and you wonder if they'll ever grow. Guys like Jason Horowitz, John Schriffen, Dave Ryan, and Dave Neal (son of former NBA Turner voice Bob Neal). None is bad. Perhaps there are just no openings or these voices are viewed by their employers as average.
The truth is there are lots of very good play-by-players but there just so many games. If it was my chess game to play, Tim Brando would go to the top of the list at Fox. He brings the full package to the booth. At ESPN, Sean McDonough would go right to the top without any hesitation. Bob Wischusen would be right behind him. I always like Mark Jones, Dave Pasch and Wes Durham. You're in good hands with any of them. Talking of Sean, you have to wonder how he feels about the Gruden collapse. There were reports that he and Sean never really hit it off.
CBS' Brad Nessler and Gary Danielson have LSU at Ole Miss Saturday. What will happen to the duo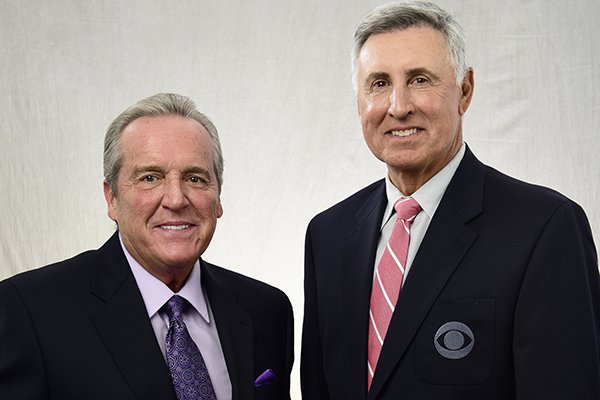 when ESPN takes the entire SEC reins. They're a good team. They partnered at ESPN years ago. Maybe they'll head back there. Not that the ESPNers have any shortage of talent. Danielson is 70 (right) and Nessler, 65 (left).
A quick look at the ACC, not pretty. Wake atop at 6-0 and Florida State 2-4. The ground is quaking around the grave of the great Bobby Bowden.
WEDNESDAY, OCTOBER 20
7:30 PM-14 Coastal Carolina @ Appalachian State-ESPN2-Anish Shroff, Tom Luginbill
THURSDAY, OCTOBER 21
7:30 PM-Tulane @ 21 Southern Methodist-ESPN-Matt Barrie, Roddy Jones
7:30 PM-Louisiana @ Arkansas State-ESPNU-Lowell Galindo, Rene Ingoglia
7:30 PM-Florida Atlantic @ Charlotte-CBSSN-Jason Horowitz, Ross Tucker
11:00 PM-San Jose State @ UNLV-CBSSN-Dave Ryan, Aaron Murray
FRIDAY, OCTOBER 22
6:00 PM-Middle Tennessee @ Connecticut-CBSSN-John Sadak, Randy Cross
7:00 PM-Memphis @ Central Florida-ESPN2-Roy Philpott, Andre Ware
9:30 PM-Colorado State @ Utah State-CBSSN-Chris Lewis, Corey Chavous
10:30 PM-Washington @ Arizona-ESPN2-Clay Matvick, Rocky
SATURDAY, OCTOBER 23
12:00 PM-Illinois @ 7 Penn State-ABC-Bob Wischusen, Dan Orlovsky
12:00 PM-Northwestern @ 6 Michigan-FOX-Gus Johnson, Joel Klatt
12:00 PM-3 Oklahoma @ Kansas-ESPN-Mark Jones, Robert Griffin III, Kessenich
12:00 PM-2 Cincinnati @ Navy-ESPN2-Dave Flemming, Rod Gilmore
12:00 PM-Kansas State @ Texas Tech-FS1-Tim Brando, Spencer Tillman
12:00 PM-Northern Illinois @ Central Michigan-ESPNU-John Schriffen, Dustin Fox
12:00 PM-UAPB @ Arkansas -SECN-Dave Neal, Deuce McAllister
12:00 PM-16 Wake Forest @ Army-CBSSN-Jason Horowitz, Ross Tucker
12:00 PM-Massachusetts @ Florida State-ACCN-Chris Cotter, Mark Herzlich
12:00 PM-Eastern Michigan @ Bowling Green-ESPN+-Jason Ross, Forrest Connoly
12:30 PM-Syracuse @ Virginia Tech-ACC RSNs-Tom Werme, James Bates
1:00 PM-Kent State @ Ohio-ESPN+-Michael Reghi, Jerod Cherry
2:00 PM-Texas State @ Georgia State-ESPN+- : Matt Stewart, Sam Crenshaw
3:00 PM-Wisconsin @ 25 Purdue-BTN-Brandon Gaudin, Matt Millen
3:30 PM-10 Oregon @ UCLA-ABC-Chris Fowler, Kirk Herbstreit
3:30 PM-LSU @ 12 Ole Miss-CBS-Brad Nessler, Gary Danielson
3:30 PM-8 Oklahoma State @ Iowa State-FOX-Aaron Goldsmith, Brock Huard
3:30 PM-Clemson @ 23 Pittsburgh-ESPN-Sean McDonough, Todd Blackledge
3:30 PM-Maryland @ Minnesota-ESPN2-Beth Mowins, Kirk Morrison
3:30 PM-BYU @ Washington State-FS1-Cory Provus, Mark Helfrich
3:30 PM-Colorado @ California-P12N-Roxy Bernstein, Lincoln Kennedy
3:30 PM-Western Michigan @ Toledo-CBSSN-Jason Knapp, Eric Wood
3:30 PM-New Mexico @ Wyoming-Stadium-Chris Vosters, Sed Bonner
3:30 PM-Buffalo @ Akron-ESPN+-Doug Sherman, Ryan Shazier
3:30 PM-Rice @ UAB-ESPN+-  Will Kollmeyer, Ben Stanfield
3:30 PM-Miami (OH) @ Ball State-ESPN+-Jim Barbar, Tyoka Jackson
4:00 PM-East Carolina @ Houston-ESPNU-Kevin Brown, Hutson Mason
4:00 PM-Mississippi State @ Vanderbilt-SECN-Taylor Zarzour, Matt Stinchcomb
4:00 PM-Boston College @ Louisville-ACCN-Wes Durham, Roddy Jones
7:00 PM-Tennessee @ 4 Alabama-ESPN-Jason Benetti, Andre Ware, Paul Carcaterra
7:00 PM-Nevada @ Fresno State-FS1-Dan Hellie, Petros Papadakis
7:00 PM-22 San Diego State @ Air Force-CBSSN-Rich Waltz, Aaron Taylor
7:00 PM-24 UTSA @ Louisiana Tech-Stadium-Chris Hassel, Patrick Murray
7:00 PM-Temple @ South Florida-ESPN+-Courtney Lyle, Brandon Weeden
7:00 PM-Western Kentucky @ FIU ESPN+-A.J. Ricketts, Cam Lynch
7:00 PM-South Alabama @ ULM-ESPN3-  Mike Hammett, David Griffith
7:30 PM-5 Ohio State @ Indiana-ABC-Dave Pasch, Dusty Dvoracek, Tom Luginbill
7:30 PM-USC @ 13 Notre Dame-NBC-Mike Tirico, Drew Brees
7:30 PM-18 N.C. State @ Miami-ESPN2-Anish Shroff, Mike Golic Jr.
7:30 PM-West Virginia @ TCU-ESPNU-Brian Custer, Kelly Stouffer
7:30 PM-South Carolina @ 17 Texas A&M-SECN-Tom Hart, Jordan Rodgers,  Cubelic
7:30 PM-Utah @ Oregon State-P12N-Ted Robinson, Yogi Roth
7:30 PM-Georgia Tech @ Virginia-ACCN-Dave O'Brien, Tim Hasselbeck