College Football Week #9: Fox, CBS, ABC, ESPN and others have tons of games, topped by ND-Michigan
Gus Johnson and Joel Klatt get Fox' #3 vs. #13 Wisconsin; Randy Cross, high on CBS' NFL depth chart in the 90s, hanging in doing college
College football comes and goes so quickly, fans want to savor every weekend. Here we go, Week #9. We're in the heart of the season with lots still to settle on the gridiron. 
Halby's mouthfuls:
Brandon Gaudin who did a nice job on Fox' NFL telecast last Sunday calling Minnesota-Detroit is back to college this weekend. He has Indiana at Nebraska on the Big Ten Network which is tied at the hip with Fox Sports. When Gaudin started on radio, he had a tendency to shout. He's lowered his good voice an octave or two and is an easy and knowledgeable listen.
Dave Flemming, a three-sport broadcaster, baseball, football and basketball, has USC's visit to Colorado. If you ever have a chance, one of the great college football venues is Folsum Field in Boulder, home of the Buffs. Not for the shouting and drinking. The mountains serve as a picturesque backdrop and the view is breathtaking. I've come to learn that Dave Flemming's brother Will does some Red Sox radio. Veteran Joe Castiglione, a New England institution, tells me Will is very good.
Drew Goodman is doing Nevada at Wyoming. He also does Colorado Rockies baseball on the tube. Wyoming is the alma-mater of the legendary Curt Gowdy. He played basketball there and told me on a couple occasions that basketball was his best sport as a broadcaster. That assessment coming from a man who did many World Series and Super Bowls. He also did NCAA Final Fours for NBC in the 60s and 70s.
Sean McDonough and Todd Blackledge are on ABC at 3:30 Saturday with Penn State at Michigan State. They're an excellent duo. Did you know that McDonough did the last two World Series before the infamous one that was cancelled 25 years ago, in 1994. Sean did it for CBS in both '92 and '93. 
Randy Cross was once on the top few rungs of CBS' depth chart, doing NFL color. He was paired with luminaries like Don Criqui, Verne Lundquist, Jim Nantz and Dick Enberg. He does radio sports talk now in Atlanta and hanging in calling college football for the cable side, CBS Sports Network. This week he joins John Sadak for Tulane at Navy.
Steve Levy headed out to Oregon with Brian Griese  for #11 Ducks and Washington State. Levy will be busy this spring as the lead voice for ESPN's XFL package.
Interesting tidbit. Bobby Rosinski is on the North Texas at Charlotte game for ESPN+. He's a chip off the old block. His dad was a longtime NFL announcer for the Carolina Panthers and for many years, Westwood One and ESPN Radio. Bill was solid. 
Jake Baskin has a feature on Dan Hellie. It's lodged below the schedule. Good stuff! 
Thursday, Oct. 24
No. 16 SMU at Houston | 7:30 p.m. | ESPN  Adam Amin, Matt Hasselbeck
Friday, Oct. 25
Southern California at Colorado | 9 p.m. | ESPN2   Dave Flemming, Louis Riddick
Saturday, October 26
No. 13 Wisconsin at No. 3 Ohio State | 12 p.m. | FOX  Gus Johnson, Joel Klatt
Bryant at Robert Morris |12 p.m. | ESPN3  Paul Dottino, Jeff Feagles
Mississippi State at Texas A&M | 12 p.m. | SEC Network  Dave Neal, D.J. Shockley
No. 5 Oklahoma at Kansas State | 12 p.m. | ABC  Bob Wischusen, Dan Orlovsky
Miami at Pitt | 12 p.m. | ESPN  Mark Jones, Dusty Dvoracek
Illinois at Purdue | 12 p.m. | Big Ten Network  Lisa Byington, J Leman
San Jose State at Army | 12 p.m. | CBSSN  Ben Holden, Ross Tucker
Bowling Green at Western Michigan | 12 p.m. | ESPN3   Chris Vosters, Marcus Ray
Liberty at Rutgers | 12 p.m. | Big Ten Network  Mike Monaco, Stanley Jackson
No. 20 Iowa at Northwestern | 12 p.m. | ESPN2  Roy Philpott, Kelly Stouffer
No. 21 Appalachian State at South Alabama | 12 p.m. | ESPNU  Kevin Brown, Andre Ware
Penn at Yale | 1 p.m. | ESPN+  NESN, ESPN

+   

Josh Hess, John Henry Smith
Southern Miss at Rice | 1 p.m. | ESPN+  David Saltzman, ND Kalu
Ohio at Ball State | 2 p.m. | ESPN+  Jim Barbar, John Gregory
Nevada at Wyoming | 2p.m. | ATTSN Drew Goodman, Sed Bonner
Western Kentucky at Marshall | 2:30 p.m. | Facebook   Chris Hassel, A.J. Hawk
New Mexico State at Georgia Southern | 3 p.m. | ESPN3  Greg Talbott, Danny Waugh
No. 6 Penn State at Michigan State | 3:30 p.m. | ABC  Sean McDonough, Todd Blackledge
No. 9 Auburn at No. 2 LSU | 3:30 p.m. | CBS  Brad Nessler, Gary Danielson
Syracuse at Florida State | 3:30 p.m. | ESPN2  Beth Mowins, Anthony Becht
Maryland at No. 17 Minnesota | 3:30 p.m. | ESPN   Jason Benetti, Rod Gilmor
Oklahoma State at No. 23 Iowa State | 3:30 p.m. | FS1  Cory Provus, Petros Papadakis
Tulane at Navy | 3:30 p.m. | CBSSN   John Sadak, Randy Cross
Eastern Michigan at Toledo | 3:30 p.m. | ESPN+  Michael Reghi, Dustin Fox
Arizona at Stanford | 3:30 p.m. | Pac-12 Networks   Roxy Bernstein, Anthony Herron
Indiana at Nebraska | 3:30 p.m. | Big Ten Network  Brandon Gaudin, James Laurinaitis
Miami (OH) at Kent State | 3:30 p.m. | ESPN+  Robert Lee, Tyoka Jackson
Akron at Northern Illinois | 3:30 p.m. | ESPN3   Shawn Kenney, Forrest Conoly
Central Michigan at Buffalo | 3:30 p.m. | ESPN+  Doug Sherman, Jerod Cherry
No. 15 Texas at TCU | 3:30 p.m. | FOX  Joe Davis, Brock Huard
Virginia at Louisville | 3:30 p.m. | ACC Network  Chris Cotter, Mark Herzlich,
North Texas at Charlotte | 3:30 p.m. | ESPN+  Billy Rosinski, Reginald Walker
UConn at UMass | 3:30 p.m. | FloSports  Josh Maurer, Andy Gresh
Florida International at Middle Tennessee | 3:30 p.m. | NFL Network  Dave Ryan, Ben Leber,
Florida Atlantic at Old Dominion | 3:30 p.m. | ESPN+  Ted Alexander, Andy Masha
South Florida at East Carolina | 3:45 p.m. | ESPNU   Mike Corey, Rene Ingoglia
South Carolina at Tennessee | 4 p.m. | SEC Network   Taylor Zarzour, Matt Stinchcomb
Duke at North Carolina | 4 p.m. | ACC Network Extra  Tom Werme, James Bates
Hawai'i at New Mexico | 4 p.m. | Spectrum Sports  Robert Kekaula, Rich Miano
Arkansas at No. 1 Alabama | 7 p.m. | ESPN  Dave Pasch, Greg McElroy,
UCF at Temple | 7 p.m. | ESPN2  Anish Shroff, Ahmad Brooks
Texas Tech at Kansas | 7 p.m. | FS1  Dan Hellie, Evan Moore
Texas State at Arkansas State | 7 p.m. | ESPN+  Roger Twibell, Pete Cordelli
Memphis at Tulsa | 7 p.m. | CBSSN  Rich Waltz, Aaron Murray
Troy at Georgia State | 7 p.m. | ESPN+ Matt Stewart, Wayne Gandy 
No. 8 Notre Dame at No. 19 Michigan | 7:30 p.m. | ABC  Chris Fowler, Kirk Herbstreit
Boston College at No. 4 Clemson | 7:30 p.m. | ACC Network  Dave O'Brien, Tim Hasselbeck
Colorado State at Fresno State | 7:30 p.m. | ESPNU  Clay Matvick, Ryan Leaf
No. 24 Arizona State at UCLA | 7:30 p.m. | Pac-12 Networks   Ted Robinson, Yogi Roth,
Missouri at Kentucky | 7:30 p.m. | SEC Network  Tom Hart, Jordan Rodgers
Louisiana Tech at UTEP | 8 p.m. | ESPN3  Andy Morgan, Trevor Vittatoe
California at No. 12 Utah | 10 p.m. | FS1  Tim Brando, Spencer Tillman
Utah State at Air Force | 10:15 p.m. | ESPN2  Mike Couzens, Kirk Morrison
Washington State at No. 11 Oregon | 10:30 p.m. | ESPN  Steve Levy, Brian Griese, Todd McShay
San Diego State at UNLV | 10:30 p.m. | CBSSN  Carter Blackburn, Aaron Taylor
Jake Baskin's feature on Dan Hellie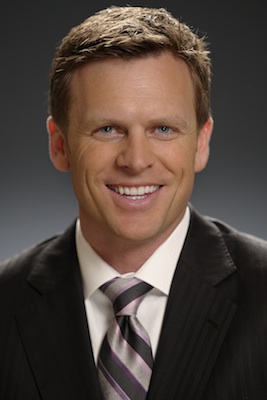 Dan Hallie has the call on Fox Sports 1's coverage of Texas Tech and Kansas this Saturday night alongside former Stanford two-sport athlete Evan Moore. Though not a regular play-by-play announcer on Fox's college football coverage, Hellie has emerged as one of the faces of football media, in a variety of different capacities.
A Maryland native who was part of the same Tennessee graduating class as Peyton Manning, Hellie, 44, bounced around small towns across the country before landing a job as the sports director of the ABC affiliate in Orlando in 2003. In 2006, he moved back to his home market of Washington, D.C. to take a job with the NBC affiliate there, later becoming sports director. As sports director, he anchored NBC 4's Redskins coverage and he also got a chance to cover the 2012 Summer Olympics in London.
Hellie joined NFL Network in 2013 and still serves as the host of its nightly show, NFL Total Access. As a play-by-play broadcaster, Hellie calls Tennessee Titans' preseason games, was one of the lead announcers for the short-lived Alliance of American Football, and has called NFL games for Fox each of the past four seasons.