College playoff a hot button with media; Dwayne Haskins triggers considerable response too
The last week of 2020 brought no shortages of intriguing storylines and speculation in the world of football. Throughout the week, sports media voices weighed in on two of this week's most dominant topics – The Washington Football Team's release of QB Dwayne Haskins and the CFP semifinals today, New Year's Day.
Dwayne Haskins Release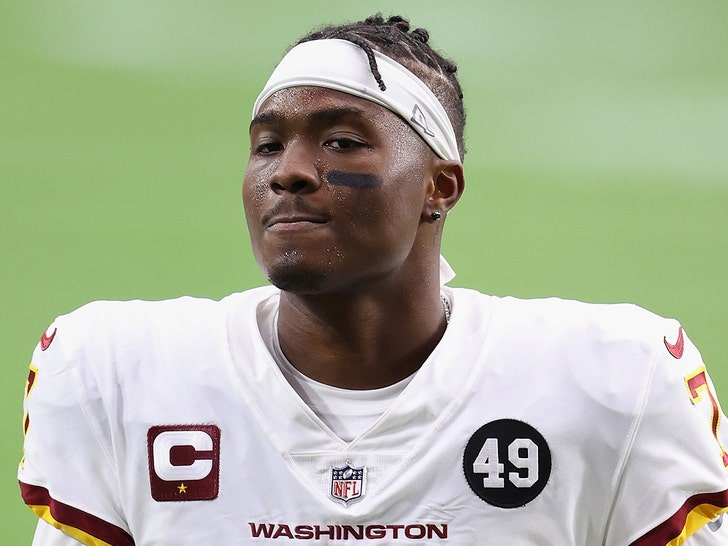 On Monday, The Washington Football Team (WFT) released QB Dwayne Haskins after a tumultuous week of questionable off-field behavior. Prior to Washington's pivotal Week #17 matchup against Carolina, Haskins was caught at a strip club without a mask, a disappointing decision for the potential future face of the franchise to be making, given the current public health environment. As a result, WFT fined Haskins $40,000 and stripped him of his captaincy, a stunning decline for the No. 15 overall pick in the 2019 draft.
Heading into Week #16 on thin ice, Haskins was unable to silence critics with his on-field performance, completing just 14 of his 28 pass attempts for 154 yards, 0 TDs and 2 INTs before being benched for Taylor Heinicke early in the fourth quarter. Despite the on and off-field issues plaguing the QB, many were surprised by the timing of Monday's release, as Washington can clinch the NFC East with a win against Philadelphia on Sunday. With the injury status of QB Alex Smith still uncertain, WFT may have to rely on Heinicke to reach the playoffs, a scenario that may have seemed unimaginable to fans just two short weeks ago.
Following Haskins' release, sports media voices weighed in on the QB's fall from grace:
Stephen A Smith – (ESPN) @stephenasmith
Smith called Haskins' character into question, speculating that his behavior had to be far worse than the public could have known given the timing of his release.
"Even on vacation I need to step out and say this: I was totally WRONG about Dwayne Haskins. Thinking the @Giants were foolish to pass up on him in favor of Daniel Jones, I look like a damn fool. You know how bad you have to be as a player — and person — to be a 1st-round pick… And still get released inside of two years? This has bad attitude written all over it. Not being mature enough. Not working hard enough. Why else would @WashingtonNFL let him go right now? Inside of 2 years, Haskins entire football career is now officially in grave jeopardy."
Field Yates – (ESPN) @FieldYates
Yates focused on Haskins' poor on-field performance to justify Washington's surprising decision.
"There are many areas where Dwayne Haskins needed to be better, but here's one that stands out: Haskins completed just 26.8% of his passes on throws 10+ yards down the field this season. That's the worst mark for any QB in the NFL over the past 10 seasons."
Steve Palazzolo – (Pro Football Focus) @PFF_Steve
Palazzolo attempted to reassure WFT fans that the Haskins ordeal isn't as impactful as it may seem.
"It's ok to take a shot on a first-round QB and move on. Washington took a shot on Haskins (who most considered a first-round player that year anyway), and they move on. Keep taking shots, find the next guy"
Bomani Jones – (ESPN) @bomani_jones
Jones recalled Haskins' impressive run as Ohio State's starting QB, but suggested that he may have left college a bit prematurely.
"Once you decide you wanna go to the grownup league, you gotta be grown. Period. Some guys aren't built to leave college early. Haskins passed on two years of eligibility. Possible he should've used em, even if I can't blame him for getting the money."
**
It will be interesting on how the NBC Sunday Night football talent tackle the issue, particularly Mike Tirico and Tony Dungy. The network runs the Washington at Philadelphia game, its last regular season telecast in 2020. Al Michaels and Cris Collinsworth are on the game call. The duo might have a thing or two to say about Haskins too.
CFP Semifinals
Ahead of the CFP semifinal matchups (No. 1 Alabama vs. No 4. Notre Dame & No 2. Clemson vs. No. 3 Ohio State), sports media voices weighed in on the biggest storylines to watch for on New Year's Day.
Brad Senkiw – (SI.com) @BradSenkiw
Clemson SI writer Brad Senkiw provided some key storylines heading into the Sugar Bowl matchup against Ohio State, including the bad blood between outspoken Tigers head coach Dabo Swinney and the Buckeyes. Bulletin board material? You bet.
"Clemson head coach Dabo Swinney has not backed down from his statements that the Buckeyes didn't deserve to be in the playoff this season after playing just six games and having the Big Ten change its rule to get them into the conference title game…  If he wasn't hated enough in the state of Ohio, Swinney even ranked the Buckeyes outside of his top-10 in the USA Today Coaches Poll. Ouch."
Brandan Gulick – (SI.com) @brendangulick22
Ohio State SI writer Brendan Gulick highlighted the importance of this game for Buckeye fans who are hungry for their first-ever win against Clemson.
"The Buckeyes have never beaten Clemson in four tries, but it feels worse than that because three of them have come recently. Buckeye fans won't soon forget Woody Hayes' final game as the head coach in 1978, but with three losses since Jan. 2014 (and all in extremely disappointing fashion) to Clemson, there's talk of this game becoming more of a rivalry than even some teams within the Big Ten."
C.J. Doon (The Baltimore Sun) @CJDoon
Doon provided a synopsis of what fans can expect from the Rose Bowl matchup between Alabama and Notre Dame, where the Crimson Tide are heavily favored.
"Alabama is favored by 20 points, so on paper this game is pretty unappealing. But given the stakes and how well Notre Dame is capable of playing when it's at its best — remember that double-overtime win over Clemson? — there's a good chance this isn't the blowout many people expect. How the Fighting Irish try to slow down the Crimson Tide's dynamic offense, led by DeVonta Smith, Najee Harris and Mac Jones, will be a fascinating chess match."