Columnist expresses his displeasure over a lack of fully transparent sports media and broadcast voices
TV Sports: Shop While You Watch, But Caveat Emptor
Those of us who have been around the track long enough know that disinformation is spread equally by leagues and teams, sports broadcasters and print reporters.
Before the advent of television, broadcasters, often in a studio instead of at the ballgame, would recreate what was happening as if they were at the scene which they weren't. With listeners unable to see what was happening, a pop fly single often became a "rope to center field."
On the print side, reporters would cover up the unsportsmanlike conduct of ballplayers, perhaps because they traveled with them, with the team's picking up the costs and the broadcasters would hawk "sin" products like tobacco and beer.
Growing up in the New York area, I often heard New York Yankee broadcaster Mel Allen refer to a home run as "A Ballantine Blast!," and Brooklyn Dodger announcer Red Barber hawk Old Gold cigarettes by calling a home run," An Old Goldie."
When television became a prime source of fans viewing games, the situation largely changed for the better – but only for a while. Eventually, tobacco products could not advertise on TV because of governmental regulations and home run calls no longer had product nicknames. But unlike the days when announcers were supposedly impartial, many became "homers," but that's okay. Announcing a game is not like covering a truly important news event that will change people's lives, except for the players and the announcers.
But what, in my opinion, is not okay is that early on, television introduced a new era in dishonesty: Athletes endorsing products as if they actually knew the workings of the product.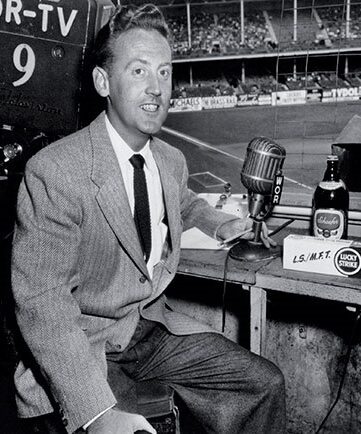 In addition, ads promoting gambling are now a staple of television sports programming, even though the ads are shown during the hours when young impressionable children are watching. Together with alcoholic commercials that now also include hard liquor, the experience of watching a ballgame today is similar to going to a casino that gives out free drinks to encourage people to lose their money. The difference is  that there are no free beverages when watching a game on television. (Vin Scully backed Lucky Strike Cigarettes and Schaefer Beer when it was fashionable to do so in Brooklyn.)
When the print reporters began covering sports like the big business it's become, a few decades ago, some broadcasters became spokesmen for legalized bookies and products that might make a person with a slight cold feel good for a few minutes. But it has no affect on helping cure the problem.
Unfortunately, one of the most prominent of all sportscasters, Joe Buck is such a product peddler.
A news release from last October said, in part, New HALLS minis offer on-the-go sore throat and cough relief, to encourage fans to keep moving:
TRENTON, N.J., Oct. 4, 2021 /PRNewswire/ — "HALLS, the trusted cough and throat drop brand, is introducing its most convenient innovation yet, HALLS minis Sugar Free Cough Drops, in collaboration with legendary sportscaster Joe Buck. As a longtime fan of HALLS, Joe Buck will be starring in a multi-faceted creative campaign across social, paid and earned media…" (The timing of that announcement couldn't have been worse. In an attempt to stop the spread of Covid, health officials are asking people to stay home if they're not feeling well.)
While Buck might be the most prominent current sportscaster to hawk a product, he is not alone. Many other sportscasters have done so.
In fact, sportscasters have been in commercials since the early days of television. They are viewed as effective communicators if not outright entertainers. They include Keith Hernandez, Erin Andrews, Chris Fowler, Kirk Herbstreit, Lee Corso, Jim Nantz, Nick Faldo, Chris Berman, Howie Long, Troy Aikman, Johnny Miller, and Charles Barkley. And as soon as Tom Brady decides to retire again, he'll join the crew. Until then, his name belongs in the below paragraph.
Also receiving screen time for their commercials are prominent athletes including Michael Jordan, LeBron James, Shaquille O'Neal and, of course the numerous ads that Peyton Manning has done over the years.  It appears that the Manning family will endorse anything: Peyton Manning and his dad, Archie, and brothers, Cooper and Eli, appear in gambling commercials."
In 2005, when Suzy Kolber, an ESPN reporter, was appearing in television ads for Chevrolet, ESPN's ombudsman, George Solomon, former sports editor of the Washington Post, wrote that she "does an excellent job" at both tasks, but "I just wish she would choose one of the two jobs."
He concluded by writing, "ESPN would be better served not permitting its on-air personnel to go outside the compound and do commercials."
It's bad enough that cable companies force sports package charges on viewers who have no interest in watching sports. It's even worse now than when the sports package was originally forced on consumers. Several games a season are not available on cable because of a Major League Baseball agreement with Apple TV and Facebook. But I'm still waiting to get a refund for not being able to watch those games from Optimum, my cable provider.
Before some games were blocked out on the cable networks, it was bad enough that viewers were bombarded by athletes pretending they really love a product. But now that Joe Buck has said that he needs cough drops to do his job, it's only a matter of time before other sportscasters find a reason to endorse a product that they didn't need to do their jobs until they were handed a check.
In the days before baseball players names were on their uniforms, hawkers at ball games used to shout, "You can't tell players without a scorecard." Today, it's impossible to know which announcer or player is endorsing a product without reading the ad publications.
Major League Baseball, in particular, has been looking for ways to shorten its game to prevent TV viewers from tuning out. Here's a suggestion: Limit the number of commercials on its telecasts and while you're at it gain a reputation as the good citizen league by banning "sin" products.