DeWayne Staats: The play-by-play heroes of his childhood – crackled through the nighttime sky
Today continues our look at radio/TV Voices of baseball's 10 post-season teams by Curt Smith, former Speechwriter for President George H.W. Bush and author of 18 books include the 2021 Memories from the Microphone: A Century of Baseball Broadcasting.
The series features a Voice from each club who represents that franchise: current, retired, or deceased. Today we profile Dewayne Staats, long-time TV Voice of the Tampa Bay Rays, who played in the American League Division Series, which began on Thursday, October 7th and ended four games later with the Red Sox knocking off the Floridians, advancing to the LCS.
Growing up, Dewayne Staats consumed the big leagues in the Bermuda Triangle of central (Wood River) Illinois. "You've got Cubs, White Sox, Cardinals fans. At night, you'd pull all of them in on radio," he mused. Listening was good practice for some day airing teams in Texas and Florida, with Midwest expatriates all around. Prophetically, as a child Staats was mesmerized in particular by an Iowan-turned-Longhorn Voice over magical 50,000-watt WWL New Orleans, an Astros nee Colt .45s affiliate. To the fourth grader, that major-league team in Houston seemed as distant and mystical as the moon.
"I'd tune in Gene Elston," Dewayne said, sending him a note. Answering, his hero became a pen pal. Staats graduated from Southern Illinois University, joined KPLR TV St. Louis, and worked in Triple-A Oklahoma City. Small world: In 1976, he auditioned with Elston's Astros!
"Bob Prince had come from Pittsburgh that season and didn't like it," said Staats. The Gunner, spying him, hugged his might-be successor. "Don't worry, kid, we'll f___ it up together." Bob didn't get the chance, Dewayne replacing him next year. Ninety percent of baseball, Elston told the rookie, is preparation. Staats, then 23, had been preparing since age nine.
"I'd grown up with Jack Buck," Dewayne would say, years later seeing him when the Cardinals visited Houston. "Lou Boudreau and Milo Hamilton were icons of my youth." Later, Staats relished joining them for dinner. He enjoyed another hero's bonhomie. "Harry [Caray] wakes up and says it's August 7. That day, like every day, meant something."
"Something" was "the anniversary of a day I wrote an alimony check for my first wife," Caray would say. "I compose, '__, How long must this go on." Her reply read, "Dear Harry. Till death do us part.'"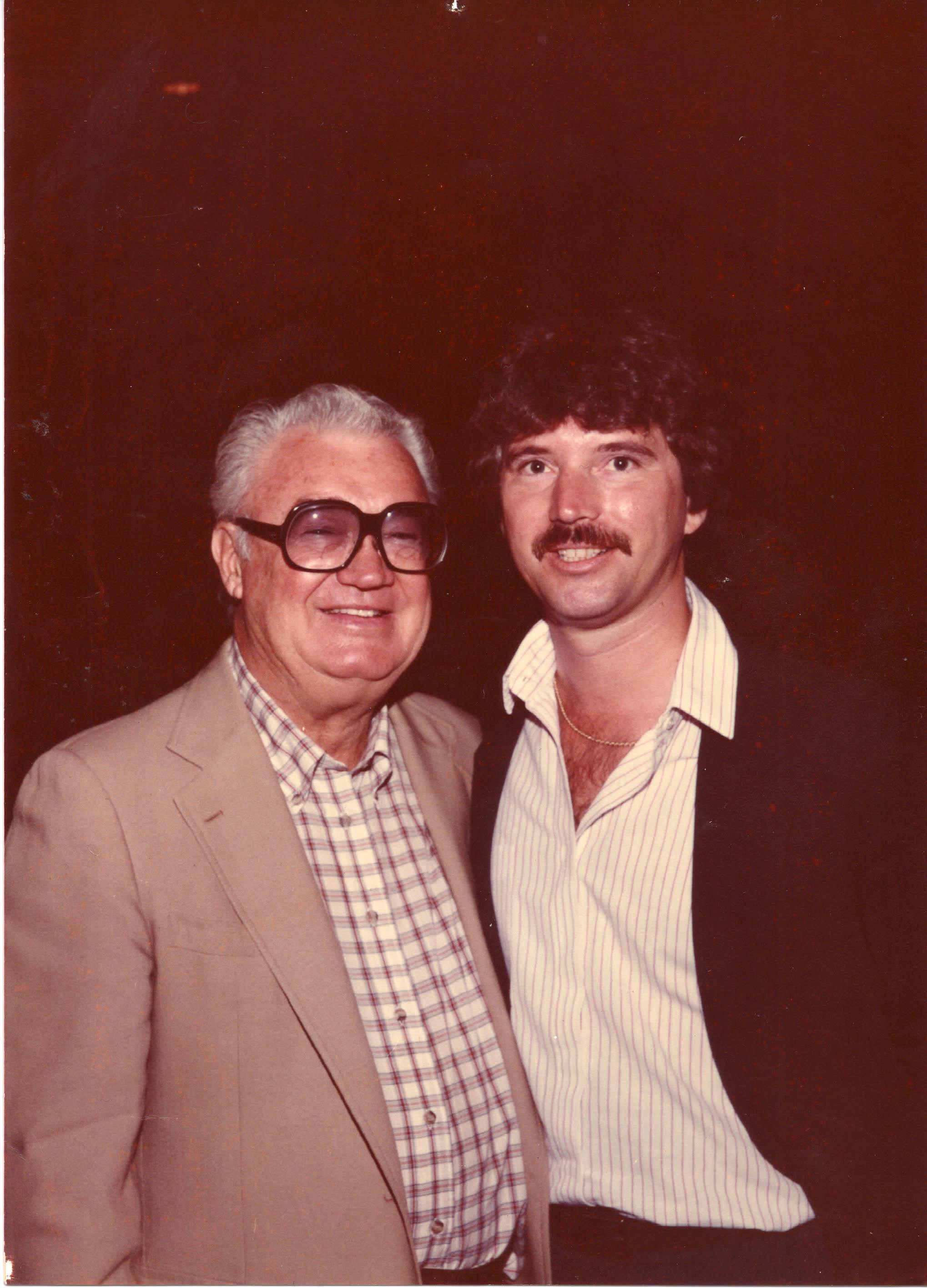 In late 1984, Milo and Dewayne swapped jobs, Staats returning to Illinois. "The quintessential baseball experience," He called the Friendly Confines. In 1987, MVP Andrew Dawson's 49 homer buoyed Wrigleyville. Change split it, "Activists trying to keep lights out of the park." Finally, "Baseball [sic, network TV] ordered the Cubs to play postseason at night, or move games to St. Louis." Prime time finally arrived in August 1988. Arcs bred only cash, not a world title, for the next 28 years.
When the '89er slumped in June, a patron mailed a parody of Macbeth, which Staats one day read: "Anson, Chance, and Wilson, Hartnett, Hornsby, Brown and Grimm / hex the Mets, the Birds, and Expos / stand behind the Cubs and Zim [skipper Don Zimmer]. Double, double, toil, and trouble, fire burn and Cubbies bubble. Eye of newt and raven beak /presto, it's a winning streak. So heed this curse from Bill Veek's vines. Our Cubs are the champs of '89." (Harry Caray and Staats)
Improbably, the ballad worked—till that October's League Championship Series loss to the Giants. Next year Staats joined the Yankees' MSG TV. In 1995, he left the Bronx—"the Yanks reneged on salary," said a friend, "as they [MSG parent Viacom] cut costs"—aired ESPN Wednesday Night Baseball, and helped wife Dee endure brain tumor surgery. "ESPN was a blessing," he mused. "Unlike, say, a team, I was home on weekends and with my wife when she went through it all."
In 1998, it all led to the Tampa Bay then-Devil Rays' Tropicana Field a.k.a. the Trop—a "sterile park," wrote Sports Illustrated, with "the ambiance of a warehouse." The domed stadium afforded a great view of the nearby Sunshine Skyway Bridge. The only problem was that you had to sit on the roof.
What he wanted, Staats would say, is to "help the community, take care of my familiar, and live on the beach." The team's first game was March 31, 1998. "His pacing is great for 162 games," said then-partner Joe Magrane. "He's not going to wear you out with adrenaline in the first game where you go, 'I gotta [tolerate] this guy all year.'" Instead, Dewayne's voice was/is "low, resonant, and very wearable."
As the Devil Rays dimmed, attendance missed 2 million yearly, and Commissioner Bud Selig scurried to Florida to ask what gave, Staats tried to "look at life as a positive." It wasn't easy in their "Ballpark of the 21st Century," leading a writer to urge, "We need some old-fashioned baseball." They got it, albeit temporarily, on August 7, 1999.
Needing three hits for 3,000, "all I could think of was Little League," mused Tampa-reared Wade Boggs. Getting two, that night the five-time batting champion faced Cleveland's Chris Haney. "Swung on and a long drive! Hit deep to left! That baby's going to go!" said Dewayne. "Number 3,000—it's a home run for Wade Boggs! On a 2-2 pitch! Simply unbelievable!"
Near second base, Boggs pointed upward and blew his late mother, killed in a 1986 car accident, a kiss. Then he kissed home plate. "Something ran through my mind to say, 'You stepped on it enough, you might as well kiss it.'" Generations hugged: Wade, mates, father, wife, and 12-year-old son Brett, that night's honorary team batboy. "His godfather is [fellow 3,000er] George Brett," said Staats. "Sometimes the magic overcomes the park." Still, the team lingered in or near the cellar. In 2005, it got a new uniform—and name, simply Rays. Not helping attendance, the club never neared 2 million after its rookie year.
In 2008, Tampa Bay wed its first .500 season, AL East title, and pennant, losing the World Series to Philadelphia. The Rays lost the Division Series in 2010-11, 2013, and 2019—and the Series again in 2020 to the Dodgers. Evan Longoria reminded Staats of prior bigs stops. "Each of my teams had a guy embodying the work ethic," he said: Nolan Ryan, in Houston; Dawson, Chicago; and Don Mattingly, New York. Each franchise had or would win a Classic. When would the Rays?
Throughout, the Emmy Award-winning Staats has defined continuity, aided since 2010 by skilled analyst Brian Anderson. Since 2005, Rays radio has meant Andy Freed, who makes even inside baseball resemble real baseball, joining Tampa Bay from the Pawtucket Red Sox. Previously, the Towson State graduate voiced the Trenton Thunder and St. Lucie Mets, worked as a Fox TV statistician and researcher, at the Comcast Network, and on Orioles post-game WBAL Radio.
Born in Ellicott City, outside Baltimore, Freed was bred on the Orioles' Chuck Thompson and Bill O'Donnell, whom he felt "like family, radio so personal, especially in a place like Baltimore, where pre-agency Orioles players owned local businesses, retired, and stayed—part of a "big city with a small-town feel." Like millions, he grew to love the game listening at night, in bed, eyes closed, letting Voices "wash over you," absorbing baseball's rhythm, mythy and sweetly rural.
One night, interning at WBAL, he saw Thompson, awaiting the end of a post-game show. Andy introduced himself, finding Chuck as he appeared on air—"warm and welcoming." Freed was struck by how much the O's Voice "meant to me, never knowing me." How, he mused, had Thompson managed it? The answer crystalized in Chuck's superb 1993 Hall of Fame Ford C. Frick Award acceptance—a talk that, as a former speechwriter, I marveled at for its humility and poetry.
Hailing "that vast unseen group of listeners, the generations" who had allowed him to visit their homes, Chuck ended, "I want you to know one thing—we share this honor. Without you, it could not have happened." The overflow crowed stilled. "If at some time you … return to this wonderful town of Cooperstown," enter the Hall's broadcast wing, and have someone see "Chuck Thompson's name on the plaque and ask, 'Did you know him? I hope that you'll say, 'Yes, I did. He was a friend.'"
A year earlier, Andy had met O's Voice Jon Miller, profiled elsewhere in this series, who became a mentor, his career testimony to the power of personality in the booth. Freed shares that trait with Dave Wills, splitting Rays play-by-play and color: Elmhurst College pitcher and Speech Communications and urban studies graduate, former Midwest League ball and striker, White Sox pre- and post-game host, Notre Dame football Voice—and, yes, a member of the Irish-American Baseball Hall of Fame.
Like Staats, both earn healthy ratings, bringing sun, breeze, and history into a building bereft of each. Rays broadcasters continue to be a major reason many forego the Trop for "warm and welcoming" conversation on the air.