Dick Vitale called his first ESPN college basketball game 40 years ago Thursday, DePaul vs. Wisconsin
Vitale on TV today: "There's so much thrown up on the screen, it breaks the flow of conversation, Some of the entertaining element is missing"
ESPN's Dick Vitale stepped onto the national stage forty years ago.Through the years, Dickie V struck me as a cross between a basketball fanatic, a rock star and a promotional genius; a Vaudevillian and cheerleader on the stump. 
If there's been a flash point for college basketball, you might identify, 1979. On March 26th in Salt Lake City, the NCAA title game pit Magic Johnson against Larry Bird, Michigan State vs. Indiana State.
Dick Enberg, Billy Packer and Al McGuire, college basketball's most informative and entertaining broadcast trio ever, presided over the NBC mics. The world watched in awe. But by the fall, both superstars were gone. They took their enormous talents to the NBA where their storied rivalry continued to swell.
In September, 1979, there was an epochal grand opening in Bristol, Connecticut where ESPN put up its shingle on a thin shoestring. From an historical perspective, it took a decade or two to connect the year and the sport and to recognize the effect the network had on college basketball.
ESPN was a startup that functioned on fumes and was fueled by a collective dream. An all-sports network? The naysayers laughed because ESPN had potentially little heft. The cable universe was just 16 million homes then and all major sports rights were under long term contracts with CBS, NBC or ABC, the over-the-air monolith. Fox Sports didn't even exist yet.
The likes of CNN and eventually other national and regional networks spawned cable viewing. By 2011, ESPN alone would have 100 million subscribers.
But in 1979, ESPN's immediate goal was meeting payroll.
Over-the-air networks wouldn't touch college basketball in primetime. So college hoops were ESPN's first live showcase.
The telecasts attracted viewers, particularly young viewers. The intersection of college ball and television turned 1979 into a crossroads year. The game began to erupt in popularity, rights fees spiraled and Dick Vitale grew in lockstep with the game and ESPN. Vitale was ESPN basketball at the time. Symbiotic? Cause and effect? Yes.
Forty years ago this Thursday, December 5, 1979, a fledgling ESPN put a reluctant and unemployed former coach on-air for one of its first college basketball telecasts. Vitale was then a coach out of work, looking for another gig somewhere on a team's bench.  
He wasn't interested in television but when ESPN reached out and his wife Lorraine urged him to try it, Dick Vitale said yes. He had always been great with the media but didn't have any real in-game television experience. That night, he sat courtside when DePaul under legendary coach Ray Meyer beat Wisconsin 90-77, behind Mark Aguirre's 26 points. Vitale's partner that night was Joe Boyle, father of longtime Pacers' radio voice, Mark Boyle. 
With cable distribution limited , ESPN didn't win any ratings battle that night but many millions of course have watched Vitale since. In its first decade, ESPN was identified by SportsCenter, Roy Firestone's Up Close and college basketball which frequently meant Vitale.
Dick was novel and his energy was contagious. He was the first basketball analyst to add a huge dose of personality to a telecast. It was about the same time that John Madden did the same for the NFL for CBS.
Vitale's nicknames and phrases gained traction. From diaper dandies to Dow Jonesers, they were awesome baby!
He's been deservedly recognized by the Naismith Hall with the Curt Gowdy Award for broadcast excellence and as a contributor to the game. To date, only the Lakers' late announcer Chick Hearn and Vitale have been bestowed with both honors.
Say what you want about Dickie V. You'll hear that he's a self-promoter or a tired-act. Yet most anyone who knows him will agree on one thing. He's a good guy, someone who's helped many through charitable undertakings and pushed those in power to act on behalf of others in need.
In his early years, when Vitale walked into an arena, fieldhouse or a gym, he would be greeted thunderously in rock-star fashion. Hearing this, Vitale said, "I still am. At the Garden this season, the ushers and security people said. 'Hey, when you come to the Garden, we have to work. We've got to keep the fans in check, those trying to get your picture or autograph.'"
Vitale is no longer ESPN's #1 college basketball analysts but he also turned 80 last June. If you and I are lucky enough to make it to Vitale's age, we should only have his oomph, attitude and sharpness. Jay Bilas, now the network's top college hoops analyst is a lawyer who's astute and insightful. But he hardly exudes Vitale's warmth.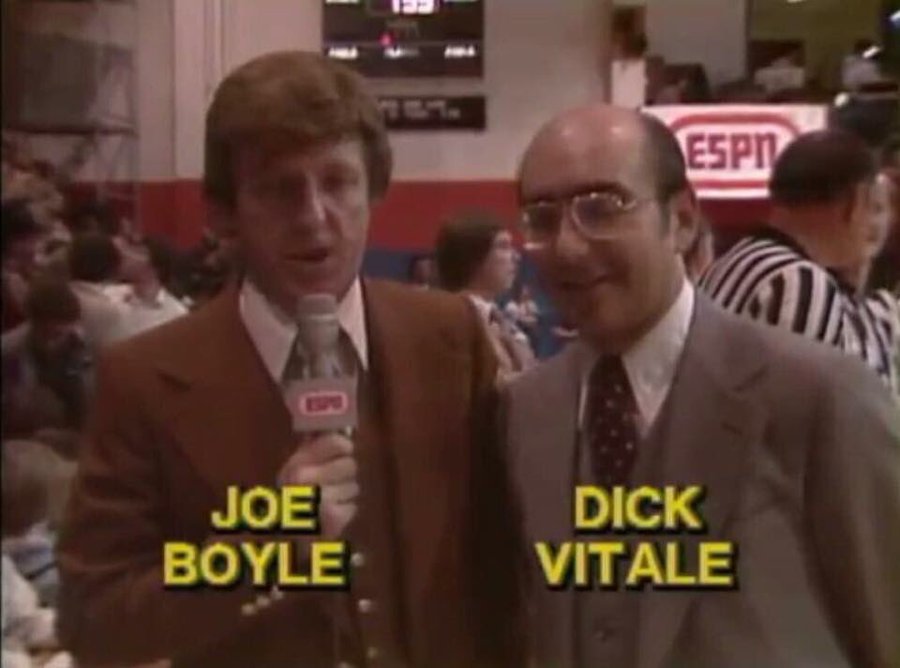 I asked Dickie V about growing up in New Jersey, also the early home of Hubie Brown, 86, another ESPNer who has defied age. I tell Dick that he's got a way to go before catching up to Hubie. "Let me tell you something. Hubie Brown is the most knowledgeable basketball man I know. He's beyond special."
Vitale adds, "I say this jokingly of course. Hubie's got it easy. He works one game a week. I work two. He can fly nonstop to any NBA city. His voice then drops to a stern tone. "It's the travel. It's a killer. I'm sure that Hubie would say the same thing.
"ESPN has a firm company policy. No private planes. So you know what. I charter planes on my own. Of the 120 nights I was away last year, I was in my own bed 68 nights. It's worth the investment on my part. If I do a game in Durham, Iowa or Chapel Hill, I'm back that night. I made the decision years ago to do so. It enables me to work with less stress. I've already taken care of my kids financially. It's time for me!"
I tell Dick that Hubie Brown's distinct speech cadence parallels Al Lobalbo, Hubie's high school coach, a legend in the Garden State. Any hoops junkie who's listened to Brown that last thirty years loves to impersonate him.
Vitale: "Al Lobalbo! Are you kidding me? The first high school game I ever coached was against Al, Garfield vs. Belleville. I'm like 23 and coaching against this icon. Al had won like ten New Jersey state tiles. We lose by one. I'm down. Al comes over to me. He says, 'Son,' he called me son, 'you keep doing what you're doing. Someday you're going to make it big.' I felt like a million bucks."
Vitale might view college basketball at times with colored lenses and might be accused of giving name coaches too much rope, but he's not reluctant to criticize
Last season, he and Bob Wischusen worked a game down south. It was a close game, one if I'm not mistaken that went into overtime. It seemed that every call down the stretch was reviewed on the monitor. He rightfully got on the NCAA for the constant delays. And then in a Phil Rizzuto moment, he screeched on-air, "Hey, I got a charity to get to tonight and a plane to catch. There's weather out there, I've got to raise money for seriously ill kids. This is too much."
Through the years, Vitale has raised tons for charities. His focus is pediatric cancer. He's amassed $29.5 million for the cause through Gala for Kids. The ex-coach can share multiple heartbreaking stories that have inspired him to put his soul into the effort. See, dickvitaleonline.com
He and I talked last week.
How has TV changed the last 40 years?
Too many graphics can be tough for broadcasters to follow. There's so much thrown up on the screen. It breaks the flow of conversation. People get lost in all the data.
Today maybe some of the entertaining element is missing. When I was hired by Scotty Connal at ESPN, he told me, "Your job is to entertain and inform." 
Sometimes, when coaches are fired and hired to do color, they get so technical as though they're trying to impress someone for their next job! 
What did you learn about TV through the years?
Be who you are. Don't try to be someone you're not. Be yourself. I'm bombastic and fun loving. When I started, I tried to be someone I wasn't and figured it out. Be yourself.
You worked with Brent Musburger. What was he like?
Hey, he's a Hall of Famer.
Sorry, Dick. I also thought so. But he's not. The Basketball Hall of Fame never gave him the Gowdy Award.
You've got to be kidding. He would have my vote in a heartbeat. Brent was one of those guys who said memorable things. The next day viewers talked about what Brent said the night before.
I was his partner for his last basketball telecast on ESPN. And when we closed the broadcast I gave him a big kiss right on camera and presented him with a plaque and I told him it was an absolute honor to work with him.
Rick Pitino. Is there any future?
Rick Pitino paid a very big price. He lost a job that he loved He's paid his dues. How much punishment do you want him to suffer? 
Someone should give him an opportunity. He was never convicted. But he ended up being a poster boy for violations.
Mount Rushmore. The best coaches, all sports all-time?
Bill Belichick, Nick Saban, Greg Popovich and Mike Krzyzewski
All time college basketball coaches?
Mike Krzyzewski, John Wooden, Dean Smith and Bob Knight