Eddie Doucette, Voice of the Bucks for their first 16 seasons, reflects on Milwaukee's '71 title team and more
I hadn't talked with him in a score of years. When I reached Eddie Doucette by phone last week, his voice was strong, his demeanor chipper and his frame of mind current.  At 81, Eddie has instant recall of events fifty years ago or yesterday.
Doucette was the Milwaukee Bucks broadcaster, starting in 1968 when the Bucks hit the court for the first time. He started on radio and later alternated between TV and radio. In those early years, unlike today, television was limited to a set number of road games. Radio was the powerful pulpit.
Like many other NBA broadcasters of his day, Johnny Most in Boston, Chick Hearn in Los Angeles, Marv Albert in New York, Bill King in Golden State, Jim Karvellas in Baltimore and Joe Tait in Cleveland, Doucette was an icon in Milwaukee, where he told me "the fans are as loyal as they come." Back then, more so perhaps than today, NBA voices poured their hearts into their calls, riding emotionally with every play. Team announcers were all inextricably connected with the teams they covered. The league overall was more intimate then too.
Getting the Bucks gig at 28 required a journey, lots of steps, a few small towns and lots of shoe leather.
Eddie still has a slight trace in his speech of his New England roots where he was hooked on sportscasting at age ten. "I was raised in Waltham, outside of Boston, and we didn't have a TV set. So I would stand in front of the appliance store and watched games there. One rainy day, the store manager saw me standing outside and invited me in. So I heard Curt Gowdy clearly. He called the Red Sox games and I was hooked immediately. I knew what I wanted."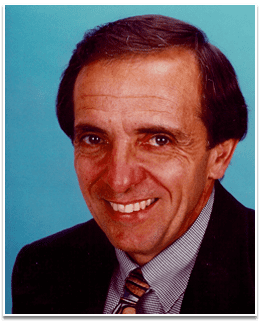 Doucette (left) attended Michigan State, did some sports there on the college radio station and then hoped to land a sports job somewhere, anywhere. But it was hard back in the early to mid 60s. Radio was all about the AM dial. There were just so many radio stations to go around and as such, a paucity of openings. Functionally, few people had FM receivers then and even fewer listened to FM. You can count the number of cars that had FM. There were that few.
He got his first job assisting Ed Kennedy, program director at a Cincinnati radio station. Kennedy was also the voice of the Cincinnati Royals. One day, the DJ who did the afternoon shift didn't show up for work. So Kennedy ran down the hallway in a semi-panic and summoned Doucette to spin records.
Eddie later got his reps doing some sports in Toledo, Ohio, spun more records in Flint, Michigan and sold national advertising in Chicago where he moved in with his folks. The mission continued in Milwaukee where he continued to DJ and where he befriended Earl Gillespie, the Voice of the Braves, Wisconsin football and a longtime sports anchor on Channel 6. In time, Doucette wound up doing weekend sports there on the same station where Gillepsie was a star.
While Doucette was up for a sports anchor job on WBBM-TV in Chicago, which he lost to Paul Hornung, he met a workaholic named Wesley Pavalon who was impressed with Doucette's drive and enthusiasm for sports. Pavalon told him he was looking at an NBA franchise and he would pay Eddie $50 a speech to travel to community gatherings and talk up professional basketball.
On January 22, 1968, the NBA awarded Milwaukee a franchise headed up by Pavalon and Marvin Fishman. Doucette was hired to do marketing, public relations and promotion. When the team looked for an announcer, the applications were aplenty and included Chicago's Red Rush and New York's Bill Mazer. Then the bosses looked at one another and said, we have a local fellow in our midst. So Doucette was appointed the team's broadcaster. The kid from Waltham, by then 28, had a busy first year. He called the games, did the game notes, sold tickets, did PR and ran promotions. Imagine doing all that today and covering a fresh franchise that won only 27 games.
I asked Doucette, whose play-by-play was limited at that point, whether he found calling the fast paced NBA game daunting. "I had done games in college and in the years spinning records, I talked a mile a minute. I was ready"
In his 16 years in Milwaukee, Doucette was beloved and for those who remember his golden years there, many of them say he was the best. He had a rapid-fire call and created his own dictionary of terms he'd use to describe plays. The promised land was the area under the basket and string music represented a shot that never touched the rim. In fact, the photo above is the front cover of a list of his customized terms. Doucette got Coca Cola to sponsor, Doucette's Dictionary.
Eddie and his family moved to San Diego in the 80s where he continued his successful career. He branched out nationally too, working MLB and NBA games for the USA Network and for several local clubs. A winner of the Basketball Hall of Fame's Curt Gowdy Award, he did 30 years of NBA ball in all and 17 seasons of MLB that included a handful of teams, among them, the Brewers.
Ted Davis, the current Bucks announcer who's been with the team since the 90s said, "I can't tell you the number of people who told me that they fell asleep listening to Eddie call games from the west coast." Doucette continued to work until a number of years ago, calling college games regionally for Fox Sports, from his San Diego base.
Eddie and I talked about his early years in Milwaukee and the sweetest of them all, 1971, when the Bucks won the NBA title led by a young Lew Alcindor, later Kreem Abdul Jabbar, and the seasoned vet, Oscar Robertson.
Q&A with Eddie Doucette, who fifty years ago, in 1971 chronicled the team's first championship.
It's fifty years since that the magnificent Bucks swept the Bullets in the Finals and won its only ever NBA championship. What was it like?
It took a Herculean effort. We flew commercial. There were no charters. It was before 'load management," as it's called now. That's total garbage. The players got the bulk of their income playing. There were no merchandise checks from the league. The top starters played 79 to 82 games a year! Oscar was in his 30s already. And the game was more physical then, that it is now.
The Bucks were in the Western Conference. We'd play five games in seven nights. On the road, we had to get up and catch the first flight out-of-town. It was an NBA rule.
You mentioned the coaches. The Bucks were led by the late Larry Costello.
He belongs in the Hall of Fame. he got results and the most out of his players. He constructed a solid offense and dealt with large egos. The coaches were tougher then. They demanded more. They expected the players to grind.
Hubie Brown, a contemporary of Costello from Niagara days, was on that staff. 
He left the Bucks and won an ABA title in Louisville. We became very good friends. I helped get him into television. When he saw the writing on the wall in Atlanta, I suggested television and set him up for an interview with USA Network which had the NBA cable rights at the time. He got the job. The rest is history.
Kareem, a young Jabbar, still Lew Alcindor. What was he like?
I never interviewed a more intelligent athlete, seeing his acumen, his writing on a variety of subjects including civil rights. When I would put a mic in front of him, I'd start with subjects other than basketball and I would then extract what I needed. He's not a conversationalist, he's very sensitive and has lots of sentimentality. He's quite different from what people think.
Chick Hearn popularized a term you authored, Skyhook for Kareem. Right?
I did and when he was traded to LA, Chick picked it up. For that matter, Jabbar's charity is called Skyhook Foundation.
Tell us about the time Kareem returned to Milwaukee and decked the Bucks' rookie Kent Benson.
That was just after the Bucks drafted Kent Benson, the Indiana player, in 1977. Kareem was coming back to Milwaukee and we played the Lakers on opening night. The coaches told Benson to play hard in the post against Jabbar. He did and whacked Kareem who gathered himself and punched Benson in the face so hard that Kareen broke his own hand.(Kareem played only 62 games that year.)
You've been involved in charity work yourself.
Former Bucks player, John McGlocklin  and I formed the MACC fund for pediatric cancer. We've raised $100 million through the years.
Radio vs. TV?
Radio is where a team announcer builds his personality. TV is the medium of producers and directors.