Ernie Johnson Sr. – Braves' superb play-by-player from Milwaukee to Atlanta; Like son, Jr. – a gentleman
Today continues our look at radio/TV Voices of baseball's 10 post-season teams by Curt Smith, former Speechwriter for President George H.W. Bush and author of 18 books include the 2021 Memories from the Microphone: A Century of Baseball Broadcasting.
The series features a Voice from each club who represents that franchise: current, retired, or deceased. Today we profile Ernie Johnson, long-time TV Voice of the Atlanta Braves, who have advanced to the National League Championship Series.
In 1972, businessman Ted Turner bought rights to air Braves games for his fledgling Atlanta station, WTCG, broadcasting on an Ultra-High Frequency (UHF) band with limited access. Renamed WTBS (Turner Broadcasting System) in 1976, Turner gained FCC permission to distribute programs nationally to regional cable providers for the first time.
His vehicle was newly available satellites letting regional companies offer programs from around the globe. Turner's success fueled a barrage of national cable networks, including his Cable News Network (CNN), made available to local markets by subscription.
Dubbed a "SuperStation," WTBS fused national cable and the Braves, which Ted bought in 1976. "[This will] sell us a world from Georgia," Turner vowed even before his club won its first 13 games in 1982—to Braves Voice Ernie Johnson, "the 'two-by-four' that hit America right between the eyes."
Ted's pioneering venture turned cable into a multi-billion-dollar national industry. In the 1980s, many big-league teams tried, with varying success, to launch similar SuperStations and/or regional networks, all offspring of what Turner called "America's Team." Let us look at Johnson, his life intersecting baseball and the then-rise of big-league programming in almost every U.S. home.
More than a decade before Turner bought the Braves, the 1963 Dodgers offered baseball's first pay-per game cable subscription. Cable channels charged by length of time. "WTBS had been just one of many dozens of offerings," said Johnson. The name "SuperStation" was Ted's idea, to signal size across the country. In 1982, it had something beside a name as well—Atlanta's first division title since 1969.
Other SuperStation Voices emerged about this time—especially WGN's Harry Caray, New York WOR's Tim McCarver, and WPIX's Phil Rizzuto—but the Braves were first among equals. Johnson, Pete Van Wieren, and Harry's son Skip roused TV interest time zones away. "The Braves had been just one team among many," said Ernie. "Then '82 happened, and suddenly they weren't."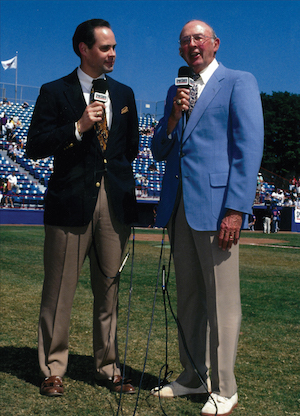 Born in 1924, Johnson was the youngest of three children of Swedish parents who immigrated to rural Vermont. In 1942, the high school senior tossed three straight near-no-hitters, threw batting practice to Paul Waner and Ernie Lombardi, signed with the Boston Braves, and braved the invasion of Okinawa as a U.S. Marine. Discharged, Johnson came home to make the Bravese and I differe., relocating to Milwaukee in 1953.
"Dad liked to self-deprecatingly joke about his career, but [he] was a pretty darn good relief pitcher," said son Ernie Jr., a longtime TBS studio host. (Turner eventually dropped its "W" to denote national).  By 1960, Senior had been released by Milwaukee and Baltimore and signed with Cleveland, only to hurt his arm. "Here's how bad I'd become," he joshed. "[Braves Catcher] Del Crandall said to forget a spitter because 'It's so slow it's dry by the time it hits the plate.'" (Ernie Johnson Jr. and Sr.)
Ernie returned to Milwaukee, hosting a post-retirement TV show called Play Ball. Like many Voices, he could instantly haul anecdotes from the shelf. "Two little ladies entered the park about the fifth inning and sat down behind a priest," Johnson said. "'What's the score, Father?' they said. The priest said, 'Nothing-nothing.'" One lady told the other, 'Oh, good, we haven't missed anything.'"
Later a pinch-hitter batted for the home team. "He makes the sign of the cross before stepping into the box. The little old lady leaned over and said, 'Father, Father, will that help?' The priest turned around and said, 'Not if he can't hit.'"
In the Braves' strange 1965 interregnum—the team in Milwaukee, but Georgia-bound next year—Ernie aired "a tease for the club coming down": 70 radio/TV games on WSB Atlanta. Thereafter, the franchise increasingly relied on Henry Aaron on the field and off, inertia gripping it after No. 44 passed the Babe with home run No. 715.
In 1975, Ernie became lead Voice, invoking pops "that bring rain" and "giving that one a blue star"—a paladin of a play. He often lacked crowd noise, one game's attendance 737. The future became Turner's belief in cable, even when few knew what it was. By 1982, Atlanta lured a record 1,801,985, a letter to TSN thanking TBS for "getting baseball back in the hearts of rural America," previously limited to one network game each week.
A general-interest channel for those who did or might like baseball, TBS beamed as many as 150 sets yearly, many replayed in the early a.m. Ernie, Caray, and Van Wieren's 1976 booth got mail from Maine to Hawaii, the early on-field team comic. Once San Diego's Gene Richards tried to steal second base, catcher Biff Pocoroba's throw bouncing off pitcher Buzz Capra's head almost a hundred feet in the air. Buzz then collapsed. "Capra was a friend," Skip said, "but it was so typical of our team that I couldn't help laughing."
The late 1980s Braves' awfulness bookended the 1970s. Yet radio/TV's triumvirate stirred a oneness with the region. In 1976, Caray welcomed Johnson by saying, "Here with the play-by-play, the [new] Voice of the Braves." During break, Ernie said, "If you don't mind, we're all the Voice of the Braves." Such a pulse let announcers laugh with and at each other, telling stories in a casual way that put an audience to ease.
In 1989, 41,020 hailed Ernie Johnson Night, the three-time Emmy honoree and Georgia Broadcaster of the Year retiring. Later he rejoined Ernie Jr. on the regional cable outlet Sports South, Senior laughing, "People tell me, 'I thought you'd retired!' What are you going to do? Give back all your gifts?" The other Voices remained: Van Wieren a.k.a. "The Professor" for his likeness of author and ex-bigs pitcher Jim Brosnan—and Caray, the Atlanta Journal-Constitution's Mark Bradley styling him "the funny one … the snarky one."
Van Wieren forged an Upstate New York state of mind: born in Rochester, a Cornell University graduate, he moved from several radio outlets and The Washington Post to the 1976  untenured bigs—"a double whammy" handling Braves radio and travel. Pete did Flames hockey, Falcons football, and TBS, TNT, and Hawks NBA, his "best baseball things" still ahead. (Van Wieren, Ernie Johnson Sr and Skip Caray, l-r)
League-worst in 1990, next year's club was first by a game over LA on the next-to-last day. "Stretch by [John] Smoltz," Pete said. "A high fly ball to right field! … Back goes [David] Justice! He's got it! And the magic number for Atlanta is down to one! The Braves have clinched a tie for [National League] first!" Later, Atlanta lost to Minnesota in a seven-set Series, including a 10-inning 1-0 final. Five games were one-run: "as they say in the South," Van Wieren said, "'as close as fuzz on a tick's ear.'"
For Atlanta, 1991 convened an age that Turner said would make "the team of the decade." Would the laugh be on him, or last laugh his? Skip Caray had encountered each for being "Harry's Kid," as a boy hearing Dad say upon station identification, "Good night, Skip. This is the Cardinals Baseball Network." He knew pop to be a two-edged sword. "I might not have got a job" were it not for Harry—but "because of that, I'd have to be even better."
Raised in and near St. Louis, Junior wanted to play sports till hurting his knee, which made radio appealing. At the University of Missouri, Skip worked summers at KMOX Radio. To shake dad's ghost, he left for Redbirds outlets out-of-town. In 1968, the St. Louis Hawks moved to Atlanta, Caray soon a radio/TV celeb. Pop could empty a distillery. Junior twitted "cocktail hour" in Atlanta. Harry boomed. Skip barbed. Both scored umpires as if diseased.
In 1992, Atlanta's League Champion Series foe was previous-year's Pittsburgh. Behind, 2-0, in the last inning of Game Seven, the Brave scored, with two out loading the bases. Reliever Stan Belinda then faced pinch-hitter Francisco Cabrera, David Justice and leaden Sid Bream on base. "Swung on, line drive, left field!" he said. "One run is in! Here comes Bream! Here's the throw to the plate! Braves win! Braves win! Braves win! Braves win! Braves win!"
Then: "They may have to hospitalize Sid Bream!"—buried under mates at the plate as people began pounding Skip on the back. "I didn't feel it. All I knew was Frank's hit meant the pennant." In the Series, Ernie Sr. broadcast three innings on radio. "Nothing like completing the resume," he said, turning humor on himself. By 1995, the Braves resume read 38 years without a title. That season they became the first to win it for three cities: Boston, Milwaukee, and Atlanta.
In the ninth, ahead of Cleveland, 1-0, in Game Six, Ahab caught Moby Dick: "Fly ball, deep left-center!" Skip pealed. "[Marquis] Grissom on the run! Yes! Yes! Yes! The Atlanta Braves have given you a championship! Listen to this crowd!" Atlanta has not won another, although making the postseason—a player lockout erased 1994's—a nonpareil 14 straight years.
In 2001, Ernie made the Braves Hall of Fame, joined in 2004 by Pete and Skip. Each was proud of two precedents from 1995: first of 11 straight years Atlanta won its division and first franchise to win a Series from south of the Mason-Dixon Line.
Ultimately, TBS became available in 63 million homes. To Skip, a small crowd became "a partial sellout." In attendance were "Sam Scoresby and Linda Yavnov," the scotch and vodka, respectively, of the Braves lounge bar. In August 2008, the younger Caray died of a heart attack nine days before turning 69. The Journal-Constitution read: "Braves Lose the Voice That Made Us All Fans." Two months later Van Wieren retired, dying in 2014 at that age of cancer.
Given how Braves radio/TV felt like a sleepover, family is a fine note on which to end. In 1993, Ernie Johnson was asked by his son to share each Wednesday's Braves game on Sport South TV. "No matter what happens in his broadcast career," a friend of Jr.'s said, "the highlight will always be the [four years] he spent with his father" in the booth—something that Senior knew. Dad retired for good to his Crabapple farm, near Atlanta, where a U.S. Marine Corps' flag flew from a pole in the front yard.
Thereafter Junior pictured Dad and Mom in front of "their [set]" while working a game. For a time he used dad's signoff when the Braves won a telecast—"and on this winning night, so long everybody"—borrowed without pop's permission "but with his blessing and my love." In 2011, Senior died, at 87. One sympathy letter among hundreds sent especially moved the son: "When you heard Ernie Johnson do a game, it was like summertime would never end."