ESPN officially assigns Steve Levy, Brian Griese and Louis Riddick to MNF; See full talent list since 1970
Current plans are for the voices to work live from stadiums. But the situation is fluid.
As it gets ready to celebrate 50 years since the birth of Monday Night Football, ESPN did right by their longtime staffers.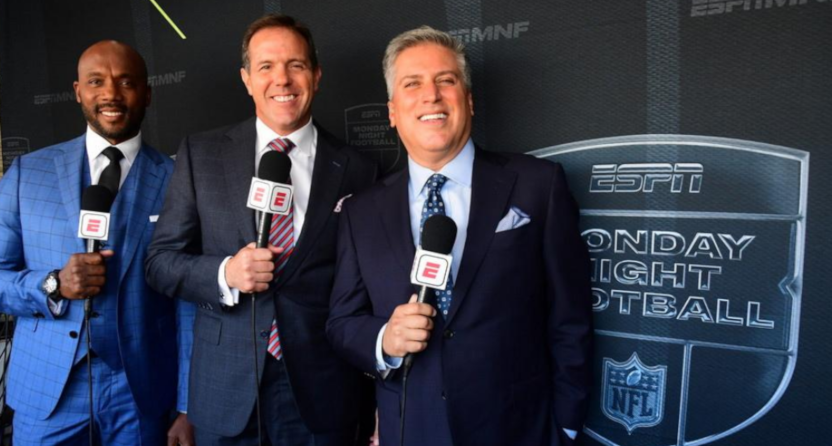 Steve Levy, Brian Griese and Louis Riddick (r-l) have been appointed the network's new voices of the historic series. The trio will replace last season's duo of Joe Tessitore and Booger McFarland.
Levy becomes ESPN's fourth play-by-play announcer since ESPN acquired the package in 2006. He was preceded by Mike Tirico, Sean McDonough and Tessitore.
The network also announced that Chris Fowler and Kirk Herbstreit will do game one of the opening night doubleheader on September 14th; Pittsburgh at New York Giants. Game two, Tennessee at Denver will be handled by the lead crew of Levy, Griese and Riddick.
Should ESPN wind up running NFL games on Saturday to fill the void of lost college football games, Folwer and Herbstreit would possibly get more NFL assignments. This past winter, there were reports that ESPN tried to extricate Al Michaels from his NBC contract and set up a lead team of Peyton Manning and Michaels. It never eventuated.
ESPN has two seasons remaining on its NFL contract.
Levy is in his 28th year with the all-sports network . He established himself in the studio during his first two years at ESPN. He did college football from 1999-2002 and returned to it in 2016. Last year he did one of the NFL games on opening night when ESPN traditionally runs a doubleheader. Levy has also done lots of NHL games.
Griese, a former Pro Bowl quarterback and Super Bowl Champion joined ESPN in 2009 and immediately began calling college football games and contributing to a host of studio shows.
Riddick, a former defensive back and front office executive, joined ESPN in 2013 and has covered the NFL Draft and the NFL Scouting Combine. He has also appeared on Monday Night Countdown, and is part of ESPN's Super Bowl week programming. Th full MNF schedule is below.
FIFTY YEARS OF MONDAY NIGHT FOOTBALL
Year                                       Commentators
1970                                       Keith Jackson, Howard Cosell, Don Meredith
1971                                       Frank Gifford, Howard Cosell, Don Meredith
1972                                       Frank Gifford, Howard Cosell, Don Meredith
1973                                       Frank Gifford, Howard Cosell, Don Meredith
1974                                       Frank Gifford, Howard Cosell, Don Meredith, Fred Williamson
1975                                       Frank Gifford, Howard Cosell, Alex Karras
1976                                       Frank Gifford, Howard Cosell, Alex Karras
1977                                       Frank Gifford, Howard Cosell, Don Meredith
1978                                       Frank Gifford, Howard Cosell, Don Meredith
1979                                       Frank Gifford, Howard Cosell, Don Meredith, Fran Tarkenton
1980                                       Frank Gifford, Howard Cosell, Don Meredith, Fran Tarkenton
1981                                       Frank Gifford, Howard Cosell, Don Meredith, Fran Tarkenton
1982                                       Frank Gifford, Howard Cosell, Don Meredith, Fran Tarkenton
1983                                       Frank Gifford, Howard Cosell, Don Meredith, O.J. Simpson
1984                                       Frank Gifford, Don Meredith, O.J. Simpson
1985                                       Frank Gifford, O.J. Simpson, Joe Namath
1986                                       Al Michaels, Frank Gifford
1987                                       Al Michaels, Frank Gifford, Dan Dierdorf
1988                                       Al Michaels, Frank Gifford, Dan Dierdorf
1989                                       Al Michaels, Frank Gifford, Dan Dierdorf
1990                                       Al Michaels, Frank Gifford, Dan Dierdorf
1991                                       Al Michaels, Frank Gifford, Dan Dierdorf
1992                                       Al Michaels, Frank Gifford, Dan Dierdorf
1993                                       Al Michaels, Frank Gifford, Dan Dierdorf
1994                                       Al Michaels, Frank Gifford, Dan Dierdorf, Lynn Swann
1995                                       Al Michaels, Frank Gifford, Dan Dierdorf, Lynn Swann
1996                                       Al Michaels, Frank Gifford, Dan Dierdorf, Lynn Swann
1997                                       Al Michaels, Frank Gifford, Dan Dierdorf, Lesley Visser
1998                                       Al Michaels, Dan Dierdorf, Boomer Esiason, Lesley Visser
1999                                       Al Michaels, Boomer Esiason, Lesley Visser
2000                                       Al Michaels, Dan Fouts, Dennis Miller, Melissa Stark, Eric Dickerson
2001                                       Al Michaels, Dan Fouts, Dennis Miller, Melissa Stark, Eric Dickerson
2002                                       Al Michaels, John Madden, Melissa Stark
2003                                       Al Michaels, John Madden, Lisa Guerrero
2004                                       Al Michaels, John Madden, Michele Tafoya
2005                                       Al Michaels, John Madden, Michele Tafoya, Sam Ryan *
ESPN:
2006                                       Mike Tirico, Tony Kornheiser, Joe Theismann, Suzy Kolber, Michele Tafoya
2007                                       Mike Tirico, Tony Kornheiser, Ron Jaworski, Suzy Kolber, Michele Tafoya
2008                                       Mike Tirico, Tony Kornheiser, Ron Jaworski, Suzy Kolber, Michele Tafoya
2009                                       Mike Tirico, Jon Gruden, Ron Jaworski, Suzy Kolber, Michele Tafoya
2010                                       Mike Tirico, Jon Gruden, Ron Jaworski, Suzy Kolber, Michele Tafoya
2011                                       Mike Tirico, Jon Gruden, Ron Jaworski **
2012                                       Mike Tirico, Jon Gruden, Lisa Salters
2013                                       Mike Tirico, Jon Gruden, Lisa Salters
2014                                       Mike Tirico, Jon Gruden, Lisa Salters
2015                                       Mike Tirico, Jon Gruden, Lisa Salters
2016                                       Sean McDonough, Jon Gruden, Lisa Salters
2017                                       Sean McDonough, Jon Gruden, Lisa Salters
2018                                       Joe Tessitore, Jason Witten, Booger McFarland, Lisa Salters
2019                                       Joe Tessitore, Booger McFarland, Lisa Salters
2020                                       Steve Levy, Brian Griese, Louis Riddick, Lisa Salters
* Ryan filled in during Tafoya's pregnancy / maternity leave
** Rotation of reporters (Kolber, Nichols, Nix, Paolantonio, Werder)
ABC – 1970-2005; ESPN – 2006-present
Full Monday Night Football Schedule – 2020
Week 1 Doubleheader
Sept. 14, Pittsburgh Steelers at New York Giants (7:15 p.m.)
Sept. 14, Tennessee Titans at Denver Broncos (10:10 p.m.)
Week 2
Sept. 21, New Orleans Saints at Las Vegas Raiders (simulcast on ABC)
Week 3
Sept. 28, Kansas City Chiefs at Baltimore Ravens
Week 4
Oct. 5, Atlanta Falcons at Green Bay Packers
Week 5
Oct. 12, Los Angeles Chargers at New Orleans Saints
Week 6
Oct. 19, Arizona Cardinals at Dallas Cowboys
Week 7
Oct. 26, Chicago Bears at Los Angeles Rams
Week 8
Nov. 2, Tampa Bay Buccaneers at New York Giants
Week 9
Nov. 9, New England Patriots at New York Jets
Week 10
Nov. 16, Minnesota Vikings at Chicago Bears
Week 11
Nov. 23, Los Angeles Rams at Tampa Bay Buccaneers
Week 12
Nov. 30, Seattle Seahawks at Philadelphia Eagles
Week 13
Dec. 7, Buffalo Bills at San Francisco 49ers
Week 14
Dec. 14, Baltimore Ravens at Cleveland Browns
Week 15
Dec. 21, Pittsburgh Steelers at Cincinnati Bengals
Week 16
Dec. 28, Buffalo Bills at New England Patriots