ESPN's Bob Wischusen: One of the BC trio; Classmates, Boog Sciambi, Joe Tessitore and he made it big
In sports broadcasting, we often hear about trials and tribulations that people go through to get their "broadcasting chops." During the early years, you hear about those who spent time chasing obscure broadcast opportunities at their campus radio stations.
From there and with some experience, you try to secure an internship at a commercial station of some sort. If you're real lucky perhaps you'll even be able to read a sports update on the overnight shift.
For ESPN's Bob Wischusen, some of that indeed happened along the way during his climb up the ladder to the mothership. But when talking to the affable and multifaceted Wischusen, you get a keen sense of what really propelled him along the way from startup gigs in Miami and New York to now being one of the more adaptable and visible play-by-play voices in the business.
A native of New Jersey, the versatile broadcaster has settled into a prominent role at ESPN where he calls college football and basketball along with major championship golf. In addition, for the past twenty years he's been the radio play by play voice of the New York Jets.
Bob is a 1993 Boston College graduate, a school not necessarily known as a spawning ground for on-air broadcasters.
This said, five earlier BC alumni are names that excelled in the media business and are well known in the industry. Len DeLuca was a longtime programming executive at CBS and later ESPN, Kevin O'Malley, played a huge role as a production executive at CBS and then Turner; Bob Ryan, a popular columnist for the Boston Globe, Mike Lupica, a New York Daily News columnist, novelist and occasional broadcaster and Lesley Visser star writer with the Globe and longtime ABC and CBS sports reporter.
I had a chance to speak with Bob recently following his return from Kiawah Island, South Carolina where he broadcast the memorable PGA Championship at The Ocean Course.
Q&A with Bob Wischusen 
In the early 90s, you and a couple of talented student broadcasters at Boston College, Jon "Boog" Sciambi and Joe Tessitore, embarked upon your careers and went on to do big and prominent things. All three of you have excelled at ESPN. And down the street at Northeastern,  there was Don Orsillo who broadcast the Red Sox on TV and now calls the Padres on television. In fact, you and Sciambi started together in Miami. Any rhyme or reason? Neither BC nor Northeastern are exactly sports broadcasting meccas?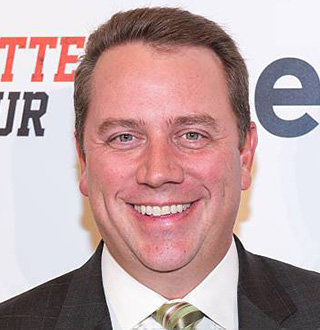 As it turns out, we didn't know it at the time but at least in my silo, I just happened to get lucky. It just happened to be that these other guys also went there. At the time when I went to BC and as great a school as it is, the communications major was basically nothing. It wasn't like Syracuse where you could go become a broadcasting major. The one reason why I chose it was I wanted to be in and around a big city that wasn't New York. I had lived my whole life in suburban New York and when it came time to choose college, it was between BC and Villanova. I figured a big sports market like Boston would be great for internships but I knew that I wanted to broadcast sports.
Have you ever just sat around with Boog and Joe and just say wow, look at us we all went to the same school and look where we all made it to?
Not really. Look, we're all friends and colleagues and this is what we do for a living. We're all very similar to the people we were in college. There's the old adage that iron sharpens iron. In addition to Bob and Joe, my roommates in college were huge sports fans and knew how to debate. You had to really be dialed in; smart and an educated sports fan, to be sitting around the cafeteria table to argue with the other guys.
I can tell you that made all of us better sports broadcasters whether we did sports talk radio or added an opinion occasionally in our play by play. When I think of my first job as a sports talk show host, I feel I was much better prepared because of the friends I had and because of the sports arguments I was accustomed to in college.
You've been privileged to call some fantastic events.  Does it go without saying that being part of the historic broadcast at the PGA Championship at Kiawah was one of the great events you covered?
Absolutely. I remember being at my neighbor's house in 1986 when Nicklaus won The Masters and thought we'd never see anything like it again. To me, Phil Mickelson's win was on that level. It was basically watching a 50 year old go through a survival t'est against guys half his age on the hardest course in the world.…and winning!
From a broadcast perspective, golf gives us the wonderful sound between caddy and player these days.  What is it that you like about televised golf these days and what you'd like to see improved?
First of all, I'd certainly like to be doing more golf. I would love to know what it's like to be doing the holes that matter on Sunday. At ESPN, we chronicle the first couple rounds and the very early, early coverage of Sunday. What's great about golf telecasts these days is the all encompassing coverage. You see the highs and lows of a round, unlike years ago when we had no idea what the front nine at Augusta even looked like.  The ability for the mics to pick up those player/caddy conversations is gold. When I hear a broadcaster speaking over those conversations, I'm thinking don't speak over this!  When I was younger, I'd watch HBO's Inside the NFL just so I could hear the players mic'd up. Nowhere else could you get that.
What's it like to be the guy for a team, the New York Jets, in the media capitol of world such as New York?
It's nice because it's a team I grew up rooting for. I was raised in the metro area and my sports DNA is here and it's really a great thing. I never imagined I'd be doing the job for twenty years. Marty Lyons, of course who I do the games with, is the only other person affiliated with the team longer that I've been which is crazy to think of. (Lyons was a defensive tackle with the club in the 70s and 80s.)
Is it tough being a play by play guy of a team you grew up rooting for and having to slog through many challenging seasons?
One thing I think we've done very well with Jets fans is communicating to them that we're one of them.  What New York fans come to expect is that they want honesty from their broadcasters and I think we've succeeded in that. When the Jets aren't playing well, we say it because that's what we do in New York. It's what makes New York different from some other markets.
Having called games in empty stadiums due to Covid this past year to now getting to an event such as The PGA Championship which had a raucous crowd, talk about the effect on the broadcasts of having fans at events.
I did find that there was a lack of energy from everyone involved at times last year. Now, when you see fans getting back to the games, I get a little emotional. It was like the world is back. Everyone is feeding off the renewed energy, players and broadcasters alike. You can feel the emotion of a Madison Square Garden. (Wischusen fills in occasionally on Knicks and Rangers broadcasts.)
You've broadcast a variety of different sports, football, basketball, hockey and golf.  Do you have a favorite?
Not really. I think any broadcaster worth his weight in salt will tell you, I just want to broadcast the biggest, best events I can get my hands on.
Covid impacted your family with you and your wife getting involved on a volunteer basis in the community? Tell us more.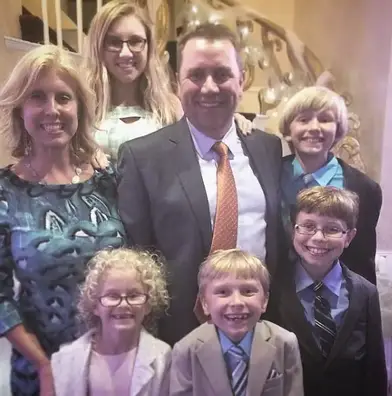 Yes. My wife Julie is a registered nurse who basically put her career on hold for mine, raising our 5 kids. Honestly she really should be a registered saint! When our area was essentially swimming in Covid, she and a friend contacted the Medical Reserve Corp and volunteered in our community, administering test work, in some cases 40 hour weeks for free.
She's still at it now on the other side, administering the vaccine, since January. While there were no games and I was terrified for my industry and my job, I figured why not get involved. I got involved through a GoFundMe program food distribution program that I set up for the volunteers. It was really a joy to do it. The effort also helped the local restaurant scene at a time they could really use the help.