ESPN's Mike Breen is living a dream; Hall of Fame honoree will call his record 16th NBA Final on ABC
You don't have to listen with a trained ear to identify Mike Breen's roots. He's a New Yorker through and through. Raised in Westchester, he attended Fordham University and got his start doing Marist College basketball in Poughkeepsie. Yes, the school made famous by the Dunking Dutchman, Rik Smits.
By the mid to late 1980s, Breen found himself in the Big City, doing this and that at 66WNBC, a big powerhouse of an AM station challenged at the time by years of listener migration to the FM dial. Early on, Mike would do sports talk in the evenings, substituting for Dave Sims.
In those years, WNBC hung its hat on an outlandish morning man, Don Imus. The 'I Man' could intimidate whomever he'd interact with on-air, be it his newsman, his producer and in time, Breen, his sports reporter. When the station transformed into all-sports, and the call letters to WFAN, Mike became best known for his unpredictable dialogue with Imus. Breen would stick with the show for a dozen years.
Imus in the Morning was a daily test of quick witted tenacity. Don spewed trenchant insults and Breen had to counter bluntly and often sardonically. It was a matter of quip-for-quip. Like Don Criqui before him, the generally soft spoken Breen made the Imus cut. Maintaining wit and levity while surviving the crucible of spirited communication with Imus helped prepare Breen for bigger stages. 
He was also at the right place at the right time. In 1992, Mike replaced Jim Karvellas on the station's Knicks broadcasts and he's now voiced the team's games for 29 seasons, 20 on television where he followed Marv Albert twice and nine on radio.
In the 90s, Fox and NBC were sufficiently impressed with Breen to separately assign him NFL broadcasts. But football wasn't his thing. Basketball was his unquestionable passion. In fact, he first thought of becoming a referee and it's why to this day, he's always right on top of the rules.
When ESPN won the NBA rights in 2003, the network went with Brad Nessler for a year and Al Michaels for two. It didn't seem to work. Nessler later admitted that he was a college guy and Michaels always paced himself for the long term. The NFL was his thing and still is at 77.
In 2006, Breen was anointed the network's lead voice. This July will be his record setting 16th NBA Finals. Marv Albert and Dick Stockton did 9 NBA Finals apiece for NBC and CBS respectively.
It didn't take long for Breen to establish himself as a marquee NBA voice. He's well liked, comes across warmly and has developed a three way conversational broadcast with Jeff Van Gundy and Mark Jackson. If Breen isn't enough of a New York connection, Jackson played in the big city for both the Knicks and St. John's and JVG coached the Knicks.
Just a few weeks ago, Mike was honored with the award he most coveted, the Curt Gowdy, bestowed by the Naismith Hall of Fame. It honors excellence in basketball broadcasting. Now his name is right there with pioneer announcer Marty Glickman and all-time greats like Marv Albert, Dick Enberg, Chick Hearn and Joe Tait.
Shortly after the Hall distributed a press release announcing Breen as the '20 Gowdy winner, the phone rang in his Long Island home. It was Vin Scully, a fellow Fordham alum, congratulating Mike on his selection. It meant a ton to Breen who has a special appreciation for the best.
Mike himself had hosted the Gowdy Award ceremony for several years so he understands its significance. Breen says  that winning it himself was the most humbling experience of his life. The Gowdy presentation, part of the Hall of Fame ceremonies weekend, was originally scheduled for last September but it was delayed until last month due to Covid. 
"It sounds like a cliché and corny, but this is a dream come true," Breen, 60, said. "But these are dreams that I never had, so it was a wonderful experience, and there were so many people that I thought of including my dad."
"Because of my dad's love of sports, I had a love of sports. He passed away almost ten years ago. My mom was there, which was wonderful. But my dad was one of the people I was thinking about that night," Breen said. "It makes you reflect on how many people were there to help you get up when you fell down and who encouraged you. It's an emotional time."
Growing up in the Breen household, sports were not options. They were a requirement. Breen was one of six boys in the family, and his father's intoxicating passion for sports rubbed off on him.
Along with his family, another influence on Breen's career was the iconic Albert who turns 80 next week. He is arguably the announcer most closest associated with the NBA on network television. If the golden years of the league were the 1990s, when the Bulls dominated, Albert was the man who energetically chronicled five of Michael Jordan's championships.
Breen grew up with Albert's ubiquitous voice and he considers him a role model. Now that Marv is retiring at the end of the month, Mike knows that the NBA public will dearly miss him. Albert's staccato has resonated across basketball on radio and television for decades and has inspired a generation of play-by-players.
Though Breen says it is impossible to name his favorite game as a broadcaster, the ones that stand out include Miami's incredible 2013 Game Six win over San Antonio in the title series, Lebron James and the Cavaliers' historic Finals win and lastly, the Lakers' 2010 triumph over arch-rival Boston. These moments and the players involved are special for Breen, who had a courtside seat at these colossal battles between Hall-of-Fame caliber players and coaches.
We had a chance to talk:
Any difference preparing for NBA games vs. Knicks games which you do locally in New York?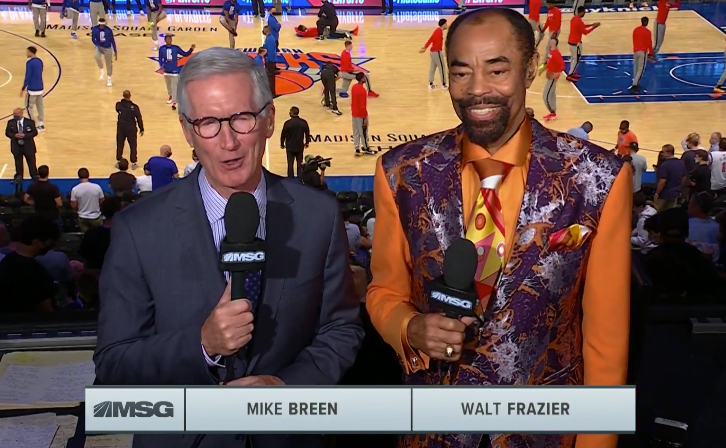 The preparation is the same. You prepare and get up to date on both teams. Whether I'm doing a game on MSG, or a game on ESPN, the way you call the game, and some of your emphasis on what topics you cover is what changes.
For example, if I'm doing a Knicks game on MSG and the Knicks are down by 20, my comments with Clyde (Frazier) would be more of why the Knicks are struggling so badly. Whereas if I was doing that game for ESPN, my question might be why the other team is having success against New York's stout defense.
The Knicks have enjoyed a resurgence and their fans are hungry. Can you feel it?
Knicks fans are the most loyal fans in all of sports, and they're so hungry and desperate just for a team that plays hard and plays together. That's why this year has been so special. The city has fallen in love with this team, the way they play so hard and the way they play for each other.
You're a fan of the history of the game. Are there games or players you wish you covered before your own career started?
Sometimes I wish I could call games involving Oscar Robertson and those amazing players. And I know that twenty years from now, people are going to be saying the same thing. Like boy, remember that guy, LeBron James and how great he was, or Steph Curry and how far out he can shoot. When you sit there courtside and watch these players do extraordinary things, it's hard not to be just blown away by their talent and their competitive nature.
Marv Albert is retiring. He'll be hanging it up after the Eastern Conference Finals. What made him special?
To me, Marv will always be the greatest basketball play-by-play voice of all time. He just made the game better. When it was a big moment, it was just more exciting, because he was doing the game. As a New Yorker he is one of us and, and he was at the top of his profession for so many years. So, he's number one to me.
At the end of the game, when Marv made this big, highly intensive call, there was nothing like it in sports. He also wasn't afraid to offer his opinion on both teams that he was covering and their players. I always felt that he forced his analysts to take it to the next level. Those were two very big influences on me.