ESPN's Mike Breen, Mark Jackson and Jeff Van Gundy get an A+ for their spontaneous NBA coverage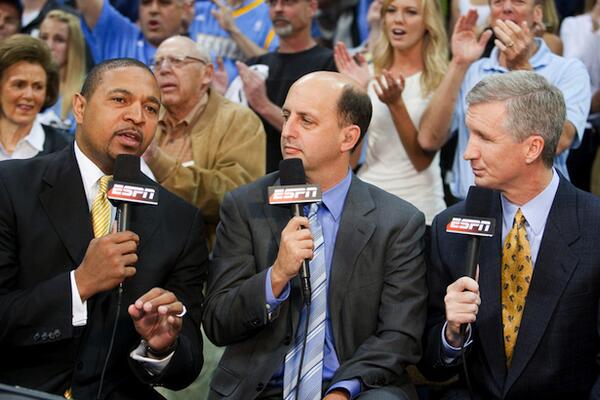 Mike Breen, Jeff Van Gundy and Mark Jackson (r-l) are calling the NBA finals for ESPN. This is Mike's 15th straight title series behind the microphone. No one has done more championship rounds on network television than the Long Island raised Breen. He is also the television voice of the Knicks.
Unlike predecessors Marv Albert, Dick Stockton, Keith Jackson or Chris Schenkel, Mike presides less formally. This is a new generation of broadcasters.
There's less of an explicit division of roles between the play-by-play announcer and analyst. Yes, Mike handles the basics but the analysts engage freely. They rarely need to be set up by Breen.
It's one long informal and entertaining broadcast. They jab and kid one another but most importantly get into the depth of the game, strategy, philosophy, coaching, players' strengths and weaknesses. What Breen might lack in the pizzazz of an Albert, he makes up in raw knowledge. For a play-by-player, it's obvious that he knows more than just the listing of the rosters and what each guy averages. He knows a pick 'n roll from slipping the screen. This pays off for him and viewers because he can engage comfortably with Jackson and Van Gundy. He's also very well versed on the rules.
Jackson and Van Gundy are like an old couple so the trio as a whole are a fun listen. If you like a give and take broadcast, these three are for you. They're folksy, breezy and spontaneous. They're different from what you'll hear elsewhere.
Good early game observations to set up the viewers
Jackson points out how the Heat start Bam Adebayo on Anthony Davis instead of center Dwight Howard to put more size and strength on AD to force him away from the basket.
Van Gundy notes how AD is guarding Jimmy Butler and Howard is on Adebayo. Jeff says this is to put more size on Butler and force him to take more outside shots and not take the ball to the basket.
Funny Comments
Rachel Nichols shared how the Heat training staff made Adebayo do a pushup to test if he was ready to play in tonight's game. Jackson chimes in if he was forced to do this back when he played he would never have stepped foot on the court.
Van Gundy and Jackson disagree about whether or not Jae Crowder was right to get in the middle of a huddle between Lakers' Markieff Morris and an assistant coach. Jackson says there is nothing illegal about what Crowder does, while Van Gundy believes Morris should be able to physically remove the Heat forward. "Don't let Jeff change all the rules," quips Jackson.
Comments for the avid fan
Gundy says the Lakers need to run someone to the high post and throw the ball to him in middle of floor. Most of LA's turnovers are coming from bad passes into the low post because Miami is fronting the Lakers' big men. This comment might go over average viewers' heads, but the fervent fan will understand why this is a smart adjustment.
Strategy Explained for the average viewer
Jackson does a standout job using replays and video resources to demonstrate for viewers the Heat's strategy guarding LeBron James and Davis in the post. Anytime one of the Lakers' two superstars post up, the Heat defender plays them off to the side. As the ball is being thrown in, the defender guarding the opposing side (a corner three point shot) wraps around under the basket and provides help defense. Jackson did a great job showing this strategy on the screen so that every viewer can understand.
Jackson and JVG believe that eliminating the zone defense is the number one thing the Heat did to help slow down James and Davis in games three and four. They explain how the man-to-man defense prevents the easy baskets in the middle of the floor. Help defense, double teaming and fronting in the post are also keys the Heat have implemented in their game plan.
Mark, a former coach and NBA Rookie of the Year, comments how the Heat put Adebayo on James (both 6'9″) because his size gives Miami a chance not to be overpowered on drives to the paint. Van Gundy points out  this strategy will give up some threes to Lebron.
Comments I liked
"If you flop you don't get the call." JVG says. Flopping has creeped its way back into the NBA and he hates rewarding players for flopping. Flops occurred multiple times in this game, resulting in fouls. As a fan, I agree with Jeff. Don't reward flopping.
The Lakers played far back on Butler in this game and dared him to shoot the three much like teams force the 76ers' Ben Simmons or the Bucks' Giannis Antetokounmpo to make threes to beat them. Van Gundy believes Butler needs to take the occasional three to force the defense up, making driving to the basket easier. Jackson agrees because Butler is "good enough," to make threes every now and then.
"If they (Lakers) lead by one and James hasn't played well for them it's a good sign for them." Van Gundy explains right before the first half ended. I like this comment because I agree, if the Lakers best player isn't playing well and they still lead, the Heat are in big trouble.
JVG points out how both Lakers' guards Rajon Rondo and Alex Caruso are excellent opportunistic offensive rebounders. It was evident throughout this game as Rondo and Caruso got multiple offensive rebounds and steals after the Heat pulled down a rebound. Anytime the ball was in the air it appeared as if these two wanted it the most.
Late in the third quarter with the shot clock turned off and the Heat having possession, Jackson states how the Heat need to hold onto the ball for the last possession. He then said he isn't sure if all the Heat players know this. Miami did not appear to know they could have the last shot. Tyler Herro heaved up a contested three with nine seconds left, resulting in a missed shot and an Adebayo foul on Davis while he went up for the rebound. The Heat were over the foul limit, so it was an extra blow to Miami by giving Davis two free throw attempts. JVG didn't only blame Herro. He said any of the five players could have taken the ball out and held onto it.
In the Middle of the fourth quarter JVG asks where the Heat are going to get their offense in the half court? He wondered so because Butler won't shoot threes and Herro had struggled to that point. This is a great comment because I had the same concern going into this series. The Heat don't have that one superstar who can go get his shot when the team needs a bucket.
Comment I didn't Like
The one comment I didn't like came from JVG late in the fourth. He says LA is so dangerous in transition. I hate when broadcasters say this about a team because there isn't a single NBA team who isn't dangerous in transition. Transition is the easiest way to score because the opposing defense isn't set.
Breen's Effort
Breen did a wonderful job joining in when he felt he can add something of substance. Yet he picks his spots and generally lets Jackson and Van Gundy preside over the analysis, strategy and instructional commentary. Breen is excellent at the 'what' and providing his partners the runway for 'why.' His knowledge of the game is sufficient to contribute insightfulness too. If JVG and Jackson are talking while a bucket is scored, Breen doesn't sit on formalities. He'll let either one of them quickly tell you who scored.
Mike doesn't rely on needless stats. A good one that he shared was supported by a graphic. The Lakers are 55-0 when entering the third quarter with a lead this year, now 56-0.
Grade
Mike Breen, Mark Jackson and Jeff Van Gundy have excellent chemistry and it shows.

They rarely if ever step on one other.

The crew was funny, laid back and insightful.

They deserve an A+ and demonstrate

why they are ESPN's #A team.