ESPN's Sean McDonough has been waiting for the NHL opportunity for 16 years; He idolized Dan Kelly
When it comes to lofty assignments in the big business of network sports, many sportscasters feel a sense of entitlement. They justify their high expectations based on their own perceived merit, self-graded popularity and quality of performance. And, heaven forbid……because dammit I'm better than you!
When ESPN announced earlier this week that veteran broadcaster Sean McDonough was given the lead play by play reins of the National Hockey League broadcasts next season, the only word that was needed to herald the announcement was "deserved."
Make no mistake, Sean's credentials speak for themselves. Good luck if you can find a seasoned broadcaster who's covered as many big events as Sean, doing so with just the right tone, voice inflections, measured opinions and an ability to make his analysts shine.
This is a fellow who has distinguished himself doing a broad assortment of sports, using his unique skill-set. Think of what he's done, World Series for CBS, Monday Night Football for ESPN, college football and basketball at the highest of levels, major golf events, the Olympics, Red Sox on TV and radio, and oh yeah a bunch of hockey too. Oh, Sean has also presided over national championship broadcasts in college soccer and lacrosse. The resume goes on and on and on.
Raise your hand. How many of you know of Sean's vast hockey pedigree, including back in the day at ESPN? Budding broadcasters can learn a ton listening to him. He's like you favorite teacher. When class is done, you can't wait for the next one. Sean teaches a masters course on broadcasting every time he covers an event. 
I had a chance to spend some time with him and understand his mindset at the time that NHL assignment options were being bandied about at ESPN. He clues us in as to what's in store for him later this year.
Congratulations on the new gig.  What were your immediate thoughts upon hearing the news?
I was very excited when I heard the news.  Ever since we lost the NHL rights 16 years ago, I had been hoping we would get it back because I love hockey and I love broadcasting hockey. To be the lead play by play announcer for the NHL on ESPN is a dream come true.  And my excitement level has risen as I have watched the playoffs and realize that I will have a chance to call the Stanley Cup finals next year.
Is there anything better than playoff hockey?  I also realize that a very high standard has been set.  As I watch Kenny Albert, John Forslund, Alex Faust, Brendan Burke, Dave Goucher and others, I have great appreciation for their immense talent and their passion for the game.  I am also excited to be a part of the hockey community. Hockey people are great and some of my closest friends are people I met through hockey…like David Quinn…who is as close a friend as I have.  My first job out of college was calling college hockey for NESN in the mid-80's"
Pretty rarified air you're in. You've really done it all.  Not too many announcers have been able to rattle off the depth of your resume.
I feel blessed that I have been given the opportunity to call many major events in a wide variety of sports.  And I am humbled to be a small part of the amazing group ESPN has put together to work on our NHL package.  One of my fondest memories is the '98 Winter Olympics in Nagano, Japan.
It was the first year the pros played on the men's side and it was the first time women's hockey was on the Olympic menu.  The US women won the gold medal, coached by two good friends of mine…Ben Smith and Tom Mutch.  It was awesome to be there and watch them have that experience.  My career has been a long and winding trail and I am thrilled where it has wound up. It has been a lot of fun and this hockey opportunity, with this group of people, will be amazing.
How much will your schedule change from where it is today vs. where it might go?
College football is definitely not going away and I'll continue to do it right through the college football playoffs with Todd Blackledge. We'll do one semifinal on TV and we'll call the national championship game on ESPN Radio. One thing where there's been some discussion is college basketball but that's not certain yet.  I feel so connected to it, having done some iteration of Big Monday for so many years. I think we're all at the point currently in just seeing how it goes but nothing concrete has been put down yet. If they think it's too much, that'll probably go away. As far as the Red Sox schedule goes, I don't really know yet but with the Stanley Cup finals in June that obviously will impact it. WEEI has been great in working with me and figuring out what works as I really only do 40 games.
Was there a particular hockey announcer you enjoyed listening to growing up?
Absolutely. Here in Boston we were blessed with two Hall of Fame broadcasters on radio and TV, Bob Wilson and Fred Cusick.  I worked with Fred which was such a thrill. One of the nicest compliments I ever got was when Fred got sick and I had to catch a quick last minute flight to Montreal to do a game at the old Montreal Forum. It was such a treat to work with Derek Sanderson and if you had to do one NHL game what better place than The Forum. Jim Baker of The Boston Herald called Fred and said, "Hey Fred what did you think of Sean doing the game the other night?" Fred said, "I better get healthy fast". It was so nice of him to say that.
McDonough raves about Hall of Famer Dan Kelly.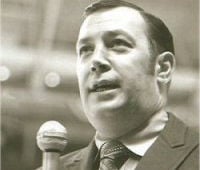 To me, the guy I always loved, beginning when I was a kid was Dan Kelly, (left, 16 Stanley Cups broadcasts between1969 and1988), Voice of the Blues and the NHL on CBS. Dan called the Stanley Cup winning goal with Bobby Orr flying through the air. I was one of a million kids who had that poster of Bobby up on my wall as a kid. Years later, I still have a signed copy of that photo in my office.  Dan's call was so great and I recall it as he's saying, was "Bobby Orr SCORES…and the Boston Bruins have won the Stanley Cup."
I had the pleasure of meeting Dan when we were staying in the same hotel in Detroit in the late 80's.  I was with the Red Sox and he was there to call a playoff series between the Blues and the Red Wings.  It is always wonderful when you meet someone you idolize and they turn out to be a really nice person, too.  Dan invited me to be in the booth for one of those games and I was in awe watching him work.  He didn't wear a head set.  He had a stick mic and an ear piece and held his fingers up to his other ear.  He was so good it was scary.  Amazing voice.  Great rhythm and feel for the moment and the pace of the game.  Never looked down at a note.
To me, he was as good at his sport as any broadcaster I have ever heard.  I would put him right there with Vin Scully and Mike Emrick.  He should be in the National Sports Media Hall of Fame.  He died way too young.  But what a career and what a legacy.  I listen to his call of the game winning goal of the 1987 Canada Cup with Gretzky and Lemieux going on basically a 2-on-1 and I get goosebumps every time.  It doesn't get any better than that.
Thoughts on the presentation of hockey today.  Does much need to change?
NBC's done a really nice job so not a ton. I'm ecstatic about our group. Norby Williamson, Mark Gross, Mike McQuade and Jimmy Pitaro deserve a tremendous amount of credit. Obviously, you want to be a part of growing the popularity of the game. We have such a vast platform to do that at ESPN and because we're 24/7, we'll be able to give the NHL more attention than it has gotten in recent years. I have to tell you I'm watching all these unbelievable playoff games and the ESPN lineup still hadn't been set and I'm thinking I really want to do this next year, I better get this job.  (Sean's laughing as he say this).
Is there any awkwardness coming back to another major sport at ESPN, after your time as play-by-play Voice of Monday Night Football?
It's not awkward at all.  It's exciting.  I will always feel honored to have had the opportunity to call "Monday Night Football."  To be just the fifth person to call play by play on that iconic package, after legends like Keith Jackson, Frank Gifford, Al Michaels and Mike Tirico is something I will always treasure.  But I think my skill set is better suited to college football, especially when it comes to storytelling.  There is something unique about the color and pageantry of college football and the game day atmosphere on these beautiful campuses.  I love our college football group and Todd Blackledge is as good as any analyst in any sport on network television.  I had hoped that I would have the chance to be the #1 play by play announcer in another sport at ESPN, and here it is.  Hockey.  And it is absolutely perfect for me.  There is nothing better than playoff hockey.  The sports has never been played at a higher level and at a faster pace than it is right now.  I believe there will be tremendous growth in the popularity of the NHL and the coming years and ESPN will play an important part in that.  I can't wait to get started.