Fox' big day! Super Bowl Sunday packed with wall-to-wall coverage, starting at 1 pm ET; See details
Joe Buck and Kyle Shanahan share their legacies of growing up with famous fathers; Game ads went for as much as $5.6 million per spot
IT'S HERE!
Complete details of Fox' Coverage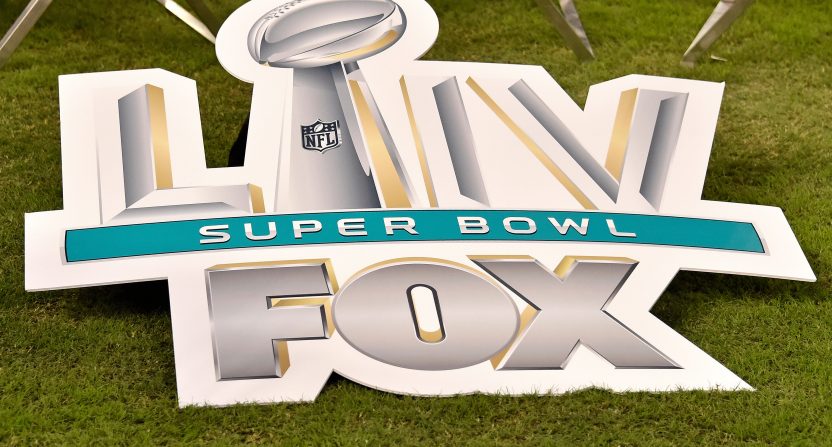 SUPER BOWL LIV ON FOX PREGAME RUNDOWN
FOX SUPER BOWL KICKOFF | 1:00-2:00 PM ET
• World-famous sports photographer Walter Iooss Jr. takes us on a journey through his lens
• Featuring Tyreek Hill, Mecole Hardman, Sammy Watkins and Demarcus Robinson, the Chiefs are the NFL's    fastest team
• Nick Bosa, DeForest Buckner, Dee Ford, Arik Armstead and Solomon Thomas comprise a fearsome 49ers   front line
• Troy Aikman, Michael Strahan and Howie Long on unsung Super Bowl heroes
• In the Manning Hour's season finale, Cooper and Peyton Manning go clubbing with a special guest
• Chiefs offensive lineman Laurent Duvernay-Tardif has impressive medical credentials
FOX SUPER BOWL KICKOFF | 2:00-3:00 PM ET
• The NFL 100 Greatest Moment is revealed
• Jimmy Johnson remembers the moments that made him synonymous with the city of Miami
• Raheem Mostert, Deebo Samuel and Kyle Juszczyk on the 49ers' team-first approach
• Patrick Mahomes relies on receivers like Tyreek Hill, Mecole Hardman, Sammy Watkins and Demarcus         Robinson to
get downfield fast
• NFL 100: Despite losing a finger, Ronnie Lott was a nearly unstoppable force with the 49ers
• A look at the 1.5-million-acre Everglades wetlands preserve
• Current members of the Chiefs reminisce about Kansas City's last Super Bowl 50 years ago
• NFL 100: Chiefs owner Lamar Hunt conceptualized the AFL after he was rejected from buying an NFL     franchise
• NFL 100: The name Super Bowl came from an unlikely source – Hunt's daughter Sharon's super ball toy
• NFL superfan Mark Wahlberg prepares for a Super Bowl without the Patriots
• Rob Gronkowski and his new crew are enjoying retirement in a Miami Beach senior home
• Gronkowski gives a behind-the-scenes tour of Gronk Beach, his epic Saturday Super Bowl party
FOX SUPER BOWL KICKOFF | 3:00-4:00 PM ET
• Dan + Shay perform at the NFL Tailgate Tropicale
• Deontay Wilder and Big Papi show off their strength
• Alex Rodriguez plays catch with his childhood idol, Dan Marino, while talking about his love of football growing up in Miami
• Katie Sowers is the first female and openly gay coach to participate in a Super Bowl. Her twin sister Liz shares Katie's story
• Kevin Burkhardt interviews his former broadcast partner, 49ers GM John Lynch
• Cousin Sal and Sean Payton look back on the history of Super Bowl Gatorade dumps
• Fox News Channel's Sean Hannity conducts the Presidential interview
• Tight ends Tony Gonzalez, Rob Gronkowski, Travis Kelce and George Kittle represent the newest position of personality
FOX SUPER BOWL KICKOFF | 4:00-5:00 PM ET
Pitbull performs at the NFL Tailgate Tropicale
• Michael Strahan has an exclusive interview Jennifer Lopez and Shakira ahead of the Pepsi Super Bowl LIV Halftime Show
• Richard Sherman honors Kobe Bryant with a special rendition of Bryant's Academy Award winning short film "Dear Basketball"
• Huddle for 100 inspires people to make meaningful and lasting contributions to their communities
• A look at the vibrant arts district of Wynwood
• Kristina Pink sits down with San Francisco's Nick Bosa, Fred Warner and defensive coordinator Robert Saleh
• NASCAR Champion and FOX NASCAR analyst Jeff Gordon goes racing with Rob Gronkowski on a cruise ship in Miami
• Jay Glazer interviews Kansas City's Tyrann Mathieu, aka "The Honey Badger."
• Joe Buck and 49ers head coach Kyle Shanahan discuss creating their own legacies in the footsteps of their famous fathers
Copied from earlier pre Super Bowl stories:
FOX SUPER BOWL KICKOFF | 5:00-6:00 PM ET
DJ Khaled spins from the sidelines at Hard Rock Stadium
• Jimmy Johnson talks with Chiefs head coach Andy Reid, coach-to-coach
• Terry Bradshaw speaks with 49ers quarterback Jimmy Garoppolo
• The Harlem Globetrotters demonstrate why Chiefs quarterback Patrick Mahones is as exciting as an athlete gets
• Erin Andrews talks to Mahomes about the comebacks that brought his team to Super Bowl LIV
• Rob Riggle makes his final pick of the year. Who will the Kansas City native take?
• Using the iconic song "Ragged Old Flag" by Johnny Cash, FOX Sports creates an impactful visual for the poem honoring
the ultimate symbol of America and all our country has endured
foxsports.com/
FOX SUPER BOWL KICKOFF | 6:00 ET – KICKOFF
The NFL 100 All-Time Team is honored
• The Rock makes team introductions
• Yolanda Adams sings "America the Beautiful"
• Demi Lovato sings the National Anthem
• 100-year-old veterans participate in the coin toss
FOX SUPER BOWL GAME BROADCAST| 6:30 ET – KICKOFF
The game voices and what to expect:
Announcers are Joe Buck and Troy Aikman. This is their 6th together. This is how David J. Halberstam broke down the duo's broadcast style this week:
In this millennial age, one intertwining and operative word characterizes an NFL-Fox broadcast. It is why. I get a sense that the edict is 'leave nothing for the imagination.' Show and explain the whys.
So indeed, Buck gets out of the way faster than Derrick Henry. Buck's boss Brad Zager says that Joe calls games with verbal efficiency.
Partner Troy Aikman is right behind him. He delivers unapologetic explanations but they're limited to the nuts and bolts of the game. That's it. Troy doesn't talk for the sake of talking. If he's out of material, he shuts up. But it doesn't mean he's shy.
Buck presents play-by-play rhythmically; in rapid-fire, clipped staccato format. Aikman's analysis is crisp and transparent. Neither one engages in the superfluous or extraneous.
If you tune in for lachrymose tales, you knocked on the wrong door. There's little of it. They're all business.
Who of the preceding generation am I reminded of listening to Joe? Tough to say. Joe is a minimalist. No network voice has embodied a classic minimalist style since Pat Summerall.
Pat would say that the greatest compliment he could get was that he called games like Ray Scott, the father of minimalism. But Summerall and Scott weren't weighed down by today's technology, all the repeated replays from all angles, booth reviews, yellow lines, blue lines, rules experts, ketchup, mustard and other condiments.
Joe is a revivalist of the minimalist age, in 2020 form. So the best comparison would be Summerall, albeit Buck doesn't have Pat's hollow voice. Scott was no more than an eloquent public address announcer.
Buck won't hold back either on what he sees down on the field. When a brawl erupted in November's Cleveland-Pittsburgh game, he said of Myles Garrett's helmet swing, "That's one of the worst things I've seen on a professional sports field."
Off air, Joe is funny, quite a quipster. It's too bad that we live in a heavy-handed television world of political correctness. If this was a generation ago, Joe would have all of us in stitches from kickoff to the final gun. Today, any funny crack and you're playing with fire.
Rules interpretation expert Mike Pereira will be in the booth with Buck and Aikman. Versatile Chris Myers will work the Kansas City sideline and veteran Erin Andrews will report from the San Francisco side.
Question for Joe Buck- whose first Super Bowl was in 2005 at age 35
What additional prep is required for a Super Bowl that you would otherwise not do during the regular season?
I think that having a very clear sense of NFL and Super Bowl history is required. It is always part of the equation, but being able to quickly add notes about specific Super Bowl games and what those games and moments led to in the big picture since 1967 is a focus.
I can't be fumbling around trying to go through books or notes in a pinch. I won't have time. There have been 53 of them and these two teams (San Francisco and Kansas City) have played in eight so far. Start with those games and then fill in the blanks around them.
Question for Bob Costas who hosted seven Super Bowl pre-game shows in his NBC days
What differentiates the typical Sunday pre game show from the Super Bowl?
The Super Bowl pre-game has gone from an hour to a full blown day and night extravaganza. Throw in half time and post game and it's an 11 or 12 hour deal.
But it's such a big event even the broadcasters have extra adrenaline. A good Super Bowl pregame has enough hard core football for knowledgeable fans, while also recognizing that tens of millions who tune in that day are only casual fans. So capturing the atmosphere and pageantry of it, the human interest angles and the entertainment aspect is an important part of it too.
The pregame show is a hybrid. You have to gear it toward the broadest possible audience.
Advertising:
NBCsports.com reported:
"By November, FOX had already sold out its advertising slots for as much as $5.6 million for each 30-second ad slot. All but one ad sold for more than $5 million and the total sales figures are estimated to top $400 million. CBS charged a record average of $5.25 million for 30-second ad slots in 2019, at which point the average price of a Super Bowl commercial had nearly doubled in just a decade. Dating all the way back to the first Super Bowl in 1967, the average price of an advertisement was anywhere from $37,500 to $42,500." 
President Donald Trump and Democratic candidate Michael Bloomberg each bought a spot in the game.
Myers and Andrews: