Fox' Gus Johnson, Joel Klatt and Jenny Taft get off to a decent start in Ohio State's win over Minnesota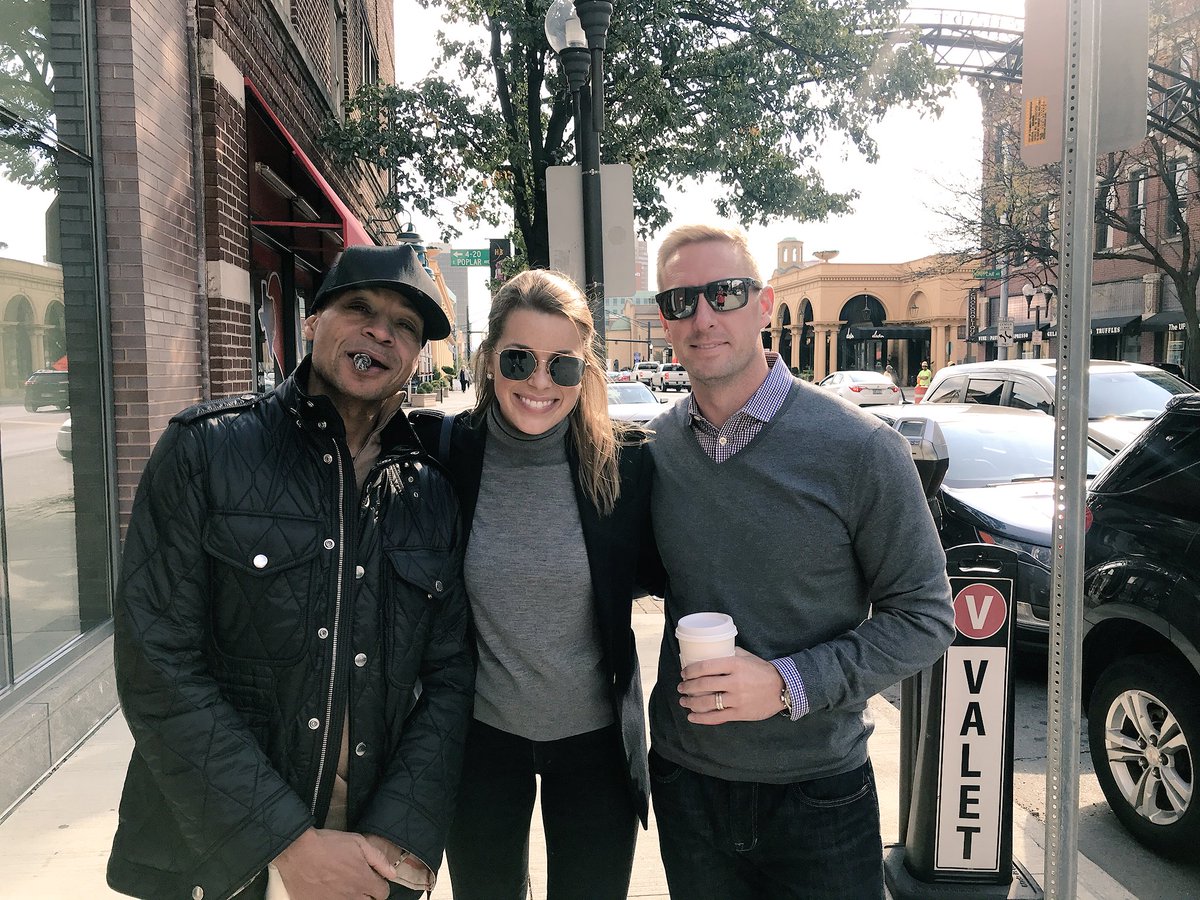 Fox Sports' College Football A-Team of play-by-play announcer Gus Johnson, color commentator Joel Klatt, and sideline reporter Jenny Taft had their first assignment of the 2021 college football season Thursday night. They presided over the matchup between the fourth-ranked Ohio State Buckeyes and the Minnesota Golden Gophers played at Huntington Bank Stadium in Minneapolis, Minnesota. The trio brought excitement to the broadcast, but at times overdramatized the action, hastily making up their minds about various aspects of the game. (Johnson, Taft and Klatt, l-r)
Here are my ten observations :
1.Klatt did a good job of preparing for the matchup by bringing in tidbits about how the teams did in 2020. Ohio State finished below program standards with 2.6 sacks per game last season, which was good enough for 36th in the nation. I thought it was a good observation to bring up early in the game so that viewers were able to compare how the Buckeyes look this season compared to last when they advanced to the  National Championship. (Alabama hammered the Buckeyes, 52-24 for the title.)
2. Johnson has good chemistry with both Klatt and sideline reporter Jenny Taft, referring to her as "JT" throughout the broadcast. Johnson and Klatt do a good job of interacting with one other during the matchup. This makes sense, as Klatt has hosting experience with Fox' NFL Kickoff, which he hosted from 2013-14. Klatt uses his past experience in the lead role to seamlessly converse with Johnson, which keeps viewers engaged.
3. Ohio State quarterback CJ Stroud threw an interception part of the way through the second quarter that helped swing the momentum in Minnesota's favor. Johnson then infused a quote from Minnesota coach P.J. Fleck whose goal was to "make Ohio State's coaches coach". Fleck understood Minnesota's position as an underdog in this game, albeit a line of 14 points is commonly seen in college football.
4. After the interception, Johnson was pushing the narrative that Stroud might not have been the right choice to be Ohio State's starting quarterback. Doing this was a bit premature, as other recent Ohio State quarterbacks have also had their struggles early on in their careers. In the Buckeyes' last National Championship-winning season in 2014, quarterback J.T. Barrett went 9-29 with three interceptions in the team's only loss that season (35-21 at home against Virginia Tech), which was far worse than Stroud who was 7-12 at that point in the game and finished 13 of 22 for 294 yards, 4 TDs and an interception. (Ohio State still led 10-7 at this point). Johnson had a preconceived notion based on a quarter and a half of seeing Stroud in action, which I found frustrating.
5. Johnson (and to a degree Klatt) tend to sensationalize what they are seeing on the field. Down 14-10, Ohio State faced a third down late in the second quarter. Klatt called the play "the biggest play of (CJ Stroud's) life. Blanket statements like these contribute to the overdramatization of the game.
6. Both Johnson and Klatt talked about Minnesota's "belief" that they would have a chance to win the game. They relied on this talking-point throughout the game, and it felt like a typical storyline,   a highly-ranked team against an unranked opponent. The viewer knows that the team believes they have a chance to win because if they didn't, why would they even take the field? Johnson and Klatt were over-reliant on clichés throughout the broadcast.
7. Despite it being a cliché, Minnesota's belief was evident throughout the game in fairness to Johnson and Klatt. Every time Minnesota needed a play, Klatt said they were able to come up with that big play and keep the game competitive. He said this after Ohio State took a 24-21 lead in the third quarter. Saying so was smart, as Minnesota kept the game within two scores and Ohio State never pulled away in the game.
8. Ohio State defensive-end Zach Harrison forced a fumble on Minnesota quarterback Tanner Morgan that led to a fumble return touchdown for the Buckeyes. Klatt talked about how Harrison needs to impress NFL scouts with this being his junior season. This added context to the role that Harrison may have with the Buckeyes this season, and his to show his skillset for the future. Making a highlight-reel play will contribute to so.
9. Johnson and Klatt have called many Ohio State games the past few seasons. (Fox owns the Big Ten rights.) One Buckeye player they have seen a lot of since the Ohio State-Michigan game in 2018 is wide receiver Chris Olave. The duo have watched Olave improve into arguably the top wide receiver prospect in the 2022 NFL Draft. When Olave caught his second touchdown of the game to give Ohio State a 45-31 lead, Johnson and Klatt conversed about how impressed they've been with Olave's improvement. "You can just see it, what a player," Johnson said.
10. On the possession after Olave's second score, Ohio State safety Lathan Ransom laid a hit on Minnesota receiver Mike Brown-Stephens. Brown-Stephens had to be helped off the field and it was debatable whether Ransom should have been flagged for targeting. Johnson and Klatt had an intriguing discussion about this, as Klatt thought there should have been targeting on the play. Johnson disagreed, but both agreed that there should be tiers to targeting so Ransom could have stayed in the game while still being penalized for the hit. Targeting was not called on the play.
Johnson, Klatt, and Taft have obvious strengths as a team. Most importantly, they have chemistry. Sometimes, they can overreact in the spur of the moment, which takes discounts from the broader game story.
The team will also call today's contest between 19th-ranked Penn State and 12th-ranked Wisconsin on the first Big Noon Kickoff game of the season for FOX.