Full weekend schedule, NFL Week #13; KC at Cincy highlights Sunday afternoon on CBS; Two team byes
Notes
Arizona and Carolina have byes. As such, there will be 15 NFL games this weekend.
CBS has the doubleheader and Fox the singleton.
Al Michaels and crew have a good one in and on Prime tonight, Buffalo at New England.
Mike Tannenbaum, trying his hand at ESPN, does Washington-Giants game on a limited radio and geographically choppy NFL network. Prior to it, he was an executive for the Jets and then the Dolphins. Steve Levy will be his play-by-play partner.
Larry Kahn owns Sports USA and does a good job on radio play-by-play for NFL games to which his company owns the rights. He isn't bad on-air. But his success is really measured on revenue. He's built a good business model over the last couple decades. He also has the Staley Cup and some college football games. It's all about ad sales. Larry knocks on doors successfully. Good for him. This week he calls a dandy, KC at Cincy. I can't tell you how many stations across America take his games. But others with similar conceptual frameworks are Compass, ESPN and Sports USA. Westwood One has rights too. It buys them directly from the league and include Sunday Nights, Thursday Nights, Monday Nights and all post-season. In other words, it has the Super Bowl with Kevin Harlan.
Thursday, December 1
8:15 PM- Buffalo Bills at New England Patriots  (available nationally by subscription) 
AMZN: Al Michaels, Kirk Herbstreit, Kaylee Hartung
Westwood One: Ian Eagle, Jason McCourty
Sunday, December 4
1 PM- Tennessee Titans at Philadelphia Eagles (93 stations/36%)
FOX: Kevin Burkhardt, Greg Olson, Erin Andrews, Tom Rinaldi
Compass Media: Chris Carrino, Brian Baldinger
1 PM- Green Bay Packers at Chicago Bears (28 stations/9%)
FOX: Adam Amin, Mark Schlereth, Kristina Pink
Sports USA: Josh Appel, Doug Plank
1 PM- Washington Commanders at New York Giants (27 stations/16%)
FOX: Kenny Albert, Jonathan Vilma, Shannon Spake
ESPN Radio: Steve Levy, Mike Tannenbaum, Coley Harvey 
1 PM- Jacksonville Jaguars at Detroit Lions (10 stations/4%)
FOX: Chris Myers, Robert Smith, Jennifer Hale
1 PM- New York Jets at Minnesota Vikings (147 stations/66%)
CBS: Ian Eagle, Charles Davis, Evan Washburn
1 PM- Denver Broncos at Baltimore Ravens (35 stations/11%)
CBS: Kevin Harlan, Trent Green, Melanie Collins
1 PM- Pittsburgh Steelers at Atlanta Falcons (45 stations/17%)
CBS: Andrew Catalon, James Lofton
1 PM- Cleveland Browns at Houston Texans (13 stations/6%)                                                       
CBS: 
Spero Dedes, Jay Feely, Aditi Kinkhabwala
4:05 PM- Miami Dolphins at San Francisco 49ers (33 stations/24%)                                                  FOX: Joe Davis, Daryl Johnston, Pam Oliver                                                                                        Compass Media: Bill Rosinski, Chad Brown                                                                                       
4:05 PM Seattle Seahawks at Los Angeles Rams (22 stations/11%) 
FOX: Kevin Kugler, Mark Sanchez, Laura Okmin
ESPN Radio: Marc Kestecher, Kelly Stouffer, Ian Fitzsimmons
4:25 PM- Kansas City Chiefs at Cincinnati Bengals (221 stations/88%)
CBS: Jim Nantz, Tony Romo, Tracy Wolfson
Sports USA: Larry Kahn, Stephen Gostkowski
4:25 PM- Los Angeles Chargers at Las Vegas Raiders (19 stations/12%)
CBS: Greg Gumbel, Adam Archuleta, AJ Ross
8:20 PM- Indianapolis Colts at Dallas Cowboys (100%)
NBC, Peacock: Mike Tirico, Cris Collinsworth, Melissa Stark

Westwood One: Ryan Radtke, Mike Golic
Monday, December 5
8:15 PM- New Orleans Saints at Tampa Bay Buccaneers (74 million homes)
ESPN: Joe Buck, Troy Aikman, Lisa Salters
ESPN2: Peyton Manning, Eli Manning 
Westwood One: Kevin Harlan, Kurt Warner 
**
NATIONAL BROADCASTS 
Thursday Night: Buffalo @ New England (Amazon)

Sunday Night: Indianapolis @ Dallas (NBC)
Monday Night: New Orleans @ Tampa Bay (ESPN)

   
CBS EARLY – 1pm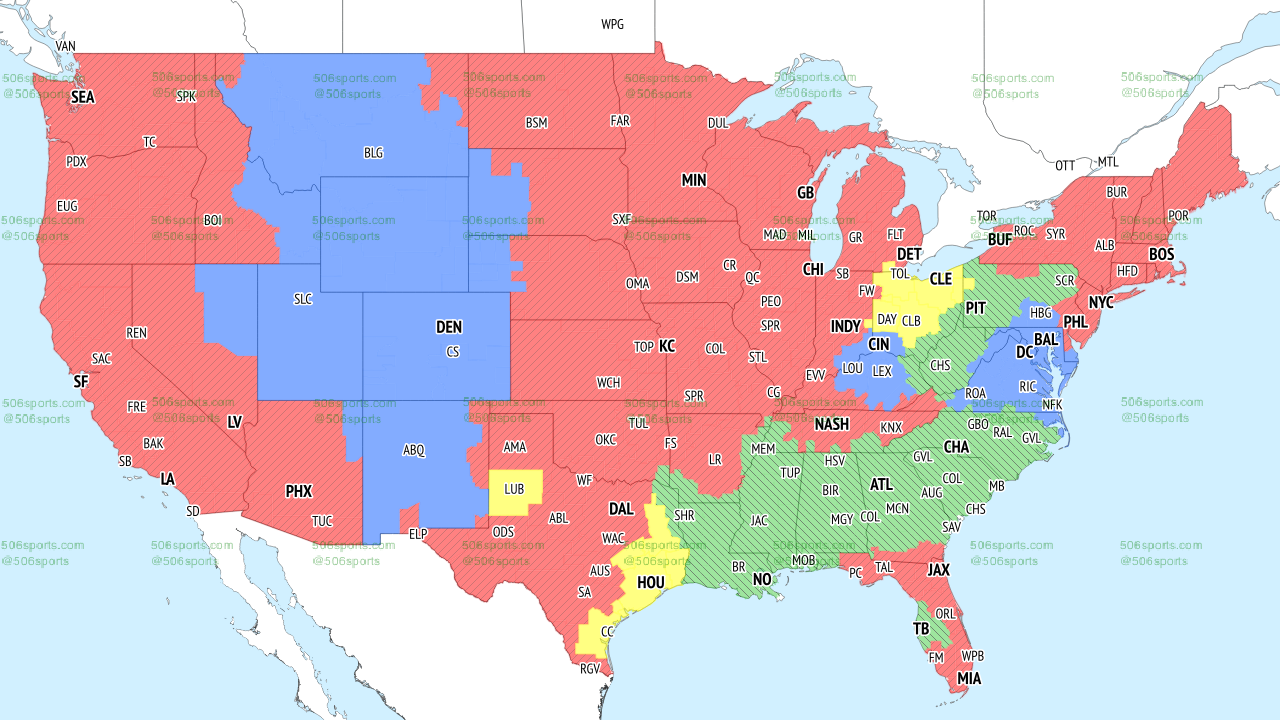 █ 
NY Jets @ Minnesota, Ian Eagle, Charles Davis
█ 
Denver @ Baltimore, Kevin Harlan, Trent Green
█ 
Pittsburgh @ Atlanta, Andrew Catalon, James Lofton
█ 
Cleveland @ Houston, Spero Dedes, Jay Feely
---
CBS LATE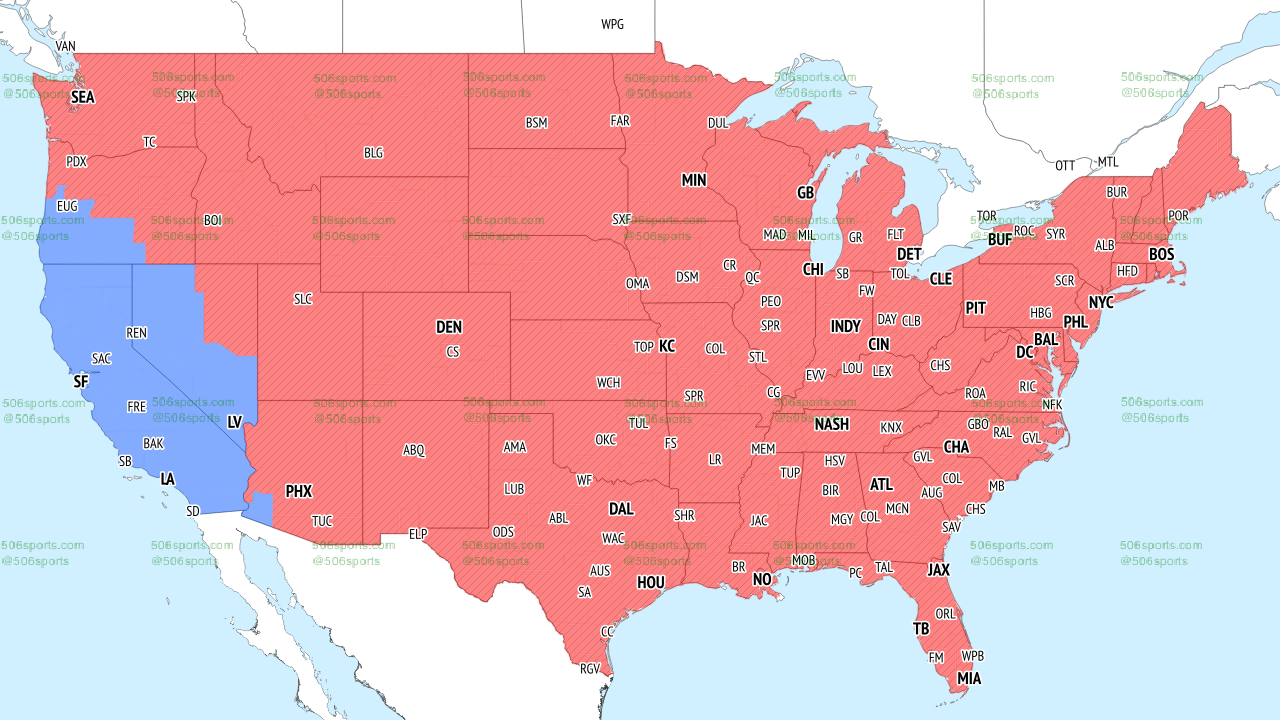 █ 
Kansas City @ Cincinnati, Jim Nantz, Tony Romo
█
LA Chargers @ Las Vegas, 
Greg Gumbel, Adam Archuleta
FOX SINGLE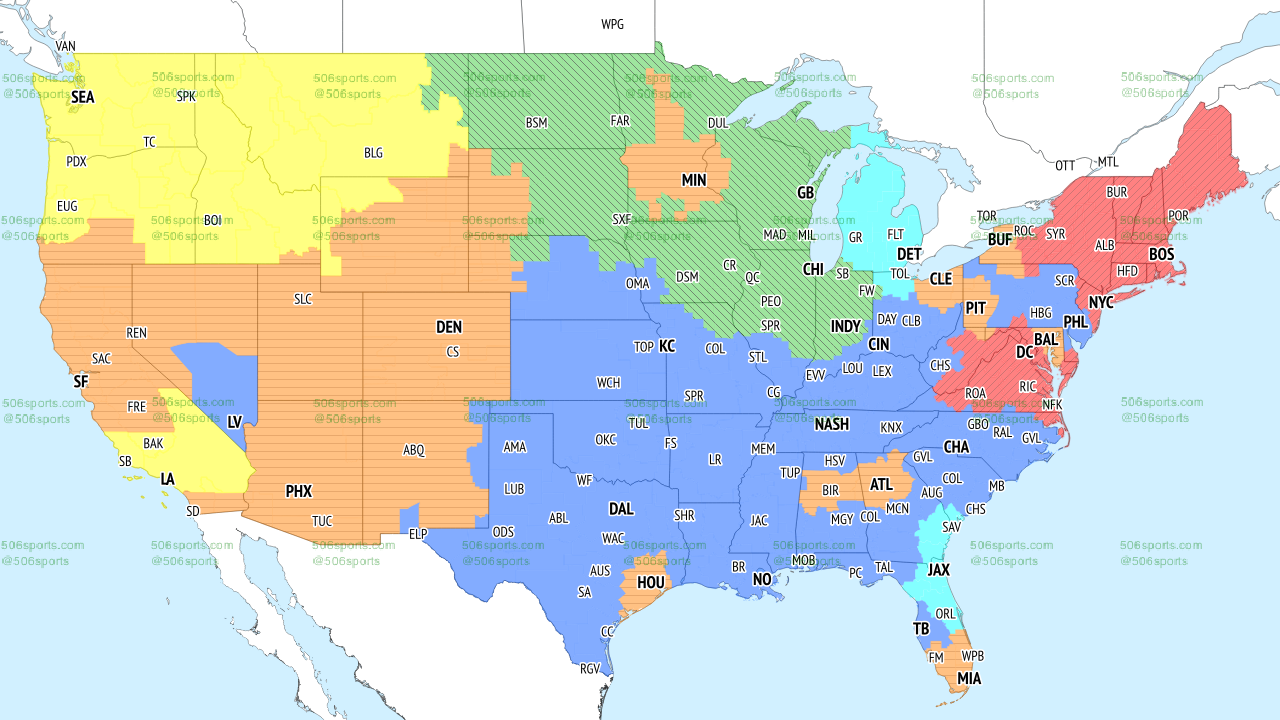 █
Tennessee @ Philadelphia, 
Kevin Burkhardt, Greg Olsen
█ 
Washington @ NY Giants, Kenny Albert, Jonathan Vilma
█ 
Green Bay @ Chicago, Adam Amin, Mark Schlereth
█ 
Jacksonville @ Detroit, Chris Myers, Robert Smith
█
Seattle @ LA Rams (LATE), Kevin Kugler, Mark Sanchez