Halby's Morsels: A hectic weekend for football TV execs; Calling games remotely; NBA ratings sink; Costas
It's not an easy job – Scheduling TV matters
The NFL had to do some mad scrambling this weekend. Covid-19 hit the league's broadcast schedule hard. First, the Pittsburgh at Tennessee game was postponed when players surfaced with the virus. Then Saturday, Cam Newton tested positive and by late morning, the highly anticipated New England at Kansas City game was postponed.
On Sunday, the league announced that the Pats-Chiefs game will be played tonight, Monday. Jim Nantz and Tony Romo call it on the entire CBS Network. Start time is 7:05p.  The broadcast is an advertising sell-out. The kickoff for ESPN's Atlanta-Green Bay game has beeen moved to 8:50p. The Nantz, Romo and Tracy Wolfson crew never left KC, anticipating that the game might be played Monday or Tuesday. Well, Monday it is. 
Bear in mind that lots of strategic planning goes into how the regional games are distributed by the networks. The affiliate and research people try to gauge where interest is strongest for each game and assign them accordingly. Then there's internal lobbying. For instance, the CBS affiliate in Columbus, Ohio might be assigned a Cincinnati Bengals game but local station management wants the Cleveland Browns matchup. So the station will appeal to CBS.
Well everything was sorted out by Friday after the Steelers-Titans game was dropped late last week. But never a dull moment during this pandemic. On Saturday, we had the stunning announcement that the Patriots-Chiefs games was erased from the Sunday slate.
It's a Saturday and not everyone is available. It was CBS' doubleheader, meaning, the NE-KC game in the late window was the headliner. Suddenly, it's gone, after the broadcast was already assigned to 93% of the country. CBS' only other game at that hour was Buffalo-Las Vegas.
So the league moved quickly, switching the Indy-Chicago game to the late slot. At that point, CBS had to play Solomon splitting the two telecasts through the American landscape. It gave 75% of the nation Buffalo-Vegas and 25% Indy-Chicago.
Meanwhile, announcers Spero Dedes (above) and Adam Archuleta caught a break. The game they were assigned, Buffalo-Vegas was initially being fed to 7% of the country. After the changes, it was going to 75%. Greg Gumbel and Rich Gannon's Indy-Chicago matchup was shipped to 25% of U.S. markets.
So just imagine all the tentacles and the dominoes that followed the two cancellations. Instant decisions had to be made. Kudos to both CBS and the NFL for pulling it off. Hey, one thing for sure. The difficulty of moving the Indy-Chicago game at the last moment to 4:25p was made easier because of empty or near-empty stadiums. There was little inconveniencing of fans.
Fox too made some late changes. For instance, the Fox affiliate in Chicago, WFLD, was scheduled to run the Giants-Rams game at 4:25p. But because the Indy-Chicago game at Soldier Field was moved to the late window on CBS, Fox couldn't run a competing game at the same time slot. So the Chicago Fox affiliate had to run Cleveland-Dallas in the early slot and drop the Giants-Rams.
There's a lot that goes into each week's games and market assignments. When there are cancellations, the folks in the nerve centers of the networks are put to the task late.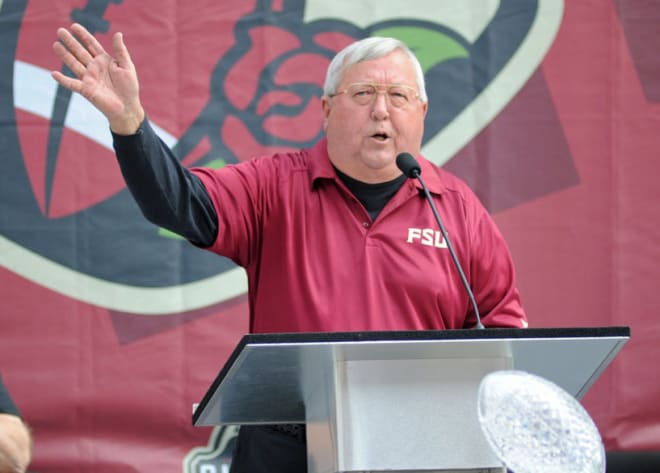 Almost all the NFL radio announcers are calling games remotely. Some say that watching the game off the monitor is a friendlier viewing source than some of the road broadcast locations they're assigned. And for a legend like the Bucs' Gene Deckerhoff (left), his weekends are less hectic. This season he's doing both Florida State and the Bucs remotely using monitors at both stadiums. So some of those nightmarish weekend trips he's had to fight through in the past are not an issue. He and his wife Ann drive their RV from Tallahassee on Saturdays after Noles games and head to Tampa where he does both home and road games from a control room at Raymond James stadium. No need to make impossible plane connections. Gene and others admit that it's an adjustment to call games off monitors. Frankly, having listened to a few of these, the voices have come through.
Merrill Reese, who's done the Eagles for 44 years missed his first game ever when the Birds opened at Washington. He called it from Lincoln Financial Field. Resse, 78 and sharp, says that while he'll miss being with the guys on trips this year, he didn't miss  Washington. The broadcast location three is at a low level nd near the endzone.
Marc Vandermeer, Voice of the Texans, sang the praises of NFL, VP, Broadcasting, Michael North. "As far as staying home goes, Mike is a hero because he scored access to the all-22 feed for us all. And he's really taken care of us all with great information and communication. There's a ton of coordination involved and everyone is very helpful. We're grateful that Switch is offering us the lines to get the feeds back to our stadiums."
Ratings and ramblings
The NBA's rating woes continue. According to Sports Media Watch, "Wednesday's Game 1 of the NBA Finals (Heat-Lakers) averaged a 4.1 rating and 7.41 million viewers on ABC, comfortably the lowest rated and least-watched NBA Finals game on record (dates back to 1988)." No surprise here.
By the way, why wouldn't ESPN have Hubie Brown (left) chime in from his home at halftime. Jeff Van Gundy and Mark Jackson are excellent but Hubie, 87, would add more wisdom than all those on the ESPN stage at intermission. I don't miss Doris Burke on TV. She's on radio during the finals instead of Hubie. (She pales to Debbie Antonelli.) I guess Doris was bumped from the TV sidelines too. Hall of Famer? Not in my book. Where's Brent Musburger? All the NCAA Final Fours and NBA championships? Doris gets in the Hall before Brent? Please!
After anticipation of the NBA's return, TV ratings fall; Political messaging is one of 10 reasons why
Some insight from Bob Costas on baseball and baseball broadcasting:
For broadcasters, he says, baseball presents a unique element, historical comparisons and anecdotes. The baseball broadcaster is a companion. Vin Scully, working alone in the booth made listeners feel that he's talking to them individually, that they're in a conversation with him. He didn't need a strike zone box, a statcast or exit velocity. Bob says that analytics and technology have a place but it's a matter of proportion. He maintains that when analytics supersede storytelling, something is out of whack.
Costas on the game today: "As far as the game is concerned, baseball is played at a leisurely pace. It shouldn't be lethargic. Sometimes the MLB Players Association doesn't see the bigger picture. If the game thrives, everyone does better. It's an area of mutual interest. It shouldn't be one of contention. There's no need to distort the game but in a modern society, it's critical to appreciate the entertainment value and address the trend in the way it's presented and played today."
Broadcast booths? Bob said that when he did his first game in Washington's National Park, the booth was so high, he thought the game was a rumor. He adds, "It's so steep, it's very tough to judge a fly ball with the naked eye. The old ballparks had great sightlines like old Tiger Stadium and Fenway Park, We were right on top of the action. We felt a part of the game. You were so close that when there was a small crowd you can shout down to the umpires between innings."
**
Charley Steiner continues to enjoy an accomplished career. But why would you go on record, which he recently did with USA Today, telling writer Bob Nightengale that he once told President Donald Trump to "Go (f..) yourself." In the 80s when Trump owned the USFL's New York Generals, Steiner called the Generals games locally on radio. Apparently, Trump told Al Michaels in front of Steiner that he made Charley's career. Steiner took umbrage to the comment. But what do you gain by going public with it. Like it or not Trump is now the leader of the free world! Do you think Vin Scully or Michaels would ever lower their standards to do so?
Steiner who's calling Dodgers games from his home did share a great line, "I feel like an astronaut orbiting the earth. You know there's stuff going on there because I can see it on my control panel. Really, this could be the wave of the future." Charley might be right there.
**
Multiple sources report that the NHL is interested in splitting its network rights among different partners. NBC now has the whole kit and caboodle. Front Office Sports says that ESPN, Fox and CBS might all have an interest. All those networks had those rights at one point or another. The current NBC contract ends next year after 2020-21 season.