Halby's Morsels: Best calls last 50 years; MLB Net keeps busy; Tales from the trenches; Hannah Storm
Tomorrow, May 29th, marks 25 years to the day that Hall of Fame electee Derek Jeter made his baseball debut with the Yankees. MLB Network will mark the anniversary, airing 64 consecutive hours of programming dedicated to Jeter, including 13 signature games. The programming begins tomorrow at 6AM, EDT. To begin the thirteen game marathon, MLBN will air the game in which Jeter recorded his first Major League hit on May 30, 1995 against the Seattle Mariners, tomorrow at 12N EDT.
Bob Costas will introduce each of the thirteen games and will sprinkle in commentary about the four games he himself called, including game one of the 1996 ALCS, Game 5 of the 1996 ALCS, the 2000 MLB All-Star Game at Turner Field and Jeter's last game at Yankee Stadium.
Costas said this week that with the help of his wife Jill, a former television stage manager, and the use of resources shipped to him by MLBN, he was able to record 17 Jeter segments from the comfort of his home using a visual backdrop, made up of a montage of fitting photos.
There's a silver lining to this pandemic. We're learning that lots can be done effectively outside the studio. In time, once the virus is behind us, we'll see which of the improvised alternatives used during this Covid debacle will stick permanently.  
**
We asked ESPN's Hanah Storm, 57. about her career's early role models. After somewhat of a pregnant pause, Hannah told us that she had none because in her youth, there really were no women getting prominent play on network television sportscasts. She explained, "The first woman I can remember is Jane Pauley, whom I saw on the Olympics at a time she was hosting the Today Show." The networks in those years would occasionally dip into their news and entertainment stable to fill staffing needs for Olympic programming. The full interview with Storm will run in the next week or two.
**
Jack Benjamin, the Nicholls State voice says that the voting is down to the Sweet 16. Votes can be cast for this round until 5p ET this afternoon. Jack is working with the Sportscasters Talent Agency of America on this promotion. Link here:
Greatest Play-by-Play Calls of the Last 50 Years – Brackets Home Page
Brackets: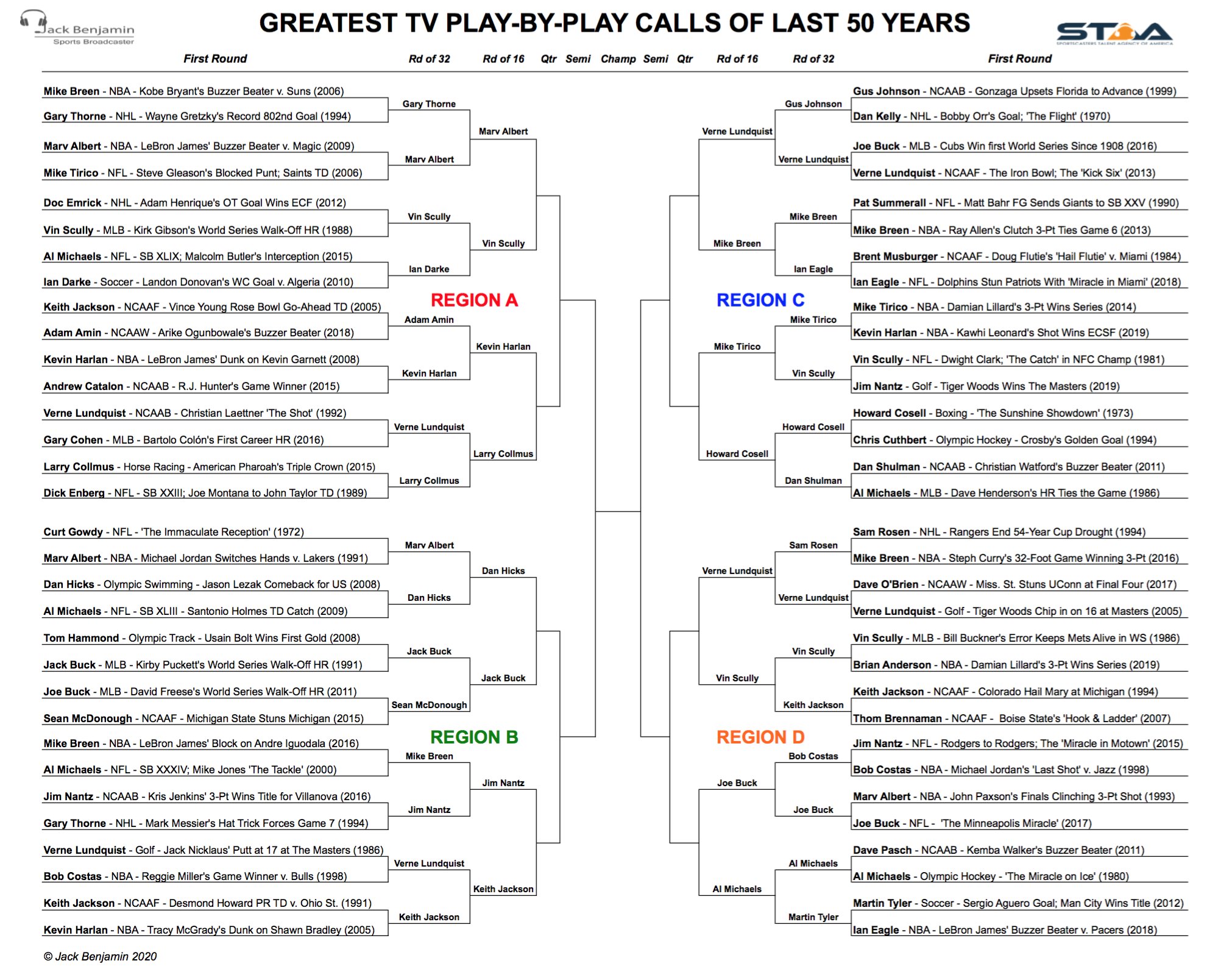 **
Experiences in the trenches and out:
Lesley Visser recently addressed fellow broadcasters on a Zoom session hosted by the National Media Sports Association and she shared some neat stories from the trenches.
When the Washington Redskins won the Super Bowl in 1992, Lesley presided over the trophy presentation. She's the only woman to ever do so. When she interviewed team owner Jack Kent Cooke after the win, he turned garrulous on her and began spewing the history of his own success. At some point, CBS producer Bob Stenner frantically shouted into Lesley's earpiece, "Get him the ___ off!"
The pioneer Visser started at CBS in the 1980s. At one point in her early career, she looked at her press credential and it said, "No women or children in the press box."
**
When John Sterling was hired as a Yankee radio broadcaster in 1989, his partner was Jay Johnstone who had played for eight different MLB clubs. A sponsor of the broadcast ran a promotion each game where a contestant would win a prize of sorts if the Yankees did something or other in a particular inning. Johnstone might say something like, "Harry Silverware of Garden City is today's contestant." The producer would give Jay the contestant's name and town and he would take it from there.
One day, Johnstone was handed a sheet that read something like, "Barry Smith, Wilton Conn." Johnstone had no idea. Somewhat puzzled and definitely unsure, he proceeded on-air, "It looks like we have two contestants today, Barry Smith and Wilton Conn." The station called in a panic a moment later. "Hey Johnstone, no. There's only one contestant, it's Barry Smith of Wilton, Connecticut."
**
Chris Russo, built his popularity in the 90s at WFAN in New York and joined SiriusXM as a solo act in 2008. He and Grant Napear, TV Voice of the Sacramento Kings, grew up together on Long Island. When the Knicks beat the Lakers in the seventh game of the 1970 NBA championship round, they listened together to Marv Albert's radio broadcast. The game wasn't on live television
**
There are three baseball announcers today whose careers date back to the 1960s. Denny Matthews, 77, is one. He's been with the Royals since day one in 1969. That's right. It's 51 years an counting. In his early KC years, Denny worked under his mentor, Buddy Blattner. No anglo language announcer other than Vin Scully has been with the same team longer. Vin of course had 67 seasons with the Dodgers. And other voice not ready to give up his radio seat just yet is the Marlins' Dave Van Horne who turns 81 this summer.
Dave began his Big League career in 1969 when the Expos were born in Montreal. The third is Jaime Jarrin, the Hispanic voice of the Dodgers who's actually been with the club since 1959. If baseball gets going this summer, it will be his 62nd season.
In those early years, the Dodgers' Spanish language broadcasts of road games were recreated off the ticker. Scully, calling the game live from the road, offered a helping hand by providing fuller weather forecasts so that Jaime would be prepared for rain delays. Otherwise, Jaime got no more than what appeared on the ticker, bare bone facts; strike one, ball one, one out, and so on. But Vin's broadcast was ahead of the ticker so Jaime had a pretty good picture of what would happen. In the early 60s, Jaime and the Hispanic broadcasts started traveling.
The oldest play-by-play broadcaster in baseball today is the legendary Bob Uecker who turned 86 in January. Uecker is down to calling only home games for the Brewers. Jaime, born in Ecuador, is listed as 84. The Yankees' Sterling turns 82 on July 4th. He and George Steinbrenner share a birthday.
**
Back in the 70s, a color commentator on a college basketball broadcast over a noncommercial radio station in New York was required to read the upcoming schedules of PSAL High School basketball games during time-outs. All he was given was a sheet of paper that listed line by line the two school opponents on the left side and the corresponding referees assigned to the game on the right side. The commentator was more than a bit lost and confused. He started this way, "Here's your schedule for tomorrow night. New Utrecht hosts Lafayette, Landolphi plays Kriegsman, Springfield Gardens goes up against Long Island City and Crowley entertains Higgins." So help me, Landolphi, Kriegsman, Crowley and Higgins were referees. Suddenly, they were named high schools playing one another.
No one ever said a thing!