Halby's Morsels: Dan Patrick, The Alberts, Bill White, Remotecasts, Screeching voices and hard work
The NBA is keeping its head above water but barely. Postponements are in the news regularly and frequently. The NHL seems to be managing quietly through its abbreviated schedule. If this is a new normal, it's tough to grasp.
Rambling…
Dan Patrick
Dan Patrick continues to name drop. This week, he said he had dinner with the late Alex Trebek. Who cares? Dan also told his audience that he was asked to guest host Jeopardy! while they're in the process of trying out candidates. Mr. Perfect said he turned it down. I guess it's not big enough for him. Patrick did Sports Jeopardy!. I guess it didn't too well. It lasted only two years. Dan talks more about himself in one of his dogmatic shows than Alex Trebek did about himself in the four decades that he hosted the real Jeopardy!.
Basketball
It's hard to believe that the Nets dumped Jim Spanarkel (l) off its telecasts. You'll likely see him on CBS' coverage during the NCAA Tournament. He also works for Fox. His real job the last time I looked is with Merrill Lynch. Jim doesn't overtalk, has a friendly disposition and he sees things most viewers don't and shares them simply and cogently.
Not everyone agrees with me but I'm happy that ESPN makes it fairly clear at the outset of their game broadcasts where their announcers are situated. Fox and Turner are not as apparent. You may say they're guarded. To me it's deceptive. Be transparent. Last week, when Kevin Harlan and Reggie Miller opened up an NBA broadcast, the backdrop was a customized TNT-NBA screen. There was no evidence of any humans in the vicinity. So viewers concluded they were likely at home. (Just waiting for the dogs to bark.)
When ESPN's Dave O'Brien opened up a broadcast, he told the audience that he and his analyst were in their homes. They were then seen at their desks or tables with books, pictures and trinkets behind them.
Have you ever considered how lucky we are in some ways? Had the pandemic hit before the digital age, say 25 years ago, we would have had an economy that as Vin Scully might say, "is trying to break the shackles of a galling depression."
Tough on the ears
Adam Alexander, Fox announcer on Creighton-Providence game last week (1/20) shouted throughout his call. He worked with Bill Raftery. I looked up his background convinced that he had to work for WWE. Close, he works or worked NASCAR events. I mean the guy was prepared but my goodness. Aging on the ears is tough enough.
Then, I watched Marquette-DePaul and more noise. Eric Collins, 51, was on the call. He blew a goaltend call late in the game and shouted his way through the broadcast from the opening tip. He does the Charlotte Hornets. Eric, this isn't the 'Cuban Missile Crisis' or the 'Shot Heard Around the World.' Quiet down! Please.
Good line by Will Flemming Thursday night. He's a brother of ESPN's Dave Flemming and worked with former interim Louisville coach David Padgett. A tight shot of the two men standing shoulder to shoulder was seen as the men opened the broadcast from the top row of the stands. Flemming assured the audience in rascal fashion:  "We're socially distant, we're about five miles from the floor." The director took the cue. He widened the shot and viewers saw the long distance between ESPN's broadcast position and the floor.
Bill White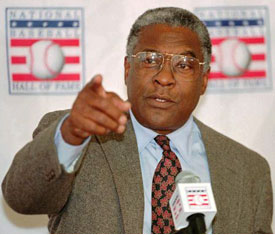 The friendly and likeable ex broadcaster and three team MLBer turns 87 today. Loved by Yankees fans when he teamed with Phil Rizzuto. Phil never called him Bill on the air. "Hey White," the Scooter would say, Bill was the first Black person hired as a team broadcaster in any sport. He began with the Yankees in 1971 at the urging of Howard Cosell. White, in his Cardinals days, would rib Harry Caray, the team's beloved voice. Caray would respond, "Bill, you think this is easy, do it yourself." White took the challenge and got reps in his playing days covering all sorts of sports, first in St. Louis and later in Philadelphia. Bill later became president of the National League.
NHL
John Forslund will do television for the Seattle Kraken. He was the longtime TV voice of the Carolina Hurricanes until the team's parsimonious owner Tom Dundon wouldn't pay him what he deserved. Seattle jumped on the opportunity to put him to work next fall in Seattle. Dundon pulled the same myopic act on radio a couple years earlier offering the standout voice Chuck Kaiton to stay on at something like minimum wage. Kaiton turned him down. Seattle made news last fall when it hired African-American Everett Fitzhugh as its radio broadcaster. He'll be the first Black to ever do play-by-play for any one of the NHL's teams.
The Alberts
If reports are correct, Kenny Albert will call the NHL Stanley Cup Final for NBC which is in its final year of its NHL contract. Albert and Forslund are sharing many of the NBC telecasts between now and the Stanley Cup Finals.
You have to feel good for Kenny, a truly good and humble human being. For one thing, he's a top-notch and versatile play-by-player. Kenny worked his tail off to perfect his craft. He's always thoroughly prepared.
Albert works Fox NFL broadcasts, a healthy NBC hockey schedule, fills in on Knicks telecasts for MSG Network and is still the radio announcer for the Rangers. Hockey is his best sport.
I don't know how many Rangers radio broadcasts he's free to work but I have to believe that with all his other commitments and a family, it's impossible to do anywhere close to a full Rangers schedule. I have no idea for that matter why he even needs the Rangers radio job. He should give it up and let some younger voice get a break. Kenny will be 53 next February 2nd. I can't imagine he needs the dough.
Hard works pays off
Truth be told, all the Alberts worked hard, Kenny's dad Marv and his uncles Al and Steve. The work-ethic was imbued early. Kenny's paternal great-grandpa Nathan came to America at the turn of the 20th century. Nathan's son Max worked day and night in their Brighton Beach grocery. Max put the kids to work. Marv, Al and Steve stocked the shelves and stamped the prices on the items. Kenny told me he did some too as a youngster. The family's original name was Aufrichtig. Steve tells the story of how he came home from school one day and his father sat the kids down and told them we are now officially Albert. The grocery grew into more of a supermarket under the elevated subway and the name remained, Aufrichtig's even after it was sold by the Alberts.
Did you know that Jiggs McDonald, the now retired NHL voice, worked for five franchises, He was the first voice of the Los Angeles Kings and Atlanta Flames. Later, Jiggs was the longtime announcer on Islanders' telecasts. He also worked for Toronto and Florida. Jiggs is 82.
NBC's Mike Tirico was committed from day one. He interned for a New York radio fixture, the late Ed Ingles, Sports Director at all-news WCBS. Ed helped many broadcasters along the way and set examples himself by his tireless effort day after day. Ed shared the sports news each morning twice an hour before WFAN went into business and continued to do so beyond too. WCBS is where we got our scores until all-sports came around in 1987. Ingles really developed the economized sports report squeezing in every last detail into two confined minutes. It's a format still followed by most all-sports stations today.
Tough times- Listen to this:
Around $40.25 million was spent by 69 different advertisers during College Football related programming on ESPN/ESPN2/ESPNU/ESPNews/SEC Network airing the Alabama-Ohio State national title game, down 55% from the $89.4 million and 106 brands that ran ads in the 2020 LSU-Clemson matchup, according to a Sports Business Journal analysis of iSpot.tv data.