Halby's Morsels: Dick Enberg's remark 50 years ago triggered ire; Al Michaels' ascent to NFL prime; +
Dick Enberg draws anger on a UCLA-Oregon telecast on January 21, 1970
I stumbled upon a harmless comment made on-air by Dick Enberg, one that drew contained anger in 1970. Had he voiced this innocuous parallel today, Enberg, a gentleman of gentlemen, would likely have been vilified. Fifty years ago, 1970, wasn't 2020. Oh, yes, we were a divided country but each word we uttered wasn't dissected under a microscope or judged out of context. Welcome to social media and political correctness.
The other night, I browsed the web seeking audio of Enberg doing the Rams on radio, an assignment he held from the late 1960s through the early 70s. I failed to land any of his radio play-by-play work but I found something that caught my attention, even at 1 in the morning.
Enberg was a broadcast icon, diplomat, teacher and a gem of a human being. You never heard a foul word out of his mouth or a bad word about a colleague. In the years NBC's basketball production featured a three-man team of the mercurial Al McGuire and the opinionated Billy Packer, feelings ran deep. Yet Dick found ways to have the duo behave nicely in the broadcast playpen. In fact, he helped turn McGuire and Packer into symbiotic stars.
In 1970, Enberg, 35 at the time, albeit working in the shadow of Vin Scully, made a mark for himself in Southern California. He called the games of the California Angels, Los Angeles Rams and UCLA basketball.
Enberg already hosted a national game show too, Sports Challenge, and he presided over the famous UCLA-Houston broadcast from the Astrodome in 1968. The big telecast (Alcindor then/Jabbar now vs. Hayes) was on a makeshift, non-line network, TVS.
The big three, NBC, CBS and ABC, already had Dick on their radars.
On February 27, 1970, Enberg was invited to address a UCLA communication course where he did a Q&A with students in the classroom. The one hour or so session was posted on YouTube about five years ago and I first noticed it earlier this week.
Six days before Enberg's visit to the classroom, John Wooden's Bruins took a 21-0 record into Oregon. UCLA would eventually win another national title but that night at McArthur Court in Eugene, the Ducks opened a big lead and the crowd was animated.
Enberg was sitting at the top of the lower tier calling what would turn into UCLA's first loss of the season. The ticket holders below Dick's broadcast position were standing and rooting uproariously. Dick told the class that his view was obstructed and that he too had no choice but to get up to follow the action. 
But some rowdy fans behind him began giving him some heat. "Sit down, we can't see the game," they shouted. Dick though had no alternative. He persisted. One fellow, Enberg said, began poking him in the back while he was doing the broadcast. 
In an attempt to make light of the moment on the telecast, Enberg said, "I feel as welcome here as a Jew in Cairo." (The peace pact between Egypt and Israel didn't occur until 1979.) Dick thought nothing of it and obviously meant no harm by it either. Instant responses in 1970 meant letters by snail mail and phone calls on landlines. Cell phones wouldn't surface for another three decades.
But as it turned out, there was a groundswell of complaints. Dick said that one professor at another school, said he would bring down hundreds of protesters to the station or Pauley Pavilion. Dick wanted to apologize on the next telecast but the television station told him it wasn't necessary.
Goodness, imagine that happening today! There would be a big to-do over nothing.
In his autobiography, Oh My!, Enberg writes about breaking into the business in Saginaw, Michigan. He says that it was suggested to him by a Jew at the station that he change his name because Enberg was too Jewish sounding. "As I look back," Enberg writes in his book, "There's real sadness in that insecurity but I was very young and did pause to give it some thought." Enberg came up with a name, Dick Breen, and bounced the idea around some buddies. But he decided against it.
Enberg writes that it would have been tragic and it would have diluted his father's pride in his success had he changed his name. "It would have killed my dad who was fiercely proud of his Finnish heritage." Oddly, Enberg's dad changed his name from the Finnish Katajavuon to the Swedish equivalent Enberg upon arrival in the U.S. because he felt it would be more simple in the new country.
Mentioning Packer, Billy stopped broadcasting after 34 Final Fours in 2008. He later said that he couldn't call games today because of political correctness. Packer worked with greats including, Curt Gowdy, Brent Musburger, Ray Scott, Jim Nantz, Jim Simpson, Tim Brando, Verne Lundquist and Enberg.
On another note, Enberg was asked by the class about ex athletes who at the time began encroaching the broadcast booth. Not much earlier, the booth was the exclusive sanctuary of trained announcers. Enberg didn't give the advent of athletes a ringing endorsement but singled out Pat Summerall for his good work. Pat was an analyst for CBS at the time. In fact, Enberg told the class that CBS Sports head Bill MacPhail linked his name with Summerall's, saying that the two would make a good broadcast pair. It didn't happen. Yet Dick did close his glistening network TV career at CBS decades later.
**
Al Michaels, Roone Arledge, Dennis Swanson, Dennis Lewin and primetime NFL
To appreciate this development, here's the backdrop. In 1985, Cap Cities, a medium sized broadcasting company, swallowed a network behemoth, ABC, for $3.5 billion. The purchase included ESPN which ABC had bought a year or so earlier for $218 million. 
With new sheriffs in charge at Cap Cities/ABC in 1986, the iconic Roone Arledge no longer headed up sports.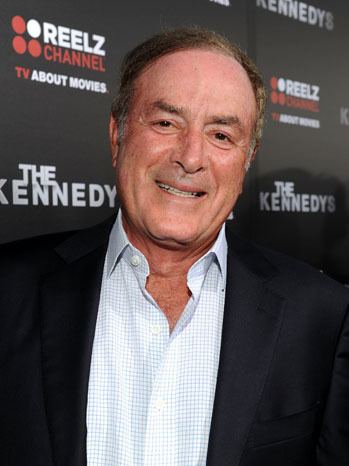 Dennis Swanson, who ran the ABC affiliate in Chicago, WLS-TV, was brought in to run the sports division. In his auto biography, Al Michaels: You Can't Make this Up, Al writes, "The was a sense that he (Swanson) wasn't going to pay homage to Roone by taking things slowly or being hesitant to shake things up."
Monday Night Football hit the airwaves with a bang in 1970. When it did, Keith Jackson was the play-by-play voice. The next year, Arledge brought in Frank Gifford from CBS to replace Jackson. Frank would be in the play-by-play chair through 1985. But the Monday Night series was beginning to get stale.
Once settled into his big executive chair, Swanson asked longtime ABC Sports producer and executive Dennis Lewin for ideas to freshen up MNF. Dennis suggested to Swanson that Michaels move into Gifford's role. Lewin didn't have to sell the new sports chief on Michaels. Swanson was familiar with Al's good work, having seen him do college football and baseball. 
And so started, Michaels' reign over primetime NFL in 1986. He's been there since, moving to NBC and Sunday Night Football in 2006. Michaels did his first Super Bowl in 1988. If and when the NFL season starts, it will be Michaels 35th consecutive in the key primetime role.
The real punchline sits in the eventual financial transaction. In 1996, Disney bought Cap Cities for $19 billion. Cap Cities, a one-time medium sized broadcast operator made enough in the 11 years after buying ABC for $3.5 billion, to resurrect a few third world nations.
**
We keep our eyes on the news channels these days. Fredricka Whitfield, CNN weekend anchor, gets more visibility now. She is the daughter of the late Olympian track gold medalist, 'Marvelous Mal' Whitfield.
**
Don Criqui, 79, one of network television's all-time best football announcers is keeping busy. Don and one of his sons Galen do sports commentary three mornings a week on America's First News with Matt Ray. The show is carried by almost 150 affiliates. Working mornings for Don is nothing new. For decades in New York, he did sports for morning legends John Gambling on WOR and later Don Imus on WNBC.