Halby's Morsels: It's difficult for women to compete against men for play-by-play gigs; Microphone news
In a questionable decision, one that was praiseworthy during the limited shelf life of its press release, Lisa Byington was hired to do Bucks games on television.
But Lisa lacks experience, albeit she did fill in a bit on a few Bulls' telecasts. Still, hardly sufficient for a coveted job, covering the world champion, Bucks.
First, I absolutely applaud decisions to hire minorities. The more the merrier. It's overdue! But the role has to fit the assignment. Too many women lack the vocal depth to seamlessly stamp big moments without screeching.
Lisa, a fine sideline reporter, was hard on the ears when assigned football play-by-play on the Big Ten Network. I was then surprised that CBS gave her a couple games during the NCAA Tournament. One or two of the matchups went down to the wire. She did somewhat better than I expected but big end-game calls were tough to swallow.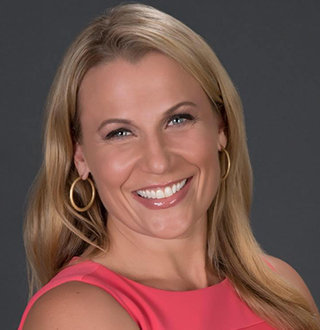 It takes time for both men and women  to appreciate what they can and can't do with their own voices. No one will deny it. To soothingly hold viewers' hands through a long, roller-coaster NBA season is a challenge for the best of men broadcasters. Dramatic games require strong pipes. Sadly what results on these occasions from many women are elongated yelps of hysteria. To maximize what they can and can't do, women should train with extraordinary voice coaches and commit themselves to working diligently within the boundaries of their vocal ranges. Lisa will also have to develop her broadcast rhythm. If they don't, the number of women play-by-players will lag at best.
As for Byington, I hope she and Bucks' fans find some happy collective ground. But it will require some patience.
On Thursday, September 23d, in another development, the Sixers hired Kate Scott to succeed the retired Marc Zumoff.
NFL Ratings -the Mannings
From Sports Media Watch: 
"Ratings and viewership jumped in Week #2 of the NFL season, but the real eyeopener may be the dramatically increased sampling for ESPN's Manningcast.
"The Week 2 edition of Monday Night Football (Lions-Packers) averaged 13.81 million viewers across ESPN and ESPN2, including 1.86 million for the Peyton and Eli Manning-fronted alternate presentation on ESPN2 — more than double the audience that tuned in for the Mannings in Week 1 (800K). The Manningcast accounted for 13% of the total audience, compared to five percent in Week 1 (when the primary presentation of the game aired on both ESPN and ABC)."
His shrieking is back
Gus Johnson did the Minnesota-Arizona NFL game this past Sunday for Fox. His key role is calling college ball. He's atop the heap among those voices (at least by assignment). But he's way down the depth chart among Fox' NFL callers. Some critics loved his crazed, frantic and uncontained call after Vikings' kicker Greg Joseph missed a last second field-goal attempt for a win. Others felt that he lost his marbles. I still have no idea what he said and I've listened over and over. Gus sounded like an earsplitting madman on a noisy Manhattan street, emptying his lungs in no particular direction!
Tidbits
Jim Hughson, a longtime broadcaster with Sportsnet in Canada, retired Tuesday.
Hughson covered hockey for 42 years and is best known for his play-by-play work for the Toronto Maple Leafs, Vancouver Canucks and Hockey Night in Canada. In 2019, he was recognized by the Hockey Hall of Fame with the Foster Hewitt Memorial Award for his outstanding hockey work.
Houston Rockets' Craig Ackerman and Matt Thomas will each move from part-time to full-time as the play-by-play broadcasters for Rockets television and radio.
Legendary Houston sportscaster Bill Worrell, who retired after this past season, did only home games in recent years, while Ackerman presided over the roadcasts. Now Ackerman will be fulltime TV and Thomas fulltime radio. What ever happened to the booming voice and the man so identified with the club for decades, Gene Peterson. He's in retirement. "Hoe sweet it is!"
Jason Jackson, a former ESPNer and recently a sideline reporter for the Miami Heat telecasts moves over to radio. He'll replace Mike Inglis, 68, who retired. He was with the club for 23 seasons. I'd imagine that Jackson who's never done NBA radio regularly is running through video recordings to prep for his new role. From the sideline to radio play-by-play is a major step-up in what's required.
Gene Deckerhoff, Florida's busiest and probably most popular football announcer sounds more frustrated than ever calling Florida State football. You can hear the disappointment in his rich timbre during this early season. The Seminoles are 0-3. But for Gene, there are Sundays with Tom Brady and the Bucs, with little to dash his hopes. Deckerhoff has been a five-decade fixture in the Sunshine State.
As I write this, it makes me wonder. Gene has called two Super Bowl championships and three national college football championships. I can't think of anyone else who can put college and NFL championship on his broadcast resume.
George Blaha 76, is in his 43d year calling Michigan State. He doesn't have the spunk he had years ago. Old father time never loses. Still, the man has a busy schedule. He also does Pistons broadcasts on television. He's a wonderful guy. The last time I spoke with him he told me that he doesn't do email. I don't know how he did the State-Miami game last Saturday. It might have been done remotely or he had a bad vantage point. But he was often behind on plays. You wonder how much longer he wants to go.