Halby's Morsels: Malika Andrews sparkles; MLB: Frick winners,1964 Cards spawned 5 voices
ESPN's Malika Andrews stole the show
ESPN's Malika Andrews, 26, is unflappable. With the pressure of millions of NBA fans watching the title game on ABC, she presided over the postgame ceremonies with clarity and aplomb. Andrews' energy, effervescence and seamless ability to introduce and engage star players, a coach, a billionaire owner and the commissioner was extraordinary. I looked up her background because she's relatively new to the scene. She was born to a Black father, Mike, and a White Jewish mother, Caren. As a young teen, Malika suffered from an eating disorder, got therapy, recovered and graduated high school at age 17. She then spent some time working at her grandfather's civil rights law-firm.
At the University of Portland, Andrews wrote for the school newspaper and was eventually promoted to editor-in-chief. She caught the attention of ESPN's Adrian Wojnarowski who helped launch her career. Malika had early stops with the Denver Post, New York Times and Chicago Tribune. In an economy of time, ESPN hired her and she first showed her capability during last year's NBA bubble.
Baseball
The Frick honorees
Interesting notes about Ken Harrelson and Al Michaels who on Saturday will both be recognized for their Ford Frick Awards. In pre-pandemic days, Harrelson would have been honored in 2020 but the overall enshrinements were cancelled due to Coivid. Michaels is the 2021 winner. Harrelson who started his broadcast career in Boston made no bones about it, he didn't get along with then Sox co-owner, Haywood Sullivan. Hawk had a great relationship with White Sox owner Jerry Reinsdorf. Harrelson was Chicago's TV voice for 33 seasons. In his early years in Boston, Harrelson partnered with Dick Stockton whom he considers a mentor.
Michaels had an ongoing verbal spat with the Reds' general manager, Dick Wagner. Michaels began his MLB career with Cincinnat in 1971. Wagner kept a short leash on what wafts from the booth. Michaels was apparently restricted from uttering anything remotely negative about the ballclub, including mentioning the name of the late union leader, Marvin Miller. It got so bad that after Al bolted for the Giants in 1973,  Wagner shared his nasty exchange with Michaels in Sporting News. In his missive to the then powerful publication, Wagner derisively referenced Michaels as Alan, a number of times, as though he was trying to reform a recalcitrant child.
Milo Hamilton and the Yankees
The late Milo Hamilton, (left) a Hall of Fame, Ford Frick winner, said he was courted by George Steinbrenner and the Yankees. The 60 year baseball announcer maintained that the Yankees approached him in 1984, before his final year broadcasting Cubs games.
"Clyde King, who had been a friend for years, was working for Steinbrenner, and Steinbrenner asked if we could have lunch to see if we could work things out," Hamilton said. "It didn't work out at the time. But at the end of that season, when I got bumped (by the Cubs) and over the winter, they approached me again."
Hamilton moved to Houston for the 1985 season and spent 28 years there. The Daily News reported that the Yankees courted him again in 1989. According to Bob Raissman the Daily News' sports media critic, WABC executive Fred Weinhaus shared this information with him. Milo though stayed put in Houston and Weinhaus hired John Sterling who was out of work in Atlanta.
As I look back at it, Hamilton's rooting in the booth wouldn't have played well in New York. Fundamentally, from a rhythmic and melodious perspective, Sterling couldn't shine Milo's shoes.
The 1964 Cardinals roster produced five broadcasters 
The 1964 Cardinals roster produced five future broadcasters. (St. Louis beat the Yankees in the '64 World Series, costing Yogi Berra his managerial job in the Bronx.)
Bob Gibson covered basketball on TV briefly in New York, partnering with pioneer Marty Glickman on Nets telecasts. A number of years later, in 1976, he was Al Michaels' partner on MLBcasts ove ABC
Tim McCarver became a decades long broadcaster. He did a 24 World Series and tons of regular season games on ABC, CBS and Fox.
Bob Uecker did games nationally for ABC and NBC and is his 50th season with the Brewers. Joe Garagiola and Bob are the two funniest baseball announcers ever. One  niht on ABC, Uke softly challenged Howard Cosell for suggesting an odd strategic approach. Howard then asked Uecker why he turned truculent and if he knew what the word meant. "Sure, Howard, it's 'the truck you lent me!' Garagiola after a bunt hit might say, "It's a line drive in the morning paper. Joe was not on the 1964 roster but a former Redbirds' catcher who began his very visible announcing career in St. Louis.
Bill White later announced Yankees games and was unofficially called, "the Jackie Robinson of the broadcast booth." In 1951, when the Bombers hired Bill, he was the first Black team broadcaster in any sport.
Mike Shannon, is finishing his 50th season with the Cardinals as its broadcaster. He plans to retire at the end of the current campaign.
That '64 roster had a Joe Morgan, not the Hall of Famer and former infielder who called games for years on ESPN. By the way, the Cardinals radio team has started traveling to do road games. Let's hope it will foster a wave of the revived practice across all sports. For now, no remote work for a handful of teams!
Worth a listen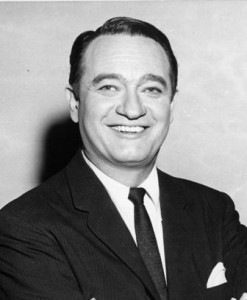 In 1976, the Yankees played their first World Series game in 12 years, John Sterling, hosting a radio pre-game show in NY on WMCA had Mel Allen (left) with him in the studio. John would ridicule and hang up on callers, but never asked Allen why he was fired in 1964.
In '76, the Yankees were matched up against the Reds who swept the series in four. The two teams also played the Reds in 1939 and 1961. Based on my research with the late New York broadcast savant, Dick Barhold and confirmed through newspaper listings, Mel never did the '39 series although he said on the show that he did. It was the first time that a World Series was on an exclusive radio network, Mutual. The announcers were Red Barber and Bob Elson. Gillette sponsored the broadcasts and struck an exclusive deal with Mutual. Up until then, three or even four networks carried the World Series. Until Gillette came along most of the broadcasts were sustained, meaning no sponsors. Hard to believe in today's cluttered world of sports sponsors.
Allen got the Yankees job in mid 1939 because one of the announcers Gunther Marx mispronounced the name of sponsor Ivory- calling it ovary- three times in a row. You couldn't get away with it 82 years ago. Marx was canned and Allen replaced him. The Yankees lead voice was Arch McDonald who was brought in from Washington. McDonald went back to DC after just one season. The broadcasts were essentially home games of both the Giants and Yankees. On off days when neither team was home, the broadcasters would recreate one of the teams if they were playing on the road.
Utah art and music
The late Paul James was the longtime voice of the BYU Cougars. After retiring from KSL in 1989, James took up painting, selling thousands of prints of his artwork, some originals going for as high as $3,000. He was also an accomplished pianist and bridge player. You might argue that the two best known sports voices in Utah history were James and Hot Rod Hundley, who voiced the Jazz games for decades going back to the team's days in New Orleans.