Halby's Morsels: NBA Studio, ESPN vs. TNT; Mayne, Berman, Tirico, Levy, Hicks, Nantz, Harlan, local voices
NBA shoulder programming in-studio: ESPN vs. Turner
On ESPN's media call Monday, I asked NBA studio analyst Jalen Rose why Turner's Inside the NBA seems to be so much more popular.
Rose's answer was a bit out of the box, "You're asking me to compare a screwdriver to a wrench." I didn't ask him which tool belonged to ESPN.
Rose though did elaborate. He says that ESPN's show is restricted to pre-game, and there's little opportunity to present humor the way Turner's participants do on their lengthy post-game show. Most often, ESPN goes to SportsCenter for its post game show which is hosted by the capable and easy-going Scott Van Pelt.
"ESPN's pre-game," Rose says, "is mandated to promote the upcoming game." In other words, Jalen and company are asked to look at the match-ups and strategical decisions for the game that follows. There's little time for spontaneous dialogues on the desk. The ESPN show is rather scripted.
I might add that hostess Maria Taylor is hardly a barrel of laughs. While Maria has an engaging smile and is well prepared, she's less forgiving and lacks the nonchalance of Turner's nimble and unflappable host Ernie Johnson.
Jalen said and accurately so that Turner's post-game show is not nearly as tightly formatted as ESPN's pre-game. The appeal of Shaquille O'Neal, Charles Barkley and Kenny Smith is the crew's stream of consciousness. Host Johnson contains the trio but has them on an extra-long leash.
"It's a different show," the former NBAer said. "The audiences are different too," he added. "We're reaching younger viewers in prime. They're late night TV. We inform and they entertain. Our roles are just differently defined."
The Bristolites continue to go through iterations of all sorts and choppy changes of personnel on its studio programming. Recently, Paul Pierce was fired. And on it goes.
On Tuesday night, Shaq showed up late for Inside the NBA. Most network programs wouldn't be transparent about it, leaving any discipline, if any, to off-air management. Instead, Barkley and Smith had a good laugh. When O'Neal attempted to sneak in just before tip-off, it was caught on camera which triggered more laughter.
**
On-Air/Off-Air and nuggets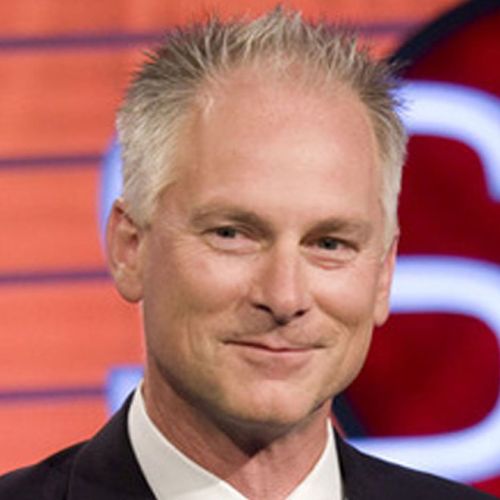 ESPN showed Kenny Mayne (left) the exit sign and extended the contract of Chris Berman. Yes, Berman has been with ESPN since day one but Mayne was unique, different and probably earning less than Chris. Mayne used dry humor to explain ESPN's decision, "I was over the salary cap."  So be it.
Mayne told the Los Angeles times: "I had no idea the end would play out the way it did. The last month in my contract has been a period during which I'm allowed to negotiate with outside parties while continuing to negotiate with ESPN. But this negotiation was short, almost abrupt: an offer, my rejection of the offer and an exit interview by phone. And that's OK."
I always thought equally of NBC's Mike Tirico and ESPN's Steve Levy. Both are good play-by-play voices and comfortable in the studio. Both are well liked. As I've said about Mike, he's like Mr. Fields in Abbott and Costello who played a psychiatrist, a car salesman, a landlord and more.  Mike plays any part well too, real well. But he's not identified with any one role. Maybe that will change in time. This fall, he'll get his real shot, taking over for an icon, Al Michaels on Sunday Night Football.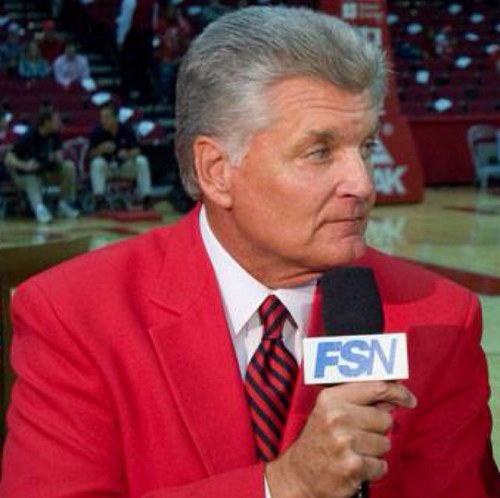 For years, Bill Worrell was one of the busiest local broadcasters in America. He called both the Rockets and Astros on Houston television. At 74, he's hanging up the Rockets TV microphone after joining the club in 1983. The season is over and so is his NBA television career. Worrell was one of the early ESPN voices, 1980-83. He did work for the Astros from 1985-2004.
Worrell's dad, Dub, was a prominent Houston dentist who served in an official dental role for several professional teams in the Texas city. Dub Worrell is credited with introducing the use of mouthpieces in athletes in Houston.
Tom Leach has been the Voice of University of Kentucky football (1997) and basketball (2001). No surprise having grown up in the Bluegrass State, he loves the horses. So Tom is also part of the broadcast crew calling the Triple Crown on national radio.
The Alberts and the NHL
Marv Albert who's retiring at the end of Turner's turn running the NBA playoffs, was also quite a hockey announcer, particularly on radio. Teenagers in the New York area in the 1960s and early 70s, would spend Sunday nights listening to Marv call Rangers games while doing their homework.
When he started out, he was influenced more by the Canadiens' legendary voice Danny Gallivan than pioneer Foster Hewitt.
From the very beginning, Marv was very careful of every word he uttered on radio. At some point in the 1960s, Marv returned from a trip to Detroit where he called a Rangers game in the old Olympia. When he got back to the WHN offices, he had a call from the late Dick Barhold who was sightless and an absolute savant when it came to sports history, particularly broadcasting.
Dick proceeded to ask Marv whether his broadcast position had changed from one side of the ice to the other at the Olympia. Albert paused, wondering to himself, how anyone would know because he never mentioned it on-air. Albert told Dick yes and asked him how he know?  Barhold told him: "Last time the Rangers were in Detroit, they were shooting for the goal to your right in the first period. This year, they were shooting to your left."
Radio announcers best critics are the vision impaired. God rest Dick's soul.
With dad hanging it up, Kenny Albert will maintain the prominence of the Albert name. At 53, he gets the well deserved call as the lead voice of Turner's NHL package. This is NBC's final NHL season. ESPN and Turner will share the network rights beginning next season.
Working his final NBA playoff before he retires Marv was partnered with Grant Hill. He called the Washington-Celtics game on Tuesday. There were always some rumblings that Reggie Miller didn't enjoy working with Marv. Reggie is Kevin Harlan's guy. Jimmy Jackson should be in the Turner mix pretty soon. Chris Webber, Marv's prime partner has left Turner and won't work the playoffs
Now more talk will surface as to who gets Marv's hallowed seat, Brian Anderson or Harlan. The league might push for Ian Eagle.
So, a trio of wonderful play-by-players have retired within a year, Mike Emrick, Dick Stockton and Albert. Between Marv and Stockton, they did 18 NBA Finals.
The Foxies announced that they'll  run these college football games this September:
Ohio State at Minnesota: Thursday, Sept. 2,
Oregon at Ohio State: Saturday, Sept. 11,
Ohio State at Michigan: Saturday, Nov. 27,
Jim Nantz and crew will be back this weekend for the PGA Championship. Andrew Catalon (left) hosted the Byron Nelson in Dallas last weekend. The PGA will be at the Ocean Course at the Kiawah Island Golf Resort in Kiawah Island, South Carolina. The final two Majors will be carried by NBC, the U.S. Open in June and the British in July.
Amazon's Prime Video picked up the exclusive global streaming rights to 16 WNBA games per season and the new Commissioner's Cup title game
Columnist Dan Mason who'll be covering NBC's telecast of this weekend's PGA Championship has learned that Mike Tirico will cover the Team USA swimming trials the weekend of June 19th in Omaha. Dan Hicks, the usual stroke-by-stroke caller, will be on assignment at the famed Torrey Pines Golf Course in San Diego where NBC will be carrying the U.S. Open.
John Ourand of Sports Business Journal reports "Ad sales are healthy for these (NBA) playoffs, with TNT announcing a sellout with more than 115 advertisers, including 31 new advertisers. Top categories: restaurants/fast food; auto; insurance; beer/wine; and software/computing services."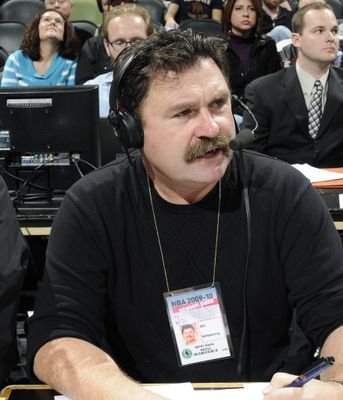 Working at my desk last night, I listened to San Antonio's Bill Schoening (left) call the Spurs-Memphis game on the radio. He works alone and he painted an accurate picture, connecting the dots meticulously. Not easy, doing so off the monitor. Bill didn't over-stat his audience and thankfully, there was no analyst to spew inanities and add superfluous nonsense.