Halby's Morsels: NCAA Tourney; Notre Dame-Clemson; Nantz' first Masters; Remotecasts; Mark Jones
Saturday night's riveting finish of the Notre Dame-Clemson game was fun to watch. But I would imagine that many viewers were bothered by the constant delays for lengthy reviews by the referees. Either in the final minutes of regulation or later in the overtimes, it seemed that every play had to be confirmed by replay. On one occasion for that matter, one play was reviewed by the officials twice to reconfirm a call. It was too much, certainly as the time of  day clock turned close to midnight. From what I remember, Mike Tirico gently said that the endless time between plays breaks momentum. In all, the classic matchup took more than four hours to complete.
On Sunday, NBC announced that the game was the most watched Irish telecast in 15 years. It averaged 9.4 million viewers.
**
The Masters is scheduled for next weekend. Jim Nantz (left) will preside for CBS as usual. This will be his 35th. Nantz remembers, "I was 26 years old (in 1986) and frightened out of my mind, trying to exude nothing but confidence and warrant being a part of the tapestry of the broadcast." Jack Nicklaus, of course, won his sixth Masters in Augusta that April, a record that still stands. When Jack made a putt at 16 for birdie, Nantz nonchalantly said, "There's no doubt about it. The Bear has come out of hibernation."
Afterward, he ran into Ken Venturi who asked him his age. When Jim told him he was 26, Venturi was obviously impressed. He told Nantz that he would be the first to do 50 Masters. Venturi and Nantz partnered for 17 Masters in the tower at 18. (Look for our coverage later this week and review by Dan Mason.)
**
Westwood One which has carried the NCAA Tournament forever didn't pay the the rights fee required for 2020. The network maintains that there was nothing to pay for because March Madness was cancelled. The NCAA responded by cancelling Westwood One's contract. In September, Cumulus, which owns Westwood One, filed a lawsuit in an Indiana court and the NCAA has since countered.
What happens from here is anyone's guess. In this economic environment, during which time radio is suffering revenue losses of 30% or so year over year, these two entities better figure it out. Even if competitor ESPN Radio takes a stab at the rights, it would likely find itself in middle of the squabble between the NCAA and Westwood.
No one benefits here. Locking in affiliates and nailing down sponsors require ramp-up time. It's November. Westwood's multi-year rights deal, agreed to in better times, aren't cheap. Is this a renegotiation ploy?
**
ESPN's voices have done a fine job facing the exigency of calling games remotely. But if viewers observe carefully, announcers need that extra second to call a play. They're at the mercy of what they see on the monitor and when they see it. And there are times that the voices pay for not being at the stadium.
On Saturday, in the tumultuous finish of the Liberty-Virginia Tech game, there was a blocked Flames' field goal attempt that was run into the end-zone by Tech for an apparent winning TD. At the time there were five seconds remaining in the game.
It struck me at first blush, that voices Chris Cotter and Mark Herzlich couldn't see that time-out had been called by Tech. Meanwhile, VT fans found themselves exulting only to be disappointed after the referee signaled the timeout.  A confident Liberty team didn't get rattled albeit 5 seconds remained. Instead of trying another 59 yard field-goal immediately after the time-out, the Flames moved the ball on 4th down from the 41 to the 33 on an eight yard pass play. They did it in an economy of time. It left only one second on the clock when placekicker Alex Barbir hit a 51 yarder. Game over!
**
I don't know who Jason Benetti (left) idolized as a budding broadcaster but every time I listen to him, I hear a little bit of Dick Enberg in him. Just waiting for an "Oh My!"
Andre Ware doesn't talk excessively but when he does his comments need more heft. Something like "They have to score here" is shallow. Andre understands the game from a QB's perspective, so he has to take the audience deeper into the trenches. 
Anyone remember Gary Miller? He was with ESPN from 1990-2004. He's 64 now and working as a sports anchor in Cincinnati at WKRC TV.
Always liked the work of Adam Zucker in the CBS Sports' studios on Saturdays. His enthusiastic delivery has a touch of grit to it.  Another one of those Syracuse guys.
**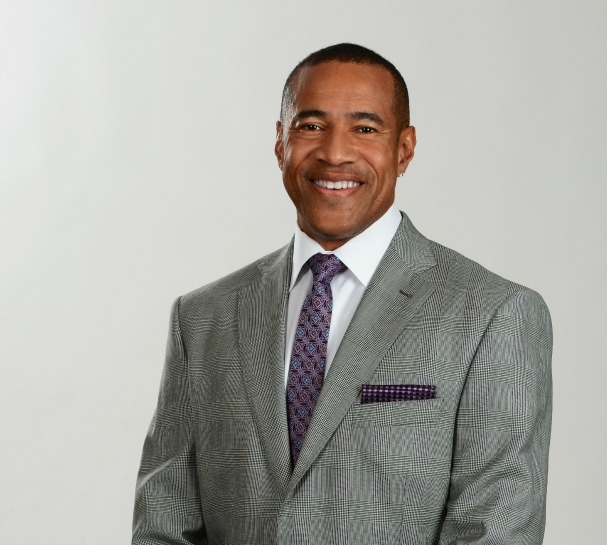 Mark Jones (left), the talented ESPN play-by-play announcer will become the lead voice of the Sacramento Kings on television. He'll work with Doug Christie. Mark, who turns 59 on November 16th, will continue to call football and basketball games for ESPN. A backup will be hired by the team for the games that Mark misses.
Jones succeeds Grant Napear who was summarily dismissed earlier this year for comments about the Black Lives Matter movement. Mark's brother Paul calls the Toronto Raptors games on radio. The Jones brothers were raised in Toronto.
**
Dan Fouts (left), 69, had a distinguished career as a quarterback with the Chargers. He was inducted into the Pro Football Hall Of Fame in 1993. Dan served as a network analysts through two stints with CBS beginning in 1988. The network didn't renew his contract at the end of last season. In between, he was an analyst with ABC covering college ball and later Monday Night Football.
His dad was Bob Fouts, himself a longtime on-air sports personality in San Francisco. Bob called 49ers games in the 1950s and was also seen on CBS TV. He was 97 when he passed last year.
**
A good thing that surfaced from the prolonged NBA season was that the league gave the referees a microphone. When a play was under review, the officials came over to the sideline and told the announcers and the audience what transpired. It was about time that the NBA did what the other sports do. The league did it in the 'Bubble' because of social separation and an inability for the announcers to communicate directly with the refs. It worked well. Let's hope it'll stick around in perpetuity!