Halby's Morsels: NFL network voices in post-season; MLB talent and Cheers; Great Calls; Awful locations
This is the all-time leader board covering the highest number of playoff games called by individual announcers on network television. This is courtesy of our friends at Un/Necessary Sports Research which keeps tabs of sports broadcast data.
Through the years, the NFL has added playoff games which it will again do this coming season. So those announcers active today have a better chance of surpassing leader Pat Summerall. On the play-by-play side, Joe Buck is 51 and Jim Nantz is 61 and both have years left in their careers. Al Michaels is 75 and still sharp but his future past the 2021-22 season is unclear.
Based on the numbers I've been able to count, Michaels, on the play-by-play front alone, will tie Summerall in 2022 when he does his 11th Super Bowl. Before he transitioned to play-by-play, Summerall also did four on TV as an analyst.
I was surprised to see that Pam Oliver and Chris Myers are one and two respectively in the sideline category. Troy Aikman at 53 can knock off John Madden if he stays at it.
**
In The Last Dance, we witnessed the deep-seated animosity between Michael Jordan and Isiah Thomas. The hostility still hasn't thawed. Yet, on Sunday, Bob Costas told ESPN's Scott Van Pelt after the docuseries ended that Isiah was full of praise for Michael in the 1998 title series on NBC. Costas and Thomas were the lead NBA voices that playoff year.
They've been talking about the large audiences that the ESPN Jordan series attracted over its five Sunday nights on ESPN. It averaged about 5.6 million viewers per episode which is impressive.
But look here. When LeBron James conducted that regrettable stunt, The Decision, in 2010, the program averaged 9.9 million viewers. I guess The Last Dance was scripted drama and The Decision was truer drama because the basketball world waited for James' announcement as to where he'd take his basketball wares. Yes, James lost the survey this past Sunday night. It showed that by a whopping majority of those polled, fans feel that Jordan is the better player of the two. But Michael was rocked in the ratings by James, at least in that one-time only program ten years ago.
Talking of The Last Dance, Scottie Pippen has the voice of God. Doesn't he? My goodness. He should be reading commercials. Scottie's timbre reminds me of the sepulchral voiced James Earl Jones.
**
In a book he penned twelve years ago, Always by My Side, (dedicated to his dad), Jim Nantz says that when he launched his broadcast career, he gave himself ten years to make it to the network level. If he didn't, he planned to join his father's business in Houston, which sold office furniture. The rest is history.
**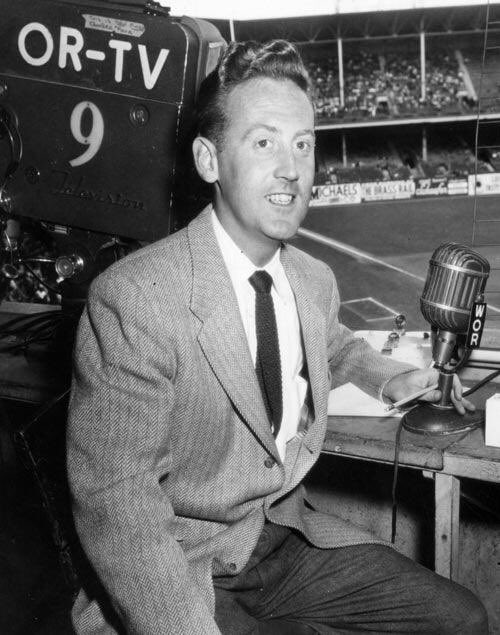 Journeyman and baseball field manager Bob Kennedy along with Sandy Koufax and Vin Scully have something interesting in common that I came to learn while looking up something else. Kennedy was the last Dodger to bat in a Brooklyn uniform on September 29th when the Bums lost in Philadelphia 2-1 in the final game of the 1957 season. The last pitcher to throw in a Brooklyn uniform was Koufax. Scully called the final outs on radio. Based on what I can find, the game was not on television. It also happened to be Kennedy's last at bat in the big leagues. He then retired but remained in baseball the rest of his working life.
On September 9, 1965, Kennedy, Koufax and Scully were all at Dodger Stadium in Los Angeles. As we all know, Scully's call of Koufax' perfect game that night was impeccable and spine tingling. Guess who was managing the Cubs that night? Bob Kennedy. Yes, he was in the Cubs dugout when Koufax was on the mound and Scully was in the booth. We've heard it so many times: "Two and two to Harvey Kuenn…"
One footnote: The Cubs were pretty awful in the early 60s. Ownership was frustrated that it changed the title of Manager to Head Coach. So Kennedy was technically the Cubs' Head Coach. The following season Leo Durocher became the field boss and the title reverted to manager.
**
Nicholls State play-by-play broadcaster Jack Benjamin is up to something interesting.
To help fill the void that many sportscasters and fans are feeling, he developed brackets to determine the Greatest Radio and TV Play-by-Play Calls of the Last 50 Years.
The effort began with 460 calls made by more than 200 broadcasters. The calls were used to select separate radio and TV brackets consisting of 68 each. They're now up to the round of 32. Over 15,000 votes have been received to date. It's being promoted on social media.
If you want to retweet Jack's effort to promote the contest, his Twitter handle is @JackBenjaminPxP 
**
Ken Levine, the multi-talented former baseball announcer (San Diego, Seattle and Baltimore) assembled a group of baseball announcers that included Steve Physioc, Royals; Suzyn Waldman, Yankees; Dave Flemming, Giants; Chip Caray, Braves and Jason Benetti, White Sox. They read a script for a 1988 Cheers episode labeled The Big Kiss-Off. Levine and his writing partner, David Isaacs penned the script.
**
Nice to see. Rockies' voice Jerry Schemmel, let go prior to the season by the team's flagship radio station, KOA, is back on-air with Denver's 104.3 FM, The Fan. The likable Schemmel has experienced the best and the worst. In 1989, he was one of the survivors of a United Airlines flight that crash landed in Sioux Falls, Iowa. Of 296 aboard, only 185 survived.
Jerry Schemmel: Rockies' Radio Voice and Survivor of Deadly United Airlines Crash Tests Life's Limits
**
The pro leagues and the colleges are scrambling to figure out how to either start or resume their seasons. New NBA voices were stopped cold in their tracks. On the television side, Justin Kutcher is in his first year with the Wizards. You might remember Justin from Fox Sports. On radio, Tim Alcorn of Cleveland, John Focke of the Hornets and Todd Graffagnini are a trio of newbies too. I heard Alcorn and Focke. Both sounded superb. I didn't have an opportunity to listen to Graffagnini.
**
Oh those poor NFL radio fellows! I had a chance to talk with a few of them like Merrill Reese (Philadelphia), Wes Durham (Atlanta) and Larry Michaels (Washington). Here's an idea of the challenges these guys face. In most stadiums, their vantage points stink. Look where they're assigned in Minnesota. How can these voices possibly see anything on the other side of the field? College at Auburn isn't much better either. There's social distancing and there's field distancing.