Halby's Morsels: Pat Riley: A perfect life; Bill Schonely: Gave Portland an insignia; Brown out with Knicks
Pat Riley
Pat Riley tells his story. Asked who's his best player ever, he says it's LeBron James. Riles coached the most prolific scorer in history too, Kareem Abdul Jabbar.
Nothing stays the same forever. The Arison family could grow apart too, eviscerating Pat's power beyond his tolerance of control. In time, Riley might not retain the clout he once did. What would Micky's inner-circle look like? Nick, son of owner Micky, is getting deeper into the woods. Riley is always engaged in thought, each one, deep in concentration. Pat's clever and his mind's still sharp. He sat down with Sports Illustrated where he anointed LeBron James as the greatest ever. 
Before coaching, Riles did color on Chick Hearn's Lakers' simulcasts, which included both radio and TV on TV. If Pat talked too much, which dare he do, Hearn would have found a way to unload him. NBC on NBA was a temporary home for Riley while not-coaching between the Lakers and Knicks.
Pat's creative too. After winning back-to-back championships, he applied for a patent for a "three-peat." He did real well with it, financially. "pushing 300-600k in Pat's bank account the first year. Pat's a shrewd man, particularly for marketing. 
Not that he needed the dough, but Pat's bank account was fairly sufficient and filling nicely. How about $120M in the last figure I found this morning?
You have to be on your toes when meeting with Riley.
***
Bill Schonely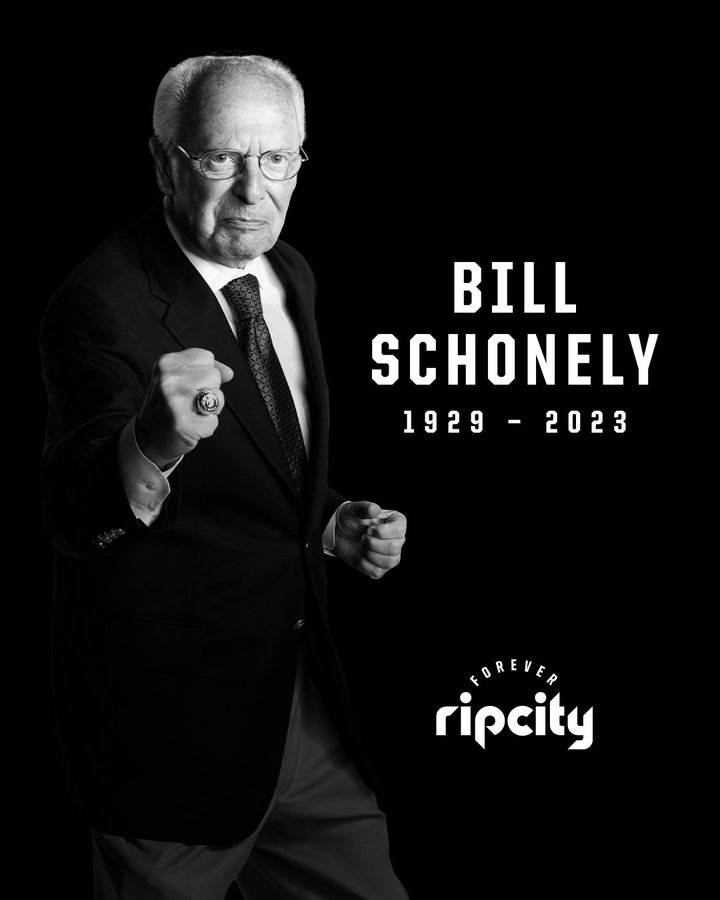 Bill Schonely was a likable man who passed last week, on January 21st. He was well liked in Portland, Oregon where for some three decades, he did either Blazers hoops on TV or mostly though on radio. He gave the club the nickname that stuck, Rip City. Hidden quietly in the Pacific Northwest, Bill's popularity mushroomed quickly.
In those days, when clubs situated west, played on the east coast, fans listened to them lots on the way home. There weren't many on TV either so the time was ideal. Schonely would be Blazers fans' eyes and ears on the way home. He had  called the NBA on radio but he learned quickly. Bill started in 1970 and ended in 1998.
It wasn't long. In 1977, Jack Ramsay was brought in from Buffalo to coach the Blazers. The two became friends. That first season, Portland won the title led by Bill Walden. A year or so later, the team lost three in a row. Schonely had built some overconfidence. Ramsay was bristling too. But after the losses and on his way to the dressing room, the coach overheard Schonely say to his audience, "This is the worst loss in Blazer history!" Ramsay just stopped and stared down Bill.
When Ramsay died, Schonely flew to the funeral.
Earlier, in 1971, the NBA journeyman, Jim Barnett then with Portland, hit a long shot before it was sanctioned as a distance for a valid three-pointer. Still, Schonely busted into excitement. Extemporizing in joy, "Rip City," he hollered. It stuck to his ribs and those of the fans.
Schonely did big-league baseball for only one year, up the road in Seattle. He was number #2 there, behind lead voice, Jimmy Dudley. A year later, the Pilots as they were known, couldn't sustain the financials and  moved to Milwaukee where it's been since. Dudley won the Ford Frick Award later. The following year Schonely took the Blazers pioneering gig.
He grew up in Philly area listening to Mel Allen, Red Barber, Vin Scully and Bill Stern.
***
Brendan Brown
Last week wasn't a good one for Brendan Brown. The son of the Hall of Famer and NBA head coach, Hubie Brown, was let go by his employer, Madison Square Garden.
The Garden bosses unequivocally dismissed him, due to verbal harassments. It gave no details of the charges. Previously, Brendan was an assistant coach and did related work elsewhere. Father and son worked together when pop was coaching in Memphis.
The younger Brown went on air for Madison Square Garden in 2008 in various roles, taking over for color commentator, John Andariese in 2012. John passed at 78 in 2017.
Brendan struck me as a quiet fellow, his dad, Hubie, as firm, successful and fearless.
The Garden apparently didn't comment to anyone about the details of the incident. Neither were there comments of what caused it. Hubie Brown coached the Knicks in the 1980s. He still does games for ESPN at age 89. The man is as sharp as a tack.
Son Brendan was interviewed in his high-school newspaper shared this: "I never forgot being an assistant for Delbarton (name of HS). Because I have this skill for the charting is why I became successful in the NBA. To have harmonious spirit to strive for excellence is what made me who I am today."
Hope things work out for him soon. Early on John Wallace, 48, will succeed him on-air. with Ed Cohen.