Halby's Morsels: The A's, Charlie Finley and the team's woman voice in 1964: MLB changes; Notes
When I caught up with 91 year young and retired Oakland A's voice Monte Moore for a coming piece, we talked about the many characters with whom he worked from Harry Caray to Jimmy Piersall. 
One entertaining story of the many he shared occurred in September, 1964 when the A's were still in Kansas City. The A's owner was the mercurial Charlie Finley who was known for hiring and firing announcers as frequently as politicians lie.
Moore was sitting in his hotel room on the road when he picked up the phone. It was the unpredictable Finley. "Monte," Finley said, "A new broadcaster will join you and George (Bryson)," Charlie said. "I was sort of stunned and asked Charlie who and when. He responded, 'Tonight and she's waiting to meet you in the hotel lobby. Her name is Betty Caywood.'"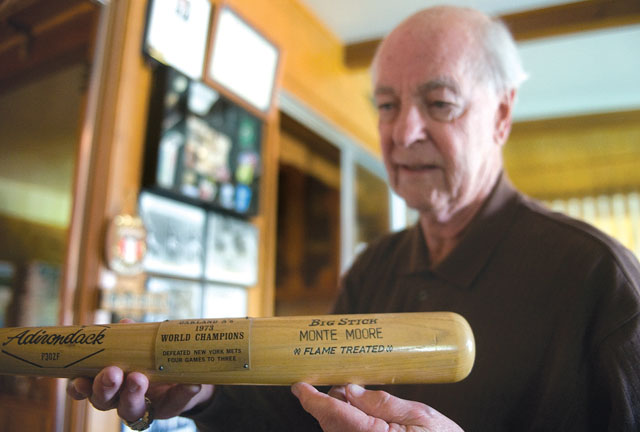 Remember, this is 1964, 57 years ago, Mel Allen and Red Barber were still broadcasting games. A woman? Great headline then! "When we arrived at the ballpark, we went up to the press room and there was a stark sign that said 'No women in the press room.'" That was Betty's introduction to baseball broadcasting and perhaps baseball as a game. (The legendary A's voice, Monte Moore.)
Caywood had been a weather anchor on a Chicago television station. "I had a sense that she didn't know much about baseball," Moore remembers. Late in September, we were in Minneapolis and the game went into extra innings. The Athletics picked up a run in the visiting half of the 15th inning and she turned to me and said, 'It's time to leave. We won.' I paused for a moment and told her the Twins still had a half inning to tie or win it."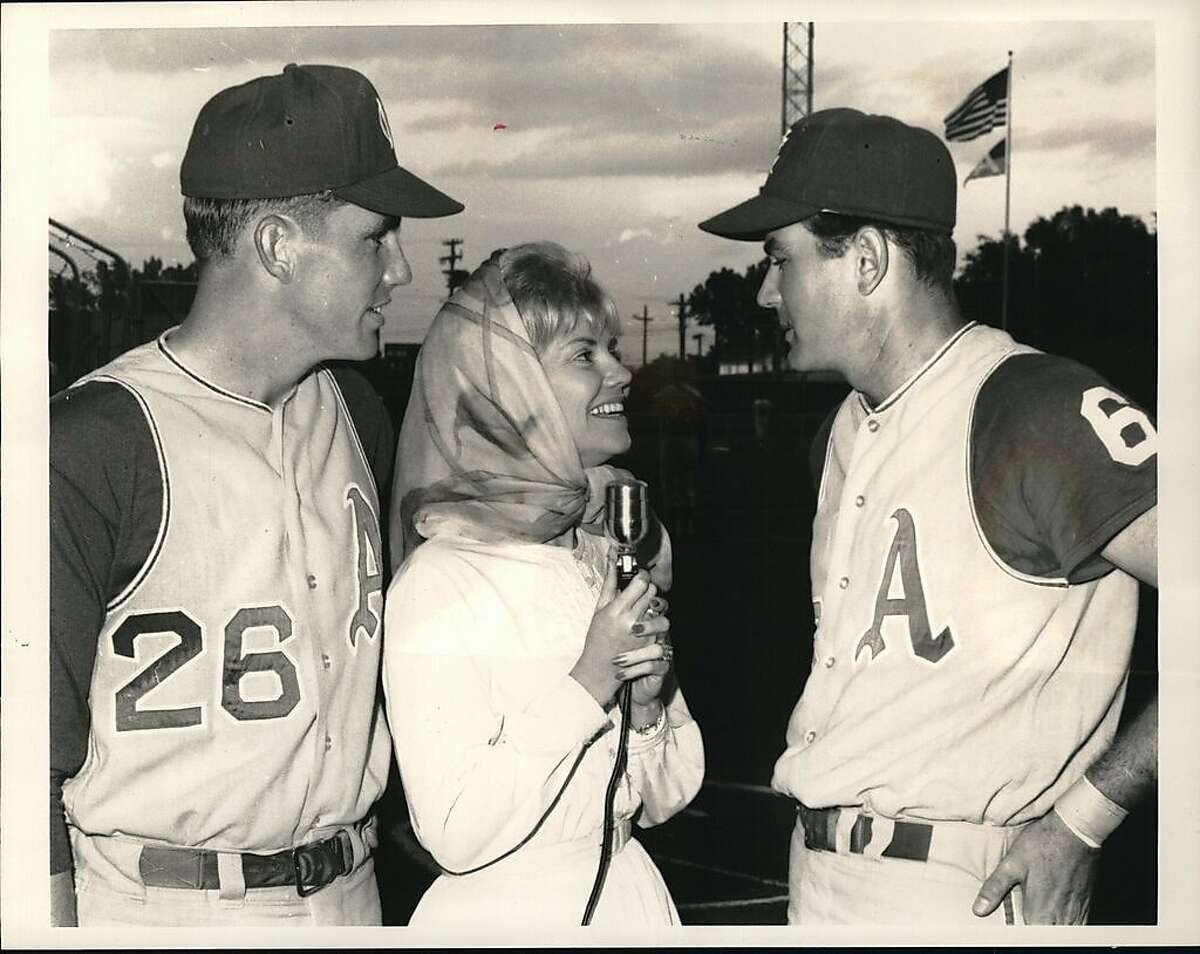 Betty did color commentary while Moore and Bryson covered the play by play. Author Bill James wrote of Caywood in his 1986 Baseball Abstract, "Don't get me wrong, I'm all for having a woman announcer but it would help if she was a baseball fan." No shocker, Betty wasn't renewed for the 1965 season. She passed in September of last year at 88. (Caywood – left)
Bryson, Moore's sidekick, died at 51 of heart failure, just after the '64 season. As he labored on his death bed George told Moore sardonically, "If it wouldn't have been for that woman, maybe I wouldn't have gotten sick." Baseball announcers are known for fashioning phrases. I found a Bryson website that referenced an expression he would use. If a ground ball hugged the ground and didn't bounce, George called it, 'a daisy cutter."
Congrats to WNBC TV's Bruce Beck who won the National Sports Anchor of the Year Award, presented by Broadcasting & Cable Magazine. Beck's become a New York institution. He's now up there with folks like Marv Albert, Warner Wolf, Sal Marchiano and the man he followed, Len Berman, all of whom anchored sports for years on New York television flagship stations of ABC, CBS and NBC.
Bruce recently did a nice interview with legendary St. John's coach Lou Carnesecca, who turns 97 in January. Lou never liked to fly. I remember the team's NCAA Tournament win over North Carolina State in 1985, the one that  put the Johnnies in the Final Four for the first time in 33 seasons. After the restrained celebration at McNichols Arena, the team headed to Denver's Stapleton Airport and Looie took his seat in the coach cabin for the flight back to New York. Once the flight was fully boarded, the pilot left the cockpit and strolled to the window seat in the back of the aircraft, congratulated Carnesecca and said something like, "We'll have you in New York in no time, coach, three hours and eight minutes!" Looie snapped, "Captain, take you time, don't speed. Let's get home safely."
Columnist contributor Jake Baskin tells me that Jordan Kent and Ernie Kent collaborated on a telecast of a Texas Southern-Oregon basketball game earlier this month. Last year Jordan presided over the Portland Trail Blazers telecasts but wasn't renewed. He is now calling college games. Ernie, 66, is Jordan's dad who's coached in the PAC-12 at Oregon and Washington State.
Some baseball shorties:
Mike Shannon finished his fifty year career as a Cardinals announcer. John Rooney and Ricky Horton will be back together on KMOX Radio next season. The former Cards pitcher did fill-in work in recent years. Now he has a permanent seat in the booth.
Todd Hollandsworth is out as the TV analyst on Miami Marlins telecasts. On radio, Hall of Famer Dave Van Horne seems to be hanging on by his fingertips. He and play-by-play partner, Glenn Geffner split the broadcasts. When one works, the other doesn't. Each one does the full game when it's his turn. There are a mix of Marlins commentators who are analysts, one game at a time. You'll need a scorecard to identify the announcers.
Van Horne is a longtime play-by-player. How about 52 years, starting in Montreal in 1969? He's a Ford Frick winner with arguably -still- the best voice in baseball. He might have lost a bit of his fastball on the call but his voice resonates mellifluously. Dave will be 83 next summer. My question is why are they giving the weak  Geffner more games than Van Horne.
Just as I began to warm up to Matt Vasgersian, ESPN ran him out of the booth. The Bristolites' voices are like coaches in the NHL. It's a foregone conclusion that they'll be fired in short order. The unwritten rule: Bet the over on the over and under for an imminent firing.
Jeff Levering who worked with Bob Uecker on Milwaukee Brewers radio will be doing more television in 2022 and the club is looking for a new partner for Uecker who does only home games. Bob turns 88 in January. He'll be the oldest English language baseball announcer. Brian Anderson is reducing his Brewers' TV schedule to some fifty games because of his national commitments to Turner and CBS on both baseball and basketball. Until now, Brian did about 90 games a year. Matt Lepay, best known for his commanding voice, covering University Wisconsin football and basketball leaves the Brewers after eight seasons. He'd been doing an abbreviated TV schedule.
Ann Liguori has been around the sports scene for decades. She always wears a sincere smile. Ann has been a fixture on all-sports WFAN in New York, hosting golf and tennis programs. Liguori is from Cincinnati and has covered the Masters and more. She's also been to six Olympics as a reporter for the ABC Radio Network.
Johnny Holliday and Dick Stockton
The University of Maryland longtime voice Johnny Holliday, 84, told me that Dick Stockton was an intern of his at WINS Radio in 1965. Holliday played the last record heard on WINS before it turned all-news. I asked Johnny if he's planning to retire soon and he said he isn't. Holliday is a radio institution along the Beltway. Stockton went from interning under Holliday to producing a topnotch network career that stretched half a century.
From column contributor Don Haley re: NFL TV and the Sunday Ticket
These are the days the pickin's become slim on NFL Sundays for those with the Season Ticket. Holidays devour the schedule, as well as the usual night games on Monday, Thursday and Sunday. It's difficult to calculate how the Sunday Ticket keeps getting more expensive while its actual worth continues to drop.
As Pete Rozelle would today exclaim: "On any given — Thursday? Are you kidding?"
NFL, and whichever partner it finally selects for a future comprehensive package, needs to figure out how to better blend in the locally available telecasts to enhance the experience into a true smorgasbord every Sunday. I find it maddening having to switch from my streaming NFLST service back to terrestrial TV to catch a glimpse of my home team's game. Put 'em all on the same plate and, then, NFL and the networks — yes, YOU! — go figure out how to allocate the local ratings.