Halby's Morsels: The Mannings; What's next for MNF and Thursday nights?; Garagiola; A-Rod and Kay
No matter what comes of it, the Manning brothers will always be remembered for the pioneering work they've done. The duo hosted an assortment of guests on ESPN2 while the mainstream play-by-play of MNF was carried on motherload ESPN. The idea is still novel and fresh and the football conversation is a mix of both pertinent and impertinent. Lots to still be worked out as platforms extend. One way or the other, Peyton and Eli remind me of the nonchalant pulse of the Smothers Brothers.
There's actually a business down here in Florida called Manning Brothers Pest Control. True. The name though is better preserved for the chitchat siblings who neatly feed well off one another. on most Monday nights of the NFL season. But as for TV ratings I've had a chance to see, only 12% of MNF viewers seek out the Mannings instead of sticking with the Levy, Griese, Riddick mainstream lane. Hardly convincing. It tells me that fans don't really care very much about voices. Just give me the game.
The Mannings are a jovial couple who veer away from  convention. It takes time to adjust to them and how to appreciate them. In time, they'll grow on you. All while continuing to focus on the game, each play after play from scrimmage. It's  easy to feel half pregnant. Either you're into the game or you're not.
The attention that the Mannings get might suggest that standard voices are  ho-hum. Next step. How about this? At halftime on the regular ESPN gamecasts, instead of using the hackneyed Chris Berman, give the Mannings visibility  to the nearly 15 million viewers who watch Levy and the bunch. A snippet of the Mannings might lure a larger audience. Let them build a bond with a broader audience. 
We know two things about Thursday Night football. One is that Al Michaels wants to continue to work and that he's still sharp. Amazon can be an option. As for MNF, I've heard nothing recently about Al and Steve Levy is becoming an acquired teste. Al also knows the challenges of working with two analysts but he might not have many options. Few are asking about the forgotten incumbents, Hannah Storm and Andrea Kremer? In other words, more questions than answers.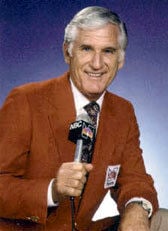 Fifty years ago, 1972, the NFL on radio took an audience hit. It was in essence the last season of TV blackouts when home games were available only on radio. In New York, it was Marty Glickman's last year with the Giants. He moved to the Jets the following season, but home games were now available on TV. Marty replaced Merle Harman (left) on the Jets. Merle had a stirring voice and was a wonderful guy. With the Giants' vacancy, Marv Albert got the gig and his stock began to soar. Four years on radio and then to NBC-TV for the NFL. The careers of Marv and NBC producer Michael Weisman grew in lockstep. The 70s and 80s were good to both men.
Dan Hoard couldn't have wished it any better. He's the Voice of the University Cincinnati football and basketball and is also behind the mic for the Bengals. His Bearcats advanced to college football's Final Four and the Bengals will oppose the Chiefs this Sundays. The winner heads to the Super Bowl.
Joe Garagiola became a popular baseball broadcaster in St. Louis after his Major League career as a catcher. Joe's  wife, Audrie, became the team's Busch Stadium organist. She was as popular as her husband. According to The Sporting News, "The "ballpark switchboard received several calls complimenting the musical skill of the organist, while Joe had made a favorable impression as a broadcaster of Redbird games."
"Meanwhile, his beloved partner Harry Caray was helping make Garagiola the success he became, but they probably were too much alike to remain partners for long," Jack Buck said in his 1997 biography. "Harry resented the fact that Joe became a national celebrity and never gave Harry credit. The relationship between Harry and Joe fell apart to the point that they're still not friends today."
Had a chance to drop-in on the hockey radio broadcasts of the Seattle Kraken where Everett Fitzhugh is the announcer. He's the first Black to be hired as an NHL team play-by-player. He's smooth, has the hockey cadence down pat and it's good to hear him succeed. He came over from the Cincinnati  where he did all sorts of things for the hockey Cyclones including broadcasting their games. The season didn't get off to a great season for Everett. He missed the first few games due to Covid. He's healthy now and sounds nimble.
Seventy-five years ago, 1947, baseball ran its first World Series telecast. It was carried only in New York and many had sets. Few had televisions then. CBS, NBC and short-lived Dumont shared the games. Bob Stanton did game one and never did another again.
It took a while but New York Yankees telecaster Michael Kay finally was assigned a network play-by-play gig. He is also a knowledgeable and popular talk show host on ESPN Radio, New York. Kay will do what he enjoys most, calling baseball. He'll be partnering with Alex Rodriguez on a Manningcast type format. The Sunday night play-by-player for ESPN's main  delivery will be Karl Ravetch. He's been with ESPN for many years. Yet, it's been only in recent years, that he's gotten quite a few play-by-play assignments, particularly baseball and basketball. Karl be teamed with Eduardo Perez and David Cone.
Nice to see Bill Morningstar in the president's seat of MLB Network. Not many come out of ad sales, Bill does. He's been with MLB Network since its birth in 2009. It was also at the height of the Great Recession then. Bill and his sales team didn't allow the financial environment to weaken their resolve. He generated revenue glowingly. Mark Lazarus, Chairman, NBCUniversal Media, made his mark in sales at Turner before he ran Turner Sports. Later, he succeeded Dick Ebersol at NBC.