Hall of Famer Dave Van Horne pushed out by Marlins; Original Expos' voice gone after 53 years
At 82, Dave Van Horne still has baseball's strongest cords. If he's lost an octave, I can't find it. Did he lose some of his fastball in recent years? Who doesn't?
Dave's still a man of noted ability, an octogenarian whose dulcet tone belies his age. He still nimbly voices a microphone effortlessly. Only one man has voiced more games than he. It's as though God put Vin Scully on earth to set records and enlighten millions for 67 seasons. No one will outdistance the unsurpassable Scully. For that matter, a couple of living Frick winners have suggested that baseball's highest honor be named for Vin himself. Frick did it all. He was a writer, broadcaster, administrator and baseball commissioner.
As for Van Horne, he called it quits last week, in essence forced to do so by the Marlins. Only the Royals' Denny Matthews equals Van Horne's tenure, 53 years with the Kansas City Royals, starting in the heartland at their beginnings in 1969. The treasured Bob Uecker began a year later in 1970 with the Brewers. He's still there, still funny and still fundamentally sound.
Dave Van Horne fashioned his broadcasts down to a daily routine. It evolved naturally, through decades of experience. When it comes to measuring timbre alone, he's still there with Jon Miller and a couple others. When he was with Montreal it was almost as though he didn't need a microphone. Sepulchral and sonorous, his voice boomed with enthusiasm. He did the bulk of his career in Canada where he was well known from coast to coast, for his rhythmic delivery and overpowering fullness of his intonation. References to the old Expos, trigger Van Horne's name, nothing less expected for a man who was the club's key announcer for 32 seasons in Montreal.
DVH arrived with a flourish in 1969 when the National League expanded to Mount Royal and San Diego and he left in 2000 with a whimper when Montreal essentially abandoned the ballclub financially. In fact, his last broadcast was available only on computers. No mobile devices yet or a merged SiriusXM.
Dave, a Pennsylvanian by birth, built a constituency of fans, calling Expos games with an assortment of ex-players, Jackie Robinson whose playing career took him through Montreal for the minor league Royals. Other ex-Dodgers were Duke Snider and Don Drysdale.
It is said that fewer than fifty percent of Quebec's baseball fans listened to the Expos on English media. The rest tuned in on French outlets. With support for the club fading, the team couldn't get an English radio or television deal in their latter years. Dave actually was forced to do games on a remote audio stream out of necessity. When the Expos didn't take him on its first road trip, he felt like his family left him behind.
Van Horne was hired by the Marlins in 2001 at age 61 but  never gained the popularity that he built in Canada. North of the boarder, Dave won the Jack Graney Award which is bestowed upon a member of the Canadian media for contributions to the game of baseball in Canada. Other Graney winners include Dan Shulman, Tom Cheek and Jerry Howarth. One that sticks out is Ernie Harwell, the most popular baseball announcer in Detroit, a city that sits on the Canadian border.
Graney did baseball games for decades for the Indians after a stellar MLB playing career. In fact, it was announced just recently that Graney earned the latest Frick Award for his pioneering radio broadcasts.
In Miami, the Marlins have never caught on consistently since opening for business in 1993. Dave was respected but was hardly a big-timer in South Florida. The early Miami voices who crossed radio and television, Joe Angel and Dave O'Brien, were a well followed duo. The late Neil Rodgers, arguably the market's most successful general talk show host ever, took a couple shots at Van Horne on-air. Neil said, "He has a great voice, but he's boring."
Sadly, Van Horne's career died by a thousand cuts and was handled by the club insensitively. Dave shared the radio booth with Boog Sciambi and Roxy Bernstein. Both moved on to greener pastures. Then Glen Geffner came along. He worked for the Padres and Red Sox but was was dumped for a lack of basics. A hard worker and well prepared, Geffner's voice whispers – and at times – fails to keep up with the ball. He doesn't come across as a Big-Leaguer. He spews more numbers and stats than anyone can follow on radio.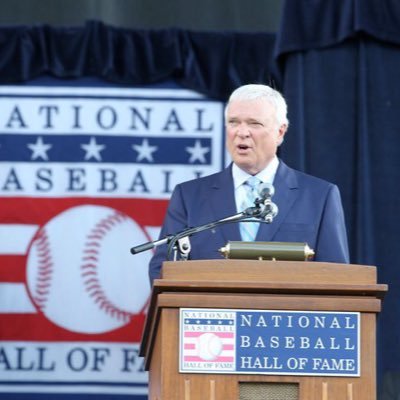 Like pitch counts, we've hit an era of broadcast counts. When Geffner was assigned more games than Van Horne, Dave saw the writing on the wall. When he was offered only 20 games or so, Dave said to himself, I've got better things to do with the rest of my life. South Florida's Barry Jackson of the Miami Herald broke the Van Horne story late this week. (Van Horne accepting his Ford Frick Award in Cooperstown in  2011)
When I saw this on Fishstripes which is published by SB Nation, I wanted to have my eyes checked. "Geffner will thrive as Van Horne's successor. He is a diligent researcher and effervescent personality who is intimately familiar with Marlins baseball. He was also quick to develop a strong rapport with his new partners in the booth in 2021."
Van Horne's career highlight was calling the 2003 Marlins World Series championship. Another memorable game and broadcast: On July 28, 1991, Dennis Martinez threw a perfect game. In one booth, it was Vin Scully and the other, Van Horne.