Hank Goldberg, a Damon Runyon original, passes at 82; an ESPN oddsmaker and Miami radio talkie
 HANK GOLDBERG, ICON IN MIAMI, ON-AIR FOR ALMOST 50 YEARS
Hank Goldberg, a Damon Runyon original, died on his birthday, July 4th, after a long battle with kidney disease. He was 82.
From the 70s through the 90s Goldberg owned the radio and TV sports world in Miami, as both a sports talk, no-nonsense star on WIOD and also as the sports director of WTVJ-TV where he met his running mate, producer Mike Pearl. In the 80s Goldberg also became the radio analyst on Dolphin games and in 1993 Steve Bornstein, president of ESPN, hired him as their horseracing and football odds expert for the launch of ESPN2.
Having a good relationship with Bornstein, I sent him a tape of Goldberg trying to encourage his hiring. "How can I put a mug like his on TV?" Bornstein asked. "Because betting football isn't a beauty contest," I said. Persuaded, he hired Hank, whose mug lasted 21 years, on the network doing appearances like his famous Sunday SportsCenter segment and always introduced as "Hammerin' Hank."
After graduating from NYU Goldberg became an advertising executive, but soon began ghosting the column for Jimmy The Greek Snyder that ran in close to 300 newspapers each week. From there he slid effortlessly into sports talk radio.
Along the way he became friends with so many big sports stars including Don Shula and Joe DiMaggio. In fact in 1995 he was the one who broke the news of Shula's retirement. "Well," Shula said to Hank, "you finally got rid of me," at which Goldberg responded, "Coach, that's one story I never wanted to report."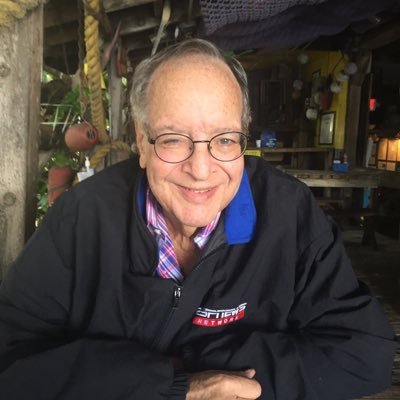 In 1974 when Beano Cook was the public relations man for the Dolphins he would hold a small luncheon football Fridays attended by Goldberg, Mike Pearl and myself.
Beano knew college football better than just about anyone and we all wanted his four weekly selections. Goldberg and Pearl were partners. They would bet Beano's picks on Saturday and Hank's picks on Sunday.
One Monday I ran into Pearl looking glum. I asked him why, especially after Beano went 4-0 that weekend. Looking and sounding like Eeyore, the donkey, Pearl said, "What Beano giveth on Saturday, Goldberg taketh on Sunday."
But Hank certainly had his days in the sun, too. For ESPN he had far more winning seasons than not, and he even won a Las Vegas Review Journal contest against bookmakers and professional handicappers by picking over 63% right for an entire season.
As the guy with the highest TV profile for bettors, Caesars Palace was so excited that Hank chose to open his Super Bowl week show there one year, that they had centurion guards carry him in as if he were Caesar himself, while Cleopatra's maidens fanned him and dangled grapes over his mouth.
In Miami, Hank was always seen with beautiful women, but he never married. He even roomed with a Playboy bunny once, but they were just friends. When I asked him about it, he said, "You'd think for once I could get lucky."
I spoke to Hank several times while I was researching "You Are Looking Live!" and he was an enormous help with stories about The Greek. I also spoke to him several times this year while he was rehabbing from his kidney issues. He was looking forward to the Triple Crown and the coming football season. His next big score was always right around the corner.
They don't make them like Hank Goldberg anymore.