Have a strong appetite for the NFL? It's a nice menu, starting with Buffalo at Detroit at 12:30p on Thanksgiving
I listened to the Westwood One radio broadcast last night. Announcers Ryan Radtke, the play-by-player, and his analyst Mike Golic did a nice job overall. Both men cut their teeth on radio. Radtke needs to pause more frequently, holler a bit less and slow down a bit more.
This past Monday night Westwood didn't run the American national anthem (unless I missed, it but I don't think I did). Still, it came back in time to air for the Mexican version. During the period that it was away the network ran spots. It's these inexplicable priorities during the pre-game commentary was a flaw of the production team. Play the foreign anthem and not ours. Why?
Radtke delivers a rich word-picture but his tenor is a bit too exuberant and exhausting for my taste. His play-by-play, a bit quick, yet he'll never put you to sleep.
*****
This long holiday weekend, Fox gets the doubleheader and CBS the single game. Thursday, each gets an afternoon matchup.
Thanksgiving Day and evening (distribution at 100 %  – ESPN 75 million subscription) 
Thanksgiving Early: Buffalo @ Detroit (CBS; Jim Nantz, Tony Romo) 12:30
Thanksgiving Late: NY Giants @ Dallas (FOX; Kevin Burkhardt, Greg Olsen) 4:30
Thanksgiving Night: New England @ Minnesota (NBC; Mike Tirico, Jason Garrett, Tony Dungy, Melissa Stark) 8:20
Sunday Night: Green Bay @ Philadelphia (NBC) 8:20; Mike Tirico, Cris Collinsworth, Tony Dungy, Melissa Stark) 8:20 
Monday Night: Pittsburgh @ Indianapolis (ESPN) 8:15; Joe Buck, Troy Aikman, Suzy Kolber
CBS SINGLE
Games run at 1PM except as noted 
█
Cincinnati @ Tennessee –
Ian Eagle, Charles Davis

(52% – 165 stations)
█ 
Baltimore @ Jacksonville – Andrew Catalon, James Lofton
(6% – 11 stations)
█ 
Houston @ Miami – Spero Dedes, Jay Feely 
(8% – 16 stations)
█ 
LA Chargers @ Arizona (LATE at 4:15 PM) – Kevin Harlan, Trent Green 
(18% – 17 stations)
█
Las Vegas @ Seattle (LATE at 4:05 PM) – Greg Gumbel, Adam Archuleta 
(16% – 31 stations)
---
FOX EARLY – 1PM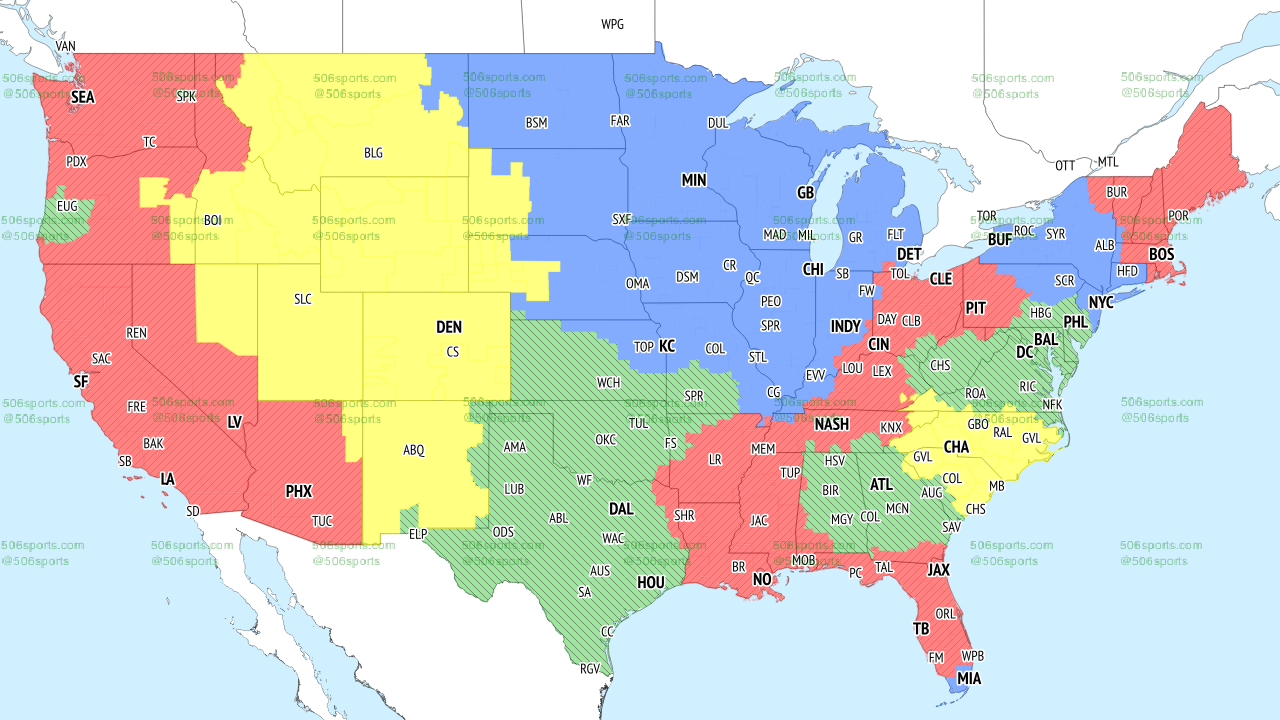 █
Tampa Bay @ Cleveland –
Kenny Albert, Jonathan Vilma

(38% – 75 stations)
█ 
Chicago @ NY Jets – Joe Davis, Daryl Johnston 
(28% – 57 stations)
█
Atlanta @ Washington –
Adam Amin, Mark Schlereth

(25% – 53 stations)
█

Denver

@ Carolina –
Chris Myers, Robert Smith 

(9% – 28 stations)
---
FOX LATE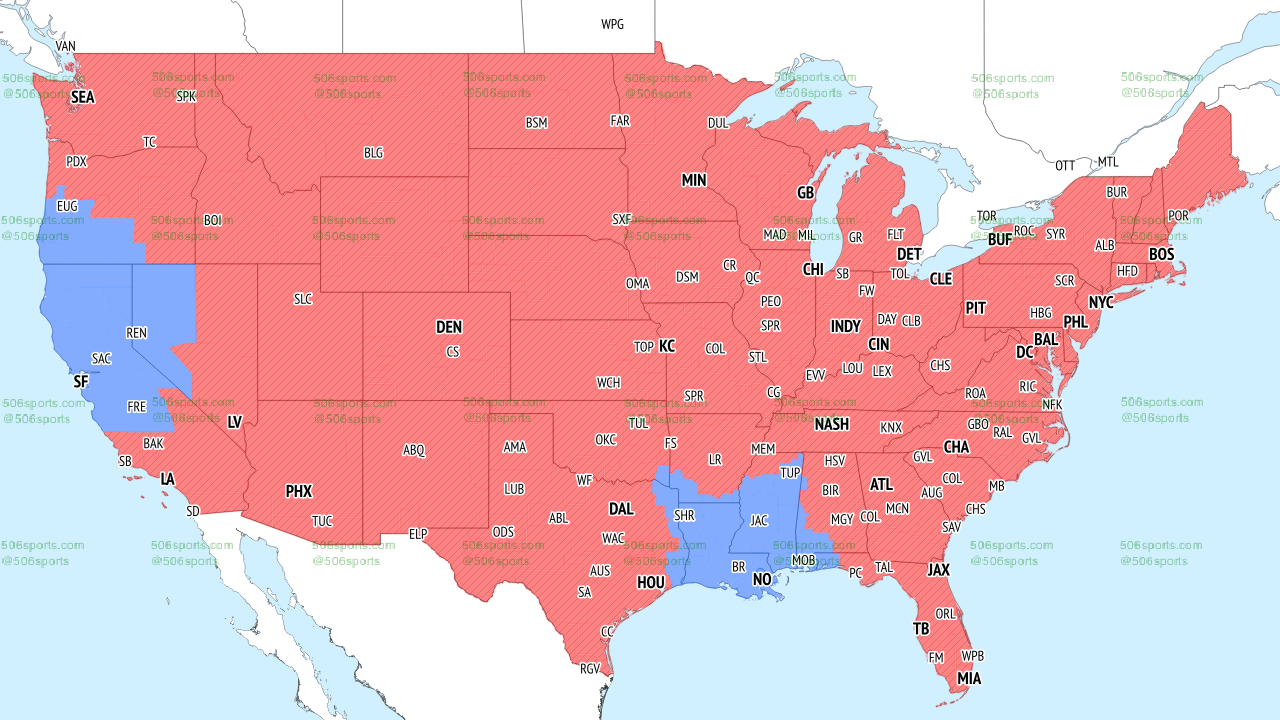 █ LA Rams @ Kansas City – Kevin Burkhardt, Greg Olsen (4:25 PM) (92% – 187 stations)
█ New Orleans @ San Francisco – Kevin Kugler, Mark Sanchez (4:25 PM) (8% – 52 stations)