HOFer Jon Miller's résumé: 21 ESPN seasons and still vibrantly calling Giants games after 25 elegant years
Today continues our look at radio/TV Voices of baseball's 10 post-season teams by Curt Smith, former Speechwriter for President George H.W. Bush and author of 18 books include the 2021 Memories from the Microphone: A Century of Baseball Broadcasting.
The series features a Voice from each club who represents that franchise: current, retired, or deceased. Today we profile Jon Miller, long-time radio/TV Voice of the San Francisco Giants, who lost to the Los Angeles Dodgers in the National League Division Series.
In 1954, New York stunned Cleveland in the World Series opener, 5-2, at the Polo Grounds on Dusty Rhodes' pinch-hit popgun home runs and Willie Mays' wonderwork of a catch off slugger Vic Wertz. The Giants swept the next three sets, few imagining them or the Dodgers leaving. Brooklyn was the only team to have drawn a million people yearly since 1945. The 'Jints needed only a new park to stay. They never got it.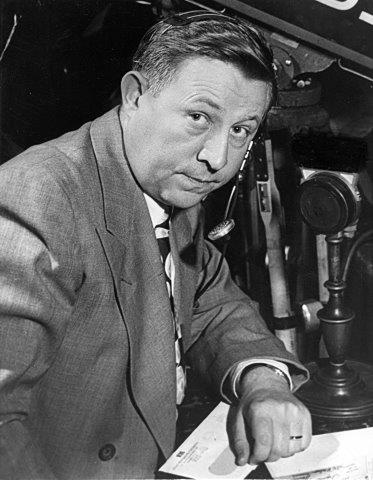 Three years later, owner Horace Stoneham said, "We're sorry to disappoint the kids of New York, but we didn't see many of their parents out there at the Polo Grounds in recent years." The New York World-Telegram & Sun screamed: "It's Official: Giants to Frisco," announcer Russ Hodges (left) escorting the team. In October, the Dodgers joined 1958's impending "Westward Ho!" to, in their case, Los Angeles.
 That April 15, baseball's transplants opened at the Giants' temporary 22,900-seat home, Hodges calling it "the Polo Grounds, I mean Seals Stadium." Russ began each game, "How ya' doing, everybody?" Once, sidekick Lon Simmons replied, "Better than your clothes," joshing that his tailor had asked Hodges to take the labels out. In the small town of Hayward east of San Francisco, a young boy had two daily rituals. One was inhaling Russ; the other, polishing to his mother's distraction the art of rhetoric.
By 1962, Jon Miller, 10, was hooked on the Broadway musical, like baseball a peculiarly American institution. "My mom kept playing Camelot," he said. "Music filled our house." To Jon, its sounds were as lyric as Hodges crying of a homer, "Tell it bye-bye baby!" Pals of his went surfing. The future Giants Voice was too busy, having fallen in love with how language could enrich the pastime.
In his bedroom, Miller played a board game Strat-O-Matic for hours, taping his simulation of ads, vendors, a public address announcer, organist ("dum-dum-dum," in key), the crowd (blowing, like the wind) and Russ or Vin Scully from Dodger Stadium. "Friends'd say, 'Let's hit the wave.' I'd say, 'I got a big series coming up.'" Mom wanted to grab Jon around the neck. Hearing him, people asked, "Who is this?" She allegedly denied even knowing him. ""It sounds, thought, like he has a little bronchial condition."
Miller saw his first bigs game in 1962 at Candlestick Park. Los Angeles outhit Frisco, 15-12, but lost, 19-8! Jon, Dad, and a transistor sat in Section 19, upper deck. "I had a radio and binoculars so I could see and hear what Russ and Lon were saying, like being backstage." Hodges would say something, then grab French fries. "Suddenly it hit me: 'Hey, this is the life for me!'" Jon said, that year became his "coming of age as a fan."
With seven games left, the Dodgers led by four. San Francisco played at day. "I'd hear Russ, then he'd re-create the Dodgers at night." At the same time, he heard Scully coursing live on LA's KFI. "Giants keep winning, Dodgers losing, I'm in a car, on a hill to help reception, switching back and forth." He quickly changed his initial view of Vin: "I'm thinking, 'Gee, this guy's not very good compared with Russ!'"
On September 30, the football 49ers played at Kezar Stadium. "The crowd's going nuts hearing baseball. The football guys wonder what's going on." The Giants won, 2-1, on No. 24's late-inning blast: "Mays hits one a long way!" bayed Hodges. "Tell it bye-bye baby! Mays put one into orbit!" Russ then re-created on the Stick's P.A. system LA's 1-0 playoff-forcing loss. In its best-of-three final, Mays flung the last out into the bleachers at Dodger Stadium: 'Jints, 6-4.
The World Series followed, Miller in a dentist's chair as Bobby Richardson snared Willie McCovey's Game Seven-ending drive. "Given the pain," Jon said, "how appropriate I almost bit my dentist's finger." Both recovered, Jon doing his first play-by-play in high school hoops. The whiz broadcast from the bleachers at Candlestick and later the Oakland Coliseum, the A's invading the Bay in 1968. Jon was living his career, at age 15.
Miller's boyhood Voice retired in late 1970, Hodges dying next year, at 60. In 1972, the College of San Mateo graduate and Santa Rosa TV sports director offered to televise gratis "odd games" of hockey's TV-challenged California Golden Seals. Since it was free, owner Charlie Finley accepted. In late 1973, Jon was hired Finley's A's,' Charlie having owned them for 13 years, hiring more broadcasters than managers.
One year later Finley fired him. By 1980, Jon trekked to Boston via Texas. Quickly its literati embraced the muse. "He'd done imitations since childhood," said partner Ken Coleman, "and I pushed him to do Scully, Chuck Thompson, Harry Caray." Chuck left O's radio in 1982. Next Opening Day, Jon, succeeding him, hosted a rally at Baltimore's Harbor, where 50,000 cheered O-R-I-O-L-E-S.
In the film Casablanca, Humphrey Bogart tells Claude Rains, "Louie, I think this is the beginning of a beautiful friendship." With Jon and the O's, it was, Miller delighting and enlarging the club's seven-state radio network. The National would soon write, "He is [now] The Franchise, with great broadcast instincts and sensibilities," his voice warming Camp David through Little Italy to Maryland's Eastern Shore.
With baseball gone from Washington since 1972, Miller helped make the Birds the capital's adopted club. On Constitution Avenue, at the White House, in bars and on the street—he was everywhere. His opening act was a doozy,  the O's taking the American League East, then the 1983 League Championship Series. "There's a high fly ball to deep right-center field! And, baby, way back! It's long gone!" said Jon in Game Three. "Kiss it good-bye! Three-nothing, Orioles! And Eddie Murray's hit is a monster shot at Comiskey Park!"
Baltimore's first post-1970 title completed a monster year. "Line drive! [Cal] Ripken catches it at shortstop! And the Orioles are champions of the world!," beating Philadelphia. The decade unfolded, Jon airing an also-ran. Futility crested in 1988, the Orioles starting a record 0-21. Next year, the worm turned for each. Baltimore almost won the AL East—and ESPN TV inked a four-year, $400 million, six-day-a-week pact: its flagship Sunday Night Baseball, voiced by Miller.
Since cable's birth, a conundrum had faced baseball: should it supplement, or supplant, network TV? In 1989, NBC TV killed Game of the Week, Commissioner Peter Ueberroth at fault. "He could'a kept us and another network," mused the Peacocks' Bob Costas, "but he cared more about cash." Paying $1.06 billion for 1990-93 exclusivity, CBS, valuing the postseason but not Game, broadcast only 16 sets over 26 weeks. No longer would Saturday hinge, as Scully said of the series he had aired, on "pull[ing] up a chair."
Game had been available everywhere. The new pee-wee slate made it far less of a TV habit for the four in 10 sans local-team and/or cable. Most "coverage went to cable," said Costas, "because CBS didn't want a Game." Weekend over, Jon, hoped, "you come back from the beach, and there it is." Sadly, the effect of ESPN's and CBS's new arrangement was to slash exposure in non-cable America. ESPN forecast a 5.0 Sunday Nielsen rating (7 million of 140 million homes). In fact, it averaged 3.0.
"It's an exciting opportunity if you consider standing on the edge of a cliff exciting," said Miller of the series, winning the 1991 play-by-play cable ACE Award. (He added 1996's.) "I am incredibly honored to win this award with this room full of talented people," he said at the Beverly Wilshire Hotel. "What am I? I go to games and my best lines are, 'low, ball one,' or probably the line I'm most proud of—'line drive, foul.'" His salary was irrelevant: "I'm an artiste, you know."
Jon's Sunday partner was the great former Cincinnati second baseman Joe Morgan (with Miller left)  He hoped to educate, knowing the risk: Strategy can put asleep.  "Chemistry takes a while," said Miller, who came from radio, Joe TV. Eventually, Jon adjusted. Joe relaxed, each side-saddle in a chair, almost facing the other. M dialed meshing: Miller's lore and Morgan's game within the game.
"Before ESPN Television, you never knew anything until the radio announcer said it," said Bob Costas. "This romantic figure sitting in a booth, very personal, [is] mostly gone except for Jon." Beyond Sunday, the dinosaur tethered the Birds and banquet circuit. In 1992, the Orioles began milking a cash cow: the revolutionary "new old" Oriole Park at Camden Yards, a revolutionary "new old" park.
Jon was happy, in his adopted burg, barbing and critiquing. What happened next astounds. In 1996, new O's owner Peter Angelos complained, "Jon's not much of an advocate. He should bleed orange-and-black once in a while." Miller's contact expiring, his agent Ron Shapiro phoned, Angelos declining to call back. Shapiro kept calling. No response. Ron set a deadline. Peter phoned the Baltimore Sun: "This is an employee, mind you, issuing an ultimatum, to the owner." Likely envious of Miller, the trial lawyer axed him. Perhaps he should have sued himself.
Washington's National Press Club: 1997. A guest asks if the Voice should be a fan or a reporter. "I think the announcer should be an advocate for the team," Jon twinkled. "I think the announcer should bleed the colors of the team. I have seen the light. Hallelujah!" The crowd roared. That year, CBS Radio lost baseball to ESPN, giving Miller the All-Star Game, LCS, and Series.  "In Bristol [Connecticut's ESPN center]," said a friend, "Jon means the game."
In 1997, he challenged the idiom of trying to go home again, named Giants radio/TV Voice. "It's all a little much. I grew up with these guys," he said. In 2000, Oracle nee Pacific Bell Park replaced the Stick, selling out virtually every game. Jon and wife Janine built a Moss Beach house, could see his boyhood home across the bay, and studied ships in McCovey's Cove. "I love boats," he said. "Once I saw FDR's [the Potomac] there. Wish I could go everywhere by ship." Instead, he flew 100,000 miles a year.
One day, he did ESPN's Toronto-Texas, Puerto Rico. The next, he emceed the Giants opener. On October 4, 2001, Barry Bonds whacked a Mark McGwire regular-season-tying 70th homer, A day later he faced the Dodgers' Chan Ho Park. "There's a high drive deep into right-center field! … Number 71! And what a shot! Over the 421-foot marker! … And Barry Bonds is now the home run king!"
The Giants were overdue for a World Series crown, barely missing in 2002. Ahead, 3 games to 2, Frisco led Anaheim, 5-0, in the seventh. Next inning, the Angels' Troy Glaus hit: "Swing and a shot! Left-center!" Jon said on ESPN. "It goes to the wall! [Chone] Figgins scores the tying run! [Garret] Anderson scores the go-ahead run! … The Angels have come all the way back from a five-run deficit, and they lead the game!"
The last game was academic: Halos, 4-1. Miller then took a cruise. "Forget spring training. I'm ready for ball by New Year's." Five years later, he called another blast, No. 756: "Bonds now has more home runs than anyone who has ever played the game!" Then, in 2014, Madison Bumgarner retired the final batter. "And the Giants have won, they have won the World Series for the third time in five years," led by "one of the greatest World Series pitchers the game has ever seen!"
By then, the ESPN that once stated that Miller "meant the game" had canned Jon and Joe Morgan in 2010 for reasons never explained and which remain inexplicable. Offered Sunday Night wireless, Jon opted for 2011- Giants radio—an artiste to this day. That year he won the Ford C. Frick Award for "broadcast excellence." He then emceed a City Hall rally for the 'Jints' first world title since 1954, crying Russ's home run signet, "Bye-bye baby!"—a tribute to the franchise's post-1957 "whole panorama."
Ronald Reagan told how a young boy found a room of horse manure Christmas morning. "Yes," said the optimist, "but there must be a pony in here somewhere." Deem baseball a room. Miller is broadcasting's pony.