Jack Brickhouse earned a statue for decades of calling sports in Chicago; Left for one season with NY Giants
After the war, in 1945, Larry MacPhail took administrative charge of the Yankees and he informed New York (Baseball) Giants owner Horace Stoneham that in the best interest of both ballclubs, the Bronxites and Giants should split their broadcasts, each doing all 154 games on separate stations. From 1939 until then, the Dodgers were on every day and the Yankees and Giants joined hands for a package of essentially ran just home games. Barber and his crafty recreations of road games gave the Bums a major edge.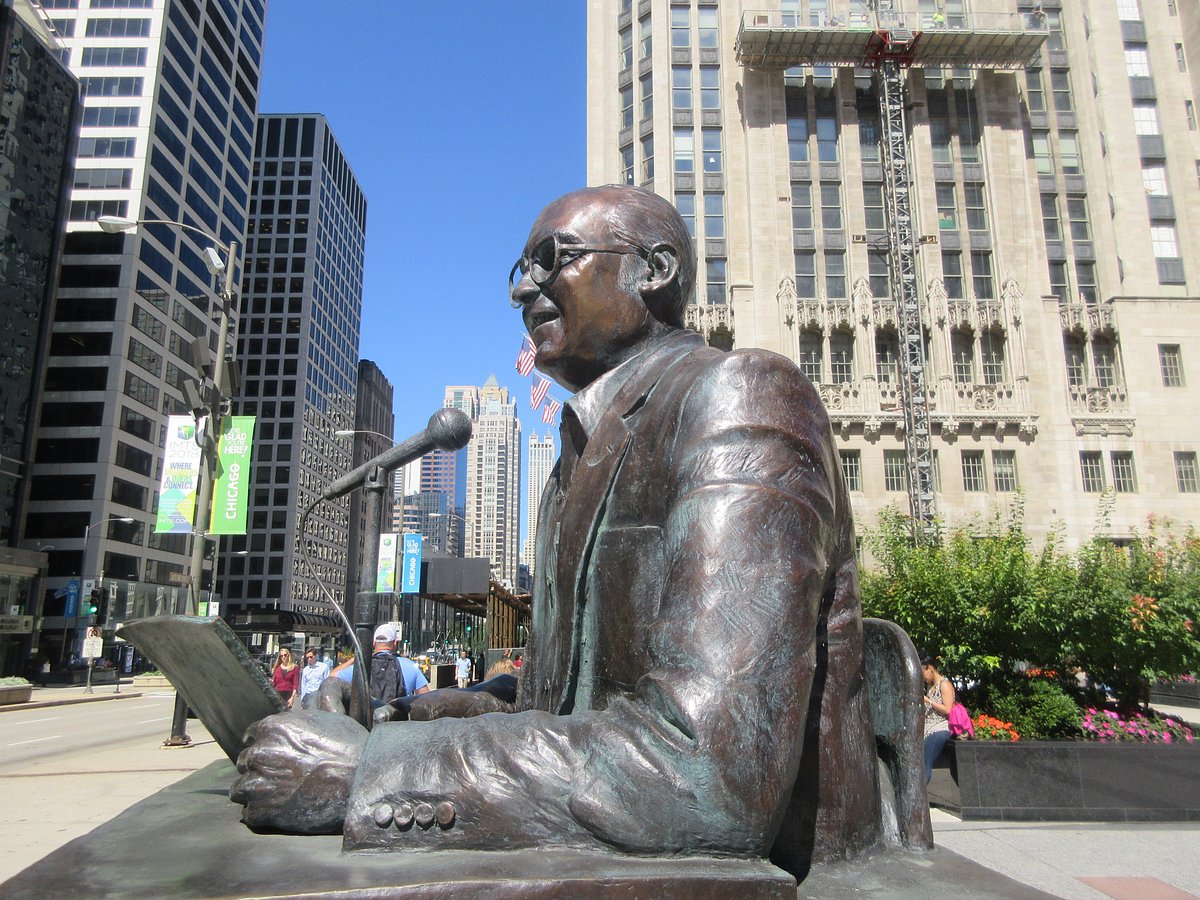 To that point, the Yanks and Giants split a single package, albeit not every season. They were on from 1939-40, 1942 and 1944-45. When Joe DiMaggio was held hitless by Cleveland on July 17, 1941, ending his 56 game winning streak, the game was not on New York radio.  Mel Allen's recording of Joe's last at bat in that game, is just that, a recreation. 
And so it was, beginning in 1946, under MacPhail's leadership, the Yankees remained on WINS, the Giants had a new home, WMCA, and Brooklyn stayed on WHN with the beloved Red Barber. 
Team broadcasts didn't travel yet. So road games were recreated from the studio. Red Barber coasting along was a steady ride and a refreshing routine for  Dodgers' summers.
Historically, MacPhail was one of the most creative baseball executives ever. He started in Cincinnati where he hired Barber, then brought Red to Brooklyn with him. In Cincy, Larry scheduled the Reds to MLB's first ever game under the lights. Larry MacPhail also put his team on a chartered aircraft, another baseball first.
Red was considered baseball's best, certainly in radio's early years. Then Mel came along on television with all those World Series games. Vin Scully followed with 67 unequaled seasons. So we found out how to rank all of the greats. We'll agree. It starts and ends in Brooklyn and Los Angeles with a New York raised boy.
Think of the Hall of Famers, the Frick winners and their roots. The years leading up to the war and just afterward spawned nine selectees. All these folks were on-air in New York either prior to the war, during the war or after the war. They all started before 1950, the year Vin Scully began using his Brooklyn mic like it was a piece of Junior's Cheesecake. Look at this list, all of whom did team broadcasts, all names linked to the coronated Frick Award, (1939-1949):
Mel Allen
Red Barber
Jack Brickhouse
Buck Canel (Hispanic)
Curt Gowdy
Ernie Harwell
Al Helfer
Russ Hodges
Arch McDonald
There's one name above that sticks out like a sore thumb, Jack Brickhouse. Can that be? A Hall of Famer, a Frick winner who started in Chicago with the Cubs and White Sox and would go on to arguably become the Windy City's most popular play-by-play voice ever. Why did he leave and come back? A one year trial and that was it? He had done the Cubs and White Sox from 1940-43 and the Sox again in 1945.
Sponsors and advertisers were difficult to land in those days. Pabst Beer had reached an agreement with the Giants. The company was Midwest based, Milwaukee for that matter. From his years working the Cubs and White Sox, Brickhouse knew Nate Pearlstein Pabst's media director who had some say on the hiring of talent.
Jack got the nod and went to work at the Polo Grounds. The gig didn't last long. A year later, 1947, Brickhouse wasn't retained when Stoneham wanted to hire Frankie Frisch, the Fordham Flash.
Not renewing Jack to save dough was an opportunity to promote Frankie Frisch from the field and use Steve Ellis as his sidekick. Later from Brickhouse: "The only unpleasant experience I ever had was with was my partner that year, (Ellis)." He hadn't, according to Brickhouse, do as much as one-inning his entire life, "not even Little League. He used so many clichés and slang expressions that tears came to my eyes." That 1946 season the Giants finished 61-83 and in the cellar of the eight team National League. The Polo Grounds was decaying. Fans were emptying by the droves. The Giants would be in San Francisco 12 years later.
Brickhouse must have winced one day when he read Walter Winchell's popular social column which said, "Steve Ellis hits a home run as the Giants broadcaster." At the end of the 1946 season approached, Brickhouse was confident that Frankie Frisch would be his partner the next season. It didn't eventuate. When he went in for contract negotiations, he was told that it would take a large financial commitment to get Frisch to the booth, one he had to take. Brickhouse headed back to Chicago jobless.
In the Midwest, broadcasters root a little more. Jack hit the "hey-hey" or "We beat those bums," after a convincing and satisfying win.
With Larry MacPhail at the helm running the Yankees, the club started traveling in 1946, at the start of the season, apparently the first club to travel their announcers.
On January 30, 1947, at the crowned Waldorf Astoria Hotel, the Baseball Giants, announced that all their games would be on again on WMCA. It was learned that he would make $20,000 for his services. For those in Harry Truman's day, this was a very good pay check.
After smartly turning around in 1947, Brickhouse did all the Cubs games on WGN TV, during its incipience. Brickhouse eventually got 'em all: Cubs, White Sox and even Bulls. Each Fall, he called the Bears games on radio when home games were blacked out. On baseball. he overlapped with Harry Caray for a season.
So Jack headed back home to the Midwest, Ellis was demoted to just pre and post game shows.