Jack Buck might as well have been St. Louis' mayor; He was more popular in town than most of them
Today continues our look at radio/TV Voices of all of baseball's 10 post-season teams by Curt Smith, former Speechwriter for President George H.W. Bush and author of 18 books, including the 2021 Memories from the Microphone: A Century of Baseball Broadcasting.
The series features one announcer from each club who represents that franchise—current, retired, or deceased. Today we profile Jack Buck, like Harry Caray, a still-embodiment of the St. Louis Cardinals, who lost to the Dodgers Wednesday in the National League wild-card game.
**
A forever sound of Cardinals baseball was born August 21, 1924, in another grand big-league market, near Boston, in Holyoke, Massachusetts. He was the third of seven children—and in truth a child of radio. To his death Jack Buck could recite 1930s Red Sox Voice Fred Hoey's "he throws to first and gets his man!"—also Jack's daily menu of cereal, soup, and bakery leftovers. Poverty and the wireless were the lynchpins of his youth.
In 1939, the Bucks moved to Cleveland, his father working on the Erie Railroad. Even as a teen, Jack took on a forest of odd jobs. Upon dad's death at 49 in 1940, the son became the clan's bread-winner, boarding a Great Lakes iron ore boat as porter, painter, cook, deckhand, and crane operator—"anything to eat."
Baseball on radio got what time Buck had left. By day he heard the Indians' Jack Graney locally and Graham McNamee and Tom Manning "on network." In October, Red Barber and Bob Elson usually "did the Series. I'd try to never miss a pitch"—radio, being inexpensive, "the one medium that the Depression hadn't crushed."
On July 17, 1941, baseball's then-largest night crowd, 67,468, jammed Cleveland Stadium, Buck seeing third baseman "Ken Keltner rob DiMaggio twice" to end Joe's hit streak. Two years later, he became a corporal and instructor with the 9th Infantry Division. On March 15, 1945, war almost done, Jack took shrapnel in his shoulder during a fray with Germans, later earning the Purple Heart.
Ironically, Jack later learned that future peer Lindsey Nelson was wounded in the same shoulder and on the same day—the only difference that Lindsey wasn't "dodging bullets carrying a hand grenade on his chest." Buck spent V-E Day in Paris: material he later used emceeing dinners. "I've always had a fondness for Italian women. In fact, during World War II an Italian woman hid me in her basement for three months. Of course, this was in Cleveland."
Back home, Jack, 22, entered Ohio State University to major in Radio Speech, auditing Woody Hayes's class on football. The three-year graduate aired OSU's Buckeyes and Cardinals Triple-A Columbus. The station was then sold. Jack tried TV but missed baseball. Happily, St. Louis had another Triple-A team in Rochester, which hired him in 1953. Like millions of GIs, Jack was making up for lost time.
That August, Buck auditioned for Gus Mancuso's Cardinals job. After future hoopster Chick Hearn declined, Jack was given a tape of the Cardinals' exceedingly popular Harry Caray, told by officials to "copy him," and refused, saying, "I have to be myself." Buck soon got letters from states whose license plates filled weekend lots: Iowa, Alabama, Texas. Atlanta would one day style itself "America's Team." To Buck, it was easily the Redbirds.
Segue to the 'Jints' and Dodgers' 1957 "Westward-Ho!" Budweiser telecast 44 of their sets from Pittsburgh and St. Louis on WNET New York. Joe Garagiola gave Anheuser-Busch three in its booth: thus, freedom to peel off to work in the Apple, its response so boffo "that the Yankees threatened to sue." Anheuser then ended the series, Jack at least getting "entrée to the market."
In the meantime, former Cardinals mike man Bud Blattner rejoined Redbirds TV after seven years with Dizzy Dean of CBS's Game of the Week. With Caray and Joe G. on radio, Buck "just got squeezed out. "I guess KMOX and the Cardinals weren't as impressed as some others by the job I'd done for Bud[weiser in 1959]." At liberty, he was hired for ABC's Game. Critically praised—more kudos for Buck—the series was obliterated by CBS in 1960's first and only year.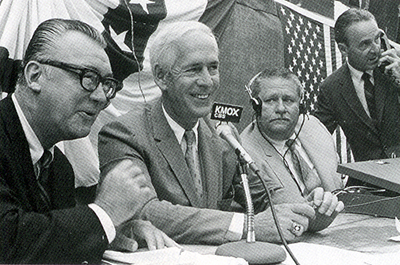 Surviving Dean and Redbirds musical chairs, Jack returned to KMOX and the new American Football League, hiring him in 1962. Next year he began calling by turn the Bears, Cowboys, Super Bowl IV—and December 1967 Ice Bowl. "Excuse me," Buck said on air, "while I have a bite of my coffee."
He did ABC bowling, introduced the Gateway Arch, and was glad to see the Cardinals' often second-division 1954-62 conclude, his catchphrase "That's a winner!" rare. By contrast, since baseball is daily, Jack said, "a good team is the best thing in the best sport, unifying a city." In 1966, new Busch Stadium hosted the All-Star Game. In 1968, St. Louis won its third pennant in five years. With Caray's 1969 firing, Buck defined the franchise, joined in 1972 by Shannon and later Jack's son Joe. (Buck, the middle man, with Harry Caray to his right)
Given that decade's success, a lack of it in the early '70s made Buck and his public restless. In 1975, he left for New York, saying he regretted leaving "the best baseball broadcasting job in the United Sates, but the opportunity to join NBC [Sports] is immensely attractive." His Grandstand series put him in studio each weekend. Uneasy in such a studio format, he lost the job in 1976, and returned to St. Louis, still beloved for his vast charitable and community work.
Asked once what he would say to God if they met, Jack said, "I'd ask why He's been so good to me." That was surely true of the event restoring Buck's mojo, CBS Radio airing the 1976-97 Series, All-Star Game, and LCS—and new 1985-97 Game of the Week. CBS senior VP Dick Brescia said, "We went for guys with baseball who loved the game and could transmit it"—Vin Scully, Ernie Harwell, and Jack, who suddenly felt reborn.
Buck called CBS wireless' first baseball "jewel"—the 1976 All-Star Game, adding four National League Championship Series and nine World Series. He did the 1982 Classic locally, ending with "That's a winner! A World Series winner for the St. Louis Cardinals!" Yearly workload included 215 games on local and CBS radio and NFL TV. He was now a network's, like his family's in the 1930s, "bread-winner."
Thus began a potpourri of magic that ferried Buck's core beyond St. Louis. By late 1985, Ozzie Smith a.k.a. "The Wizard" had never homered left-handed. In LCS Game Five v. LA, score and series tied, he uncorked a ninth-inning drive. "It may go!" said Buck. "Go crazy, folks! Go crazy! It's a home run, and the Cardinals have won the game, 3-2, on a home run by the Wizard!" In Game Six, Jack Clark jacked a ninth-inning flag-taking blow. "A long one into left field! Adios! Good-bye! It may be that's the [7-5] winner!"
The 1988 Series opener transcended each. The Dodgers trailed Oakland, 4-3, in the last of the ninth, Jack working with ex-Cardinals All-Star Bill White, the first black broadcaster to air a Classic. With two out and a runner on base, Kirk Gibson, seemingly unable to even pinch-hit with a leg injury, hobbled from the dugout. The duo conjectured how No. 23, barely able to swing, could even reach base.
Then: "Gibson swings—and a fly ball to deep right field! This is gonna' be a home run! Unbelievable! … And the Dodgers have won the game, 5 to 4. I don't believe what I just saw!" We did: Buck let us. "I don't believe what I just saw!" he resumed. "Is this really happening, Bill?" The radio, like the heart, throbbed.
"One of the most remarkable finishes to any World Series game … a one-handed home run by Kirk Gibson!" Buck concluded. "And the Dodgers have won it … 5 to 4, and I'm stunned, Bill." His Greek chorus of a crowd was too.
On October 17, 1989, Buck aired his last Series for CBS Radio with White, Sparky Anderson, and Johnny Bench when a 6.89 magnitude Loma Prieta earthquake sent them sprawling at Candlestick Park. "I must say about Johnny Bench, folks, if he moved that fast when he played, he would have never hit into a double play."
To Jack, the years ahead affirmed how baseball and football differ—and the effect when the difference is ignored. In 1990, CBS began four-year TV exclusivity, Jack grasping that baseball needs word picture, not every-pitch critique. "[It] knew that [TV] football stars analysts," Buck said, "So they said, 'Let [analyst Tim] McCarver run the show.'" He also disliked the pact slashing regular-season coverage. "We never got a chance to fit."
Even so, Jack etched a gripping 1991 Braves-Twins Classic after both placed last a year before. Kirby Puckett's extra-inning blast won Game Six. "And we'll see you tomorrow night!" Buck said. A triple and two intentional walks filled the bases in the final's scoreless tenth. "[Barry] Larkin is the pinch-hitter [singling] …The Twins are going to win the World Series!"
Sacked for alleged "poor chemistry" with McCarver, Buck returned home to brave diabetes, a pacemaker, vertigo, and Parkinson's disease. The 1998 Cardinals dedicated a bust of him, hand cupping an ear, behind a microphone." Mark McGwire ripped homer No. 60—"Wake up, Babe Ruth! There's company coming"—then targeted Roger Maris. "McGwire's No. 61, Flight 61, headed for Planet Maris! …What a moment! Pardon me for a moment while I stand to applaud."
On September 17, 2001, six days after the terrorist attack on America, Buck, frail, courageous, read a poem of his at Busch Stadium: "Everyone is saying the same thing and praying / that we end these senseless moments we are living / As our fathers did before, we will win this unwanted war / and our children will enjoy the future we are giving."
Jack abided several surgeries in the months before June 18, 2002. "Buck Dead at 77," blared the page-one Post-Dispatch. Thousands viewed the casket, lined a freeway for his cortege, and wept. Jack left wife Carole, eight children, and 16 grandchildren—and a definition of grace.