Lots of competition; Will any team in the NFL run supremely ahead of others in the league? Never know!
This week's are byes Philadelphia, Buffalo, Los Angeles and Minneapolis.
Games not compelling this weekend – so be it. No supreme.
Love Kenny Albert, he's a good man and a has a big heart. 
Joe Davis will be focusing baseball this weekend – like it or not.
Who's a better NFL voice, Ian Eagle or Kevin Harlan?
What does Dayrl Johnston do on the Fox broadcasts? Probably not much. Do you think he knows who the coaches are on the teams?
Another one who doesn't show me much is Trent Green, just very little?
The almighty program that involves feisty fellows  – and includes Bill Cower, 67; Phil Simms, 66; and Boomer Esiason, 61. Another character who's dipping his finger into CBS' is Nate Burleson. 
Brian Baldinger – Once on TV, Brian was shown the door a number of years later – now using the radio. He now sounds like Matt Millen – Sounds more style – than material. 
Mark Schelreth joins weekend partner Chris Myers on Giants-Jaguars telecast this Sunday. 
Thursday, October 20
2022 NFL Week 7 TV & National Radio Schedule
Thursday Night: New Orleans @ Arizona (Amazon)

Sunday Night: Pittsburgh @ Miami (NBC) (100% of country)
Monday Night: Chicago @ New England (ESPN) (Roughly 80 % of U.S)
8:20 PM- New Orleans Saints at Arizona Cardinals  (Distributed by Amazon)
AMZN: Al Michaels, Kirk Herbstreit, Kaylee Hartung
Westwood One: Kevin Kugler, Ryan Leaf
Sunday, October 23
1 PM- Detroit Lions at Dallas Cowboys (57%-141 stations)
CBS: 
Jim Nantz, Tony Romo, Tracy Wolfson  
Compass Media:
Kevin Ray, Danny White 
1 PM- Cleveland Browns at Baltimore Ravens

(26%-11 stations)
CBS: Kevin Harlan, Trent Green, Melanie Collins 

1 PM- Indianapolis Colts at Tennessee Titans (6%-19 stations)
CBS: Andrew Catalon, James Lofton, Don Bell
Sports USA: John Ahlers, Brandon Noble 
1 PM- Green Bay Packers at Washington Commanders (46%-21 stations)
FOX: Adam Amin, Daryl Johnston, Pam Oliver 
ESPN Radio: Marc Kestecher, Kelly Stouffer 
1 PM- New York Giants at Jacksonville Jaguars (25%-40 stations)
FOX: Chris Myers, Mark Schlereth, Kristina Pink 
1 PM- Tampa Bay Buccaneers at Carolina Panthers (12% – 21 stations)
FOX: Kenny Albert, Jonathan Vilma, Shannon Spake 
1 PM- Atlanta Falcons at Cincinnati Bengals (45% – 25 stations)
FOX: Brandon Gaudin, Robert Smith, Jen Hale
4:05 PM- New York Jets at Denver Broncos  (21% – 45 stations)
CBS: Ian Eagle, Charles Davis, Evan Washburn
4:05 PM- Houston Texans at Las Vegas Raiders (5% – 9 stations)
CBS: Greg Gumbel, Adam Archuleta, AJ Ross 
4:25 PM- Kansas City Chiefs at San Francisco 49ers (89% – 193 atations)
FOX: Kevin Burkhardt, Greg Olsen, Erin Andrews, Tom Rinaldi 
4:25 PM- Seattle Seahawks at Los Angeles Chargers (10% – 19 stations)
FOX: Kevin Kugler, Mark Sanchez, Laura Okmin 
Compass Media: Chris Carrino, Brian Baldinger
8:20 PM- Pittsburgh Steelers at Miami Dolphins 
NBC, Peacock: 
Mike Tirico, Cris Collinsworth, Melissa Stark
Westwood One:
Ryan Radtke, Mike Mayock
Monday, October 24
8:15 PM- Chicago Bears at New England Patriots 
ESPN: Joe Buck, Troy Aikman, Lisa Salters
Westwood One: Kevin Harlan, Kurt Warner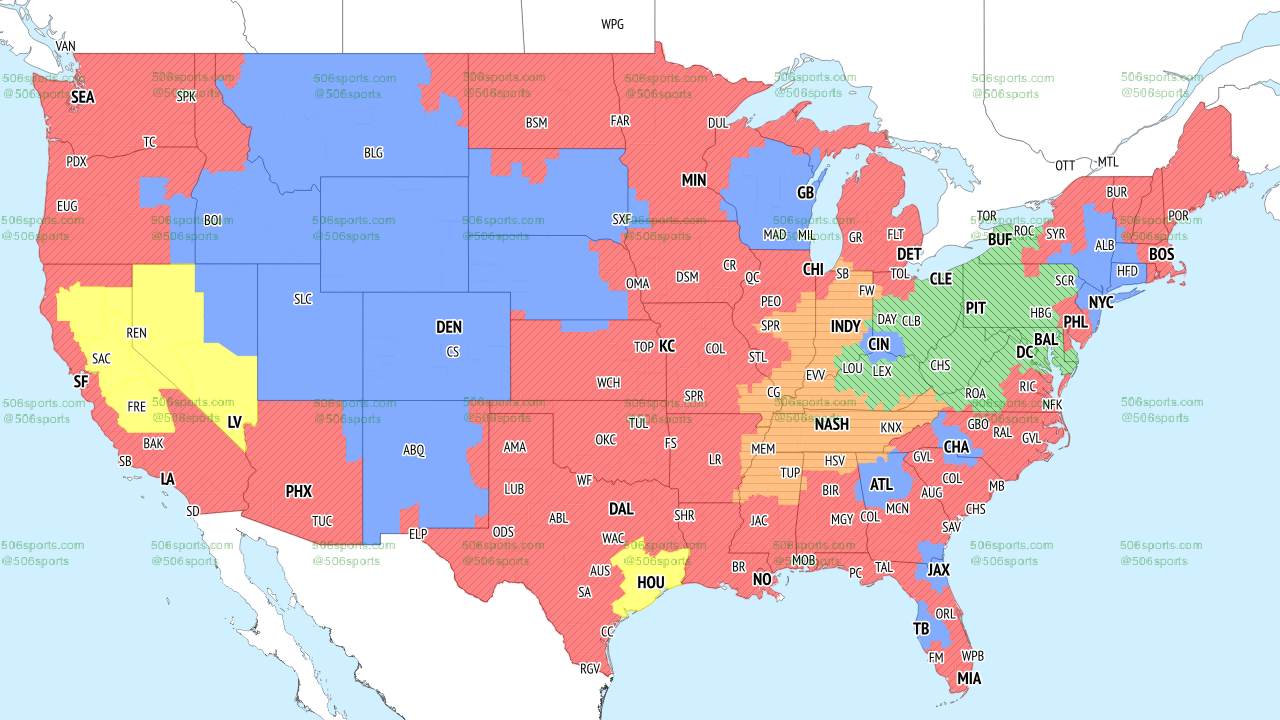 █ 
Detroit @ Dallas – Jim Nantz, Tony Romo
█ 
Cleveland @ Baltimore – Kevin Harlan, Trent Green
█ 
Indianapolis @ Tennessee – Andrew Catalon, James Lofton
█ 
NY Jets @ Denver (LATE) Ian Eagle, Charles Davis
█
Houston @ Las Vegas (LATE) –
Greg Gumbel, Adam Archuleta

FOX EARLY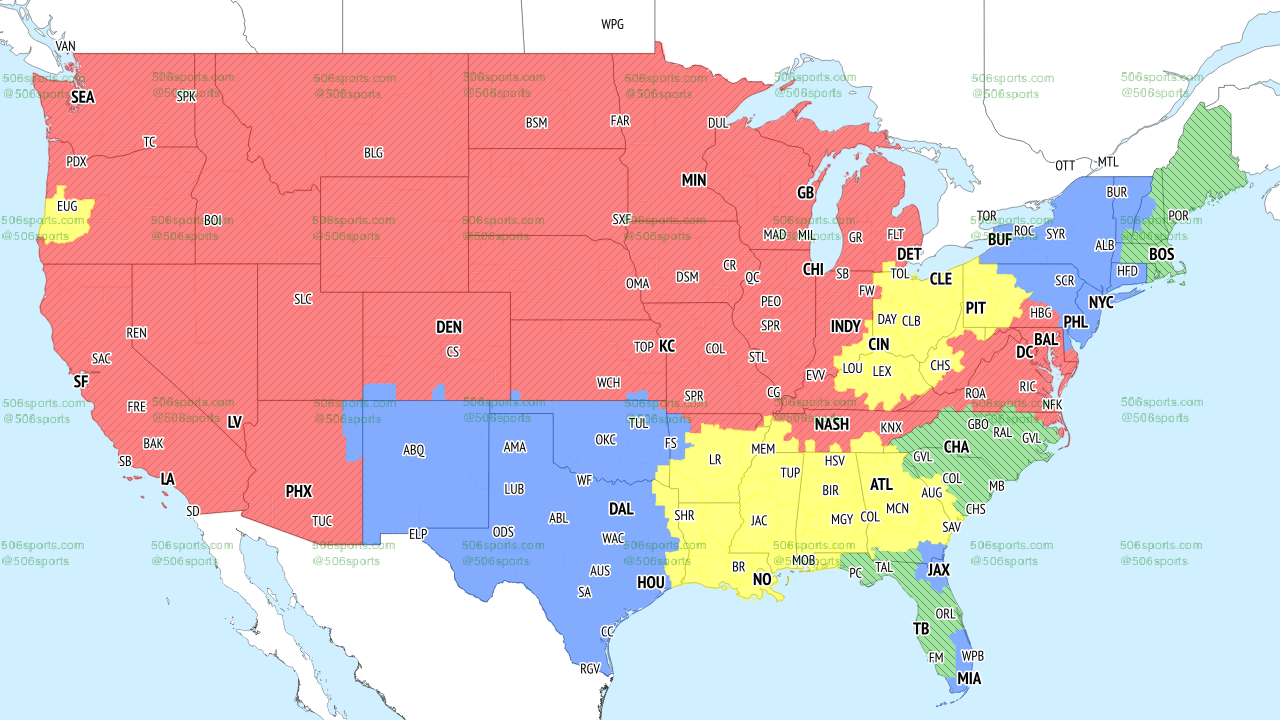 █ Green Bay @ Washington – Adam Amin, Daryl Johnston
█ NY Giants @ Jacksonville – Chris Myers, Mark Schlereth
█ Tampa Bay @ Carolina – Kenny Albert, Jonathan Vilma  
█
Atlanta @ Cincinnati – Brandon Gaudin, Robert Smith
---

FOX LATE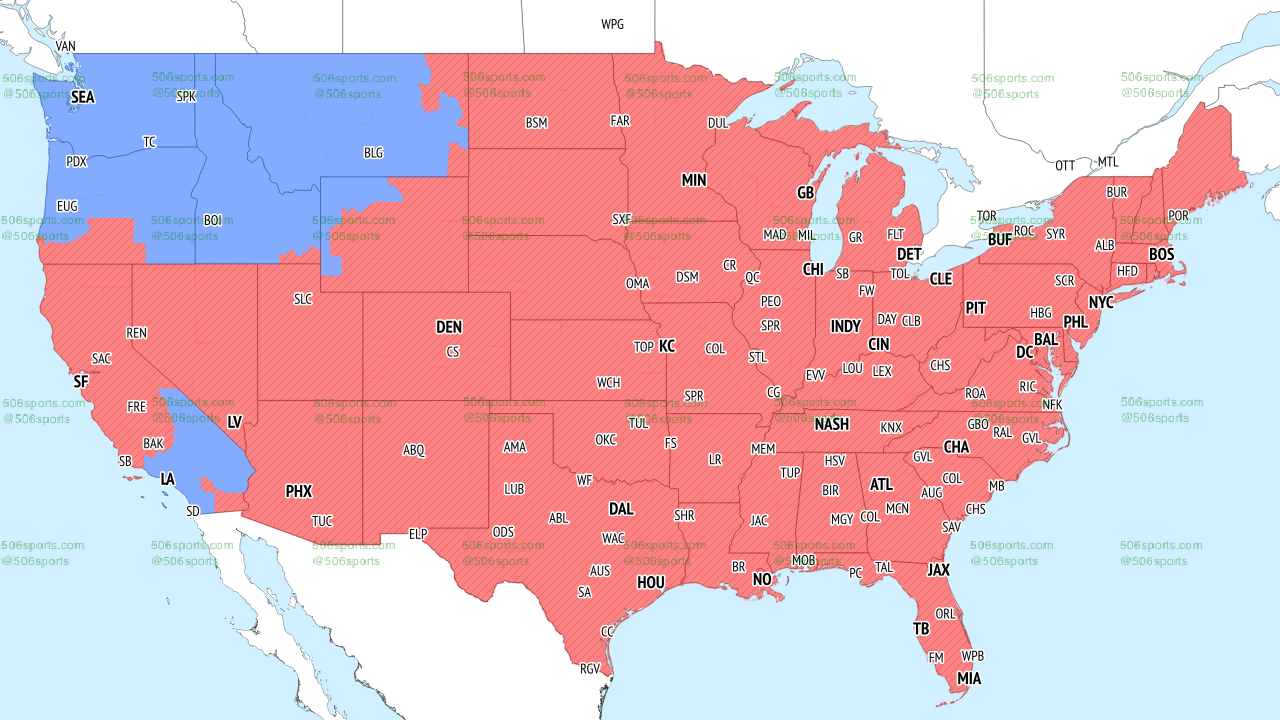 █ Kansas City @ San Francisco – Kevin Burkhardt, Greg Olsen (89% of country and 193 of stations) 
█ 
Seattle @ LA Chargers – Kevin Kugler, Mark Sanchez
(10% of country and 19% of country)