Marv Albert, the chronology of an on-air legend: His rise, fall and amazing rebirth from the ashes of a scandal
Marv Albert's career started when he was a teen in the late 1950s shadowing his idol, broadcaster Marty Glickman. He'd spend time with him in the radio studio of the station for which Marty worked, he'd do stats for him, write scripts and watch him narrate sports highlights for Paramount Newsreels which was popular in movie theaters until television sprouted. Marv also considers the creative and energetic Les Keiter as one of his broadcast role models. Albert's close to sixty year career ended in Atlanta on July 3, 2021 when the Milwaukee Bucks defeated the Hawks in six games in the Eastern Conference Finals. 
At age 80, Marv signed off, telling  viewers, "I wish I can start all over again." Don't we all? Father time catches up with all of us.
Marv Albert's rich chronology
Marvin Philip Aufrichtig was born on June 12, 1941 and raised in Brooklyn, first in Brighton Beach and later in Manhattan Beach. According to ancestral sites, Marv's  paternal grandfather, Nathan Naftali Aufrichtig was born in 1887, in Glogow, which is now in western Poland. Nathan and his family emigrated to America in 1890. Marv's father, Max Aufrichtig, born in the U.S., changed the family name to Albert in the early 60s. Mother Alida traces her roots through Budapest in Hungary. Max and a brother ran a grocery store in Brighton Beach. 
1950s
Becomes Knicks' ball boy; Falls in love with the fast-paced broadcasts of legendary Marty Glickman and Les Keiter; Cultivates a relationship with the always helpful Glickman who took him under his wing
1957
Works as a summer office boy for the Brooklyn Dodgers doing busy-work of all sorts. That season, the team's last in Brooklyn, the Dodgers played a handful of games at Roosevelt Stadium in Jersey City. Marv would take the rails (called the Tubes in the New York area) to shuttle between the two sites, delivering this and that. Marv would use his reel-to-reel tape recorder at Ebbets Field to get his reps doing baseball. (with Gil Hodges, left)
1959
Heads for Syracuse University where he gets to call SU sports on the student station; He also does Syracuse Chiefs baseball home games live and recreates road games
1962
Leaves Syracuse after his junior year
Does his first football game on Thanksgiving Day between two high schools in the New York area. Game is carried by a station with a weak signal, WJRZ. He would say in his autobiography Yesss!, "I was terrible"; Marv would then do a series of high-school games on a Long Island radio station
1963
At age 21 on January 27th, he substitutes for Glickman broadcasting his first NBA game, Knicks-Celtics at Boston Garden; The NBA wasn't very big then, WCBS, New York, ran the broadcast on a one-hour delay so it could air classical music, a show sponsored by Texaco
On March 14th, he fills in for Jim Gordon, doing first his NHL game, Rangers at Detroit
1964
WHN Radio picks up Mets' radio rights from WABC, Marv gets involved in pre/post programming which featured Don Dunphy, the veteran boxing announcer
1965
Gets his college degree from New York University
Working for WHN, he does sports updates and in-time hot-stove league shows in baseball's off-season, baseball recreations during tight pennant races for which he used sound-effects for simulating things like the crack of the bat. Some of these tools were given to him by Keiter who years earlier on New York's WINS, popularly recreated SF Giants games
Becomes Rangers' voice in an odd package; Station would carry only Sunday night home games, limited to the last five minutes of the first and second period and all of the third
1966
WHN agrees to take a fuller package of Knicks and Rangers games; Don Criqui gets the Knicks assignment and Marv continues with the Rangers
1967
Becomes Knicks's radio voice; When hired, he jumps for joy
1968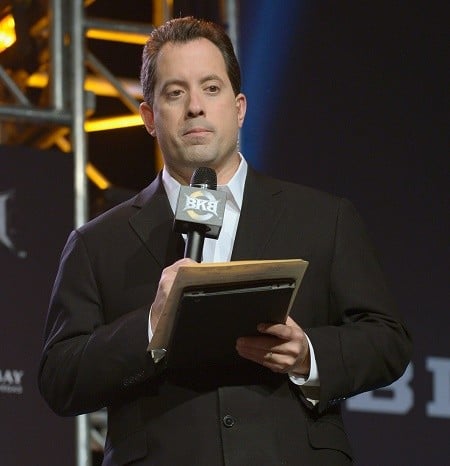 Calls NBA All Star Game at old Madison Square Garden, run only on the commercial-free Armed Forces Network
Broadcasts a game on New York Radio when Bill Russell was matched up against Wilt Chamberlain in the Eastern Conference Finals, Boston at Philadelphia
Son Kenny Albert (left) is born, Kenny turns into a versatile, precocious and highly successful network sportscaster on Fox
1970
With limited TV coverage, particularly of home games, and the fact that the Knicks were vying for their first NBA title, his pulsating radio calls become appointment listening; Game seven of the title series against the Lakers, won by the Knicks on May 8th, turns into an epochal broadcast on Marv's resume; His popularity balloons in lockstep with the team's success, He had no analyst, calling games solo
1971
Brother Al Albert, then 25, is hired to call New York Nets games on radio
1972
Gets his first national assignment, calling Army football on an ad-hoc network, heard in New York on non-commercial, WNYC Radio
1973
Marv gets the Giants gig on WNEW Radio when mentor Glickman moves from the Giants to the Jets. Glickman spends considerable time with Marv, giving him pointers on broadcasting football
1975
Hired by WNBC TV, Channel 4, New York, as its sports anchor for the 6 and 11pm news, remains with the station until 1987
Begins doing college basketball games for television syndicator, TVS
Brother Steve, 25 at the time, is hired as the television voice of the New Jersey Nets
1976
Presides over the first of two Stanley Cup Finals on an ad-hoc television network; Would become only network announcer to call both a Stanley Cup Final and an NBA championship series
1977
Joins NBC Sports and begins his NFL work; Over the next half-dozen years, he would have an assortment of analysts
1979
Begins calling boxing for NBC with partner Ferdie Pacheco (left); Would travel the globe calling fights, including less scenic Rahway State Prison to announce a light-heavyweight bout
Continues Knicks and Rangers radio schedule and begins calling Knicks games on television for the first time, on WOR-TV, Channel 9
1983
Albert is promoted to the second NFL team behind Dick Enberg and Merlin Olsen. In later years, Don Criqui or Charlie Jones would be designated the number two play-by-player. From 1992 through the beginning of the 1997 season, Albert was again the network's number two NFL announcer. He left NBC following week #3 of the '97 NFL season, after pleading guilty to a sexual assault charge
1986
Begins his assignment as an on-field reporter and interviewer for NBC's post-season MLB coverage
1991
Becomes the Voice of the NBA when NBC acquires the rights; Calls the first five of Michael Jordan's six titles; Marv, Jordan, NBC and the network's theme music Roundball Rock remain popularly intermingled
1992
It's the 25th anniversary of his appointment as the Knicks announcer, He's honored by Madison Square Garden at halftime of a Knicks-Bulls game; Marv requests the popular WFAN duo of Mike Francesa and Chris Russo as his presenters
1994
Calls Rangers championship on local radio, the team's first Stanley cup in 55 seasons, It would be the last NHL game he'd broadcast
Announces NBA Finals on NBC during the infamous OJ Simpson slow car-chase
1997
Pleads guilty to a misdemeanor of a sexual assault, causing a staggering downfall of a beloved public figure; Let go by both employers, MSG and NBC
Becomes 8th winner of Basketball Hall of Fame's Curt Gowdy Award
Reaches out often to Marty Glickman, 80 then, using his longtime mentor as a sounding board during a difficult period in which he was sidelined from broadcasting
1998
He's rehired to do Knicks games on radio and to anchor studio shows on MSG Network
1999
Joins TNT as lead NBA voice
2000
Rejoins NBC doing the NBA; Covers Wimbledon for TNT
2001
Does his last of nine NBA Finals, tying at the time, Dick Stockton
2002
Begins with Westwood One Radio, doing Monday Night Football and in time calls eight Super Bowls nationally on radio
2004
Not renewed by MSG, for being critical of Knicks and demanding a high salary
2005
Joins Yes Network calling Nets telecasts 
2011
Joins CBS Sports where he does both the NFL and the NCAA Tournament
Leaves Nets (It's interesting to note that at some point each of the Albert siblings calls Nets games on TV)
2013
Steps down from CBS' NFL telecasts
2015
Steps down from CBS' NCAA Tournament coverage
2021
Announces his retirement as his 80th birthday approaches
For TNT, he calls Knicks-Atlanta playoff series, doing his last event at Madison Square Garden but is given the cold-shoulder by MSG management which refused to publicly recognize him during the game. Marv and MSG CEO Jimmy Dolan have had a contentious history
Only July 3d, Marv ends a sparkling on-air career