Matt Lepay: Popular and longtime Voice of the Badgers is an Ohio State alum!; Does some Brewers TV too
He grew up in Ohio and was a fan of the Reds. He attended The Ohio State University.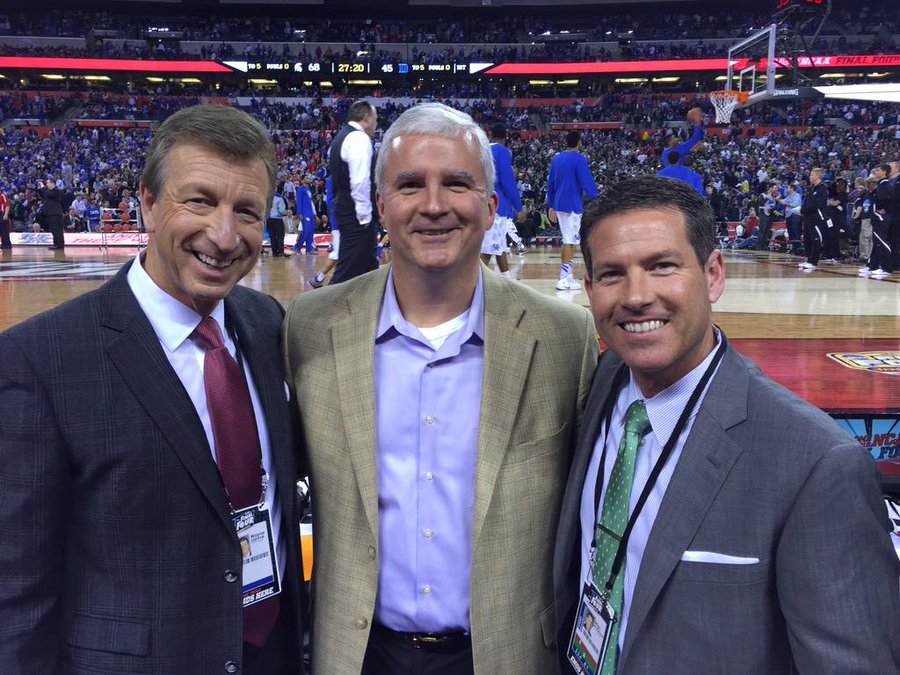 Yet, Matt Lepay (middle, Packers' voice Wayne Larrivee to his right and Turner play-by-player Brian Anderson to his left) is best known and proudly so as the Voice of Wisconsin football and basketball. His voice is strong and deep enough to fill Camp Randall Stadium. On game day in the fall, he drives through downtown Madison on his way to the stadium. He absorbs the excitement of fans and attendees. He says it's more than just anticipation, it's witnessing people celebrating life. When he first takes his seat in the broadcast booth, he'll look around the stadium and take a deep breath. He'll ask himself what can we expect today.
Is he any good. The numbers don't lie. Since 1997, Lepay has won ten statewide Sportscaster of the Year Awards from the National Sports Media Association. He's done the basketball games since 1984 and football since 1988.   
Turning point? He grew up near Dayton, Ohio and was ten years young when he was consumed with baseball and his Cincinnati Reds. He listened to Al Michaels and his successor Marty Brennaman. It was the bottom of the ninth of deciding  game #5 of the 1972 NLCS. Michaels captured the magical moment when Hal McRae was at the plate. "The stretch and the 1-1 pitch to McRae…in the dirt, it's a wild pitch! Here comes Foster! The Reds win the pennant!"
From that moment, Lepay was hooked. Yes, he loves baseball and since 2014, he works up to 50 Brewers games a year on television. So in non-pandemic times, he's a pretty busy guy year-round. With Covid-19 consuming our lives, Lepay is still busy but like it is for most of us, it's day by day. MLB has had its pandemic obstacles in recent weeks and what the college football season will look like is still unknown.
Matt and I had a chance to catch up on a variety of subjects.
You went to Ohio State. How odd a feeling is it to call Wisconsin games particularly when it comes to football which the Buckeyes have dominated through the years?
That is a rather popular question for me! Actually, it probably was more awkward my first year or two in Madison. Since then, it is the team I really enjoy seeing Wisconsin beat. Unfortunately, it's been a decade since that has happened in football. The Badgers have had some excellent teams, but there is no denying Ohio State's dominance in the Big Ten Conference. Far more often than not, Wisconsin has been very competitive with the Buckeyes, but, well.. you know……
I should add that basketball has been a different story, including this year! For the record, I have great memories of my time at Ohio State University (I'll avoid THE Ohio State University). My counterpart, Paul Keels, is one of my best friends in the business. However, I turned in my Buckeye fan card years ago.
What are your biggest announcing highlights calling both Badgers football and basketball?
Highlights? Another popular question. The good news is there are numerous choices.
The Rose Bowl wins in the late 90s stand out, but I often go back to games at Camp Randall Stadium. Three moments jump out to me: Ron Dayne's NCAA record-breaking run vs Iowa in 1999, David Gilreath's game-opening 97-yard kick return vs Ohio State in 2010, and Melvin Gordon's touchdown run vs Nebraska that gave him a 408 yard rushing day.  Not bad for only playing three quarters!
Name the best Wisconsin player that you've covered in both sports, basketball and football?
A tough one. Maybe impossible to answer, but here goes:  For football, I still lean to Ron Dayne. I certainly believe he is the most IMPORTANT player I have seen at Wisconsin. He ran behind a great offensive line, but he really was the Badgers' offense. And with him, they won back-to-back Rose Bowls in 1999 and 2000. (He was the MVP in both), and of course he won the Heisman.
For basketball, I loved watching Frank Kaminsky. I mean, he was the National Player of the Year in 2015. I also can't ignore players such as Alando Tucker and Devin Harris. However, in the more than 30 years I've been connected to the program, Michael Finley sets the standard. He could do it all. I have so much respect for him and what he will always mean to the growth of Wisconsin basketball.
What's your feeling going into this COVID-19 fraught Big Ten college football season?
In sports, we often hear the line, "take it one day at a time." Right? Well, these days one could argue that line is in play more than ever. I've talked to coaches and administrators about how they are handling the emotional roller coaster of this pandemic. One week, the numbers are encouraging. The next week, it can be a different story. Plan for as much as you can, but predict nothing. I'm trying to do the same thing. All that stuff might sound like a bunch of clichés, but I believe it's real.
What do you imagine campus to be like without football in the fall?
 I hope there can be a football season, but only if it's as safe as possible for all concerned. There is no denying the financial impact of football at Wisconsin or anywhere across the country. Also, it's a big part of college life. Under normal circumstances, a game at Camp Randall Stadium is a big party. Probably not so much in 2020. Even if we have a season, it will look different.  Among other things, players will have to adjust to having very few—if any— fans in the stands.
The Big Ten deciding on a conference-only schedule makes sense. At least there can be uniformity regarding safety protocols, etc. Plus it can provide a scheduling cushion in case games need to be postponed. We might see games in the spring, which brings up another set of major challenges. It would seem nearly everything is on the table.
You often cover the Milwaukee Brewers. What baseball experience did you have before you started doing Major League baseball and compare broadcasting baseball vs. football and basketball?
My baseball announcing job kind of fell out of the sky.  A third party mentioned the Brewers were looking for a fill-in announcer, probably working 30 games or so. While baseball was my first love growing up, I freely admitted my experience calling games was extremely limited.  Long story short, I interviewed with club officials, did a screen test with Bill Schroeder, and somehow landed the gig. The last few years I have worked between 55-60 games. Obviously this year will be different.
Calling baseball on television is so much different from working a football or basketball radio broadcast.   Baseball is much more conversational. I like to lay out (stop talking) and let the pictures tell the story. That really isn't an option for radio– announcing football and basketball is very natural for me. Like anything, calling baseball is about rhythm. Being there from time to time makes it a challenge to develop that rhythm. But it's fun, and the Brewers have been great to work with. Our broadcasting crew is top notch, from Brian Anderson, Rock, Sophia Minnaert and our terrific production folks. Plus, we laugh a lot every day, which is never a bad thing.
Have you given any thought to doing games remotely or in empty stadiums and fieldhouses? How would you go about it?
Yes, I have given thought to remote broadcasts. Actually, in a couple of recent bowl games, our radio booth location was so bad that I called the game off a monitor. Specifically, the 2017 Orange Bowl and the 2018 Pinstripe Bowl. For the Orange Bowl, we were in an enclosed booth located deep in the corner of the stadium. For the Pinstripe Bowl, we had John Sterling's booth at Yankee Stadium, which was behind a goal post. I was okay with anything coming at us. Otherwise, I had a monitor right in front of me. Not ideal, but it can be done. Besides, I have to admit it was cool being in Mr. Sterling's booth.
For baseball, in addition to having a monitor that shows us what you would see, we also will have a monitor called "All 9," which shows us how the defense is positioned.  We also can get a feed to see who is in the bullpen, etc. It might take some time to get reasonably comfortable, but it's doable.
As broadcasters, we need to understand that the vast majority of viewers/listeners couldn't care less about how different—and at times difficult—it might be to perform our jobs. Nor should they care. If we can laugh at our mistakes and present the game as best we can, that is what matters. Nothing else.