Monte Moore, 91, survived Charlie Finley and the unsteady voices the A's owner hired and fired
Monte Moore survived. The rest didn't. In one day, out the next. The mic men included Hall of Fame broadcasters like Harry Caray, Bob Elson and Al Helfer. Jim Woods arguably the best #2 baseball announcer ever was dumped by the impulsive owner too. History tells us that Charlie had a penchant for hiring and firing.
A Chicagoan, Red Rush, worked with Moore and Elson too as a trio in 1971. In mid-season, the three announcers were asked to meet at Fenway Park where Oakland was playing the Red Sox. The press area was on the roof where  broadcast booths were situated.
Moore said they were told that the number of play-by-play innings was being redistributed and Rush's assignment would be reduced to a bare minimum. Rush was not too pleased to get the news and he immediately flew off the handle. "Rush was a big guy, "Monte remembers. He immediately confronted me and angrily blamed me, saying it was all my fault. Red was so infuriated that he threatened to throw me off the roof. I was frightened, scared to death."
Moore lasted some 15 years under Finley's uneven ownership and he too was  fired a number of times by Charlie only to be rehired hours or a day or two later. Talk about going through years of emotional roller-coasters!
The early 70s were glorious for the creative A's whose uniform colors and cleats were unconventional, if not lurid. The roster wasn't too bad at all. How about Reggie Jackson, Vida Blue, Sal Bando and Catfish Hunter? The team won three straight World Series beating the Reds in 1972, the Mets in '73 and the Dodgers in 1974.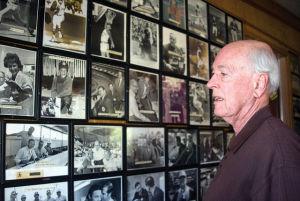 Moore (left) worked all three Classics with Curt Gowdy on NBC TV and Jim Simpson on NBC Radio. Baseball was still dominant then, albeit quickly losing its sway to the NFL. ESPN wasn't yet born and TV's Saturday college football was made up of a precious few games on ABC. Three World Series in the limelight, alongside Gowdy gave Monte national visibility. He would later do the backup Saturday game on NBC's Game of the Week.
"I learned a ton about the game from Tony Kubek on NBC and later  from Wes Parker with whom I did USA Network's weekly telecasts.
"When I teamed with Gowdy on those three Series in the seventies, it was hardly the first time we met. I was a student at Oklahoma and calling basketball for the student station. Curt was doing the commercial broadcast on the other side of the court. We became good friends."
Gowdy left Oklahoma for his Major League start with Mel Allen and the Yankees in 1949. In 1951, Curt left for Fenway where he became a New England institution calling the Red Sox.
Finley had little tolerance for announcers who didn't pump the club with sufficient passion or those who didn't obey his specific orders.
Because the impetuous boss lived in Chicago, he followed the A's on radio, listening to his broadcasters assiduously via a speaker-phone in his home or his office. Merle Harmon was the Kansas City Athletics voice  in 1961. Finley was then bitterly angry at Ernie Mehl, the sports editor of the Kansas City Star who discouraged public support for a new KC stadium. So Charlie set up a Poison Pen Night to denigrate Mehl but Harmon wouldn't comply promoting it. The consequences were severe. Finley unloaded Harmon after the 1961 season. 
In the 1950s, Moore was the Voice of the University of Kansas and picked up other broadcast opportunities as they arose. He called the games of the Kansas City Steers of the long defunct American Basketball League. With an opening to fill the position vacated by Harmon, Finley was impressed with Moore's call of Steers basketball and he hired him the next day.
The A's moved to Oakland in 1968. With Finley you never knew year-to-year. This went on until Finley dumped his players and eventually the team in 1980. By the late 70s, the A's started the season without a radio package.
When Harry Caray was hired in 1970, it  was a nightmare for Monte who simply said, "It was my worst year in broadcasting," his voice lowering sadly.
According to Moore, Caray expected Monte to snap at his command. "He tested me immediately. One day, Moore was on the field at spring training, engaged in a leisurely conversation with other press members. Harry came by haughtily and plunked down his large bag near where the group was gathered. After some perfunctory small talk, Harry walked away, turned to Moore and spewed loud enough for all to hear, "Monte, please bring my bag up to the press box."
Finley was enamored with Al Helfer who was known nationally for his baseball work with Mutual and the Dodgers in the 1950s. But Al was in the twilight of his career and Charlie booted him too for mistakes. Moore remembers Helfer for being blessed with a good voice and sturdy. "We'd travel and eat at restaurants all around the American League. The menus were varied but all Al ever asked for was red meat, about as raw as it comes."
Oh, there's the story of HOFer Bob Elson and Red Rush. "These two were constantly betting. We'd be out-of-town and, they'd find a dog track or a horse race somewhere."
One day, Monte was called up to Finley's office. "When i arrived, there were a couple of men who looked very official. They asked me if I knew whether Rush and Elson used the telephone in the broadcast booth to gamble. I told them that I think they bet but I never heard them place a bet on the phone when I was in there. I knew something was not right."
"The craziest guy was Jimmy Piersall. Finley brought him into the booth too. We're doing the ALCS in Detroit where the booths were mounted against the façade above the  third base. Home plate was an earshot away. When Billy Martin, the Tigers manager came out, Jimmy started screaming at him 'Billy, you busher. you're a busher, you've always been a busher.' Billy turned, looked up at Jimmy and gave him the finger. Jimmy was bombastic. He'd say anything. Finally, I got Charlie to place him in the box seats behind first base. I had to get him out of the booth. Fans heard him and started pounding the tin booth"
There was an incident with the famous A's mule. Jimmy came in with a visiting team to Kansas City and threw a fast ball at the mule's behind.
The best business advice Moore got from all these well known voices came from Gowdy. "After a game one night, Curt, already an owner of radio stations, suggested to me that I too invest in radio stations. I did buy  a couple in Porterville, California and a couple elsewhere.
Monty still makes Porterville his home. Sadly, he's alone, having lost his wife, Deonne who passed several years ago.
Checking in with him last week, he told me he had Covid and had to quarantine for ten days but he's feeling much better. "I've don a lot," he told me, including 3,00 A's games."
A good man and still sharp!